Artificial Intelligence is changing the way our technology and development work. Its impact is huge and it is making development smart, intelligent, and more accurate than ever. It has been empowering various fields like blockchain, education, banking, and more. The rise of Artificial Intelligence has raised many questions in the minds of developers.
Will AI take over the jobs of Web Developers?
Is Artificial Intelligence rewriting the future of Web Development?
Will it boost the revenue of businesses?
As per stats, by 2025 artificial intelligence market will grow rapidly, reaching around 126 billion U.S. dollars.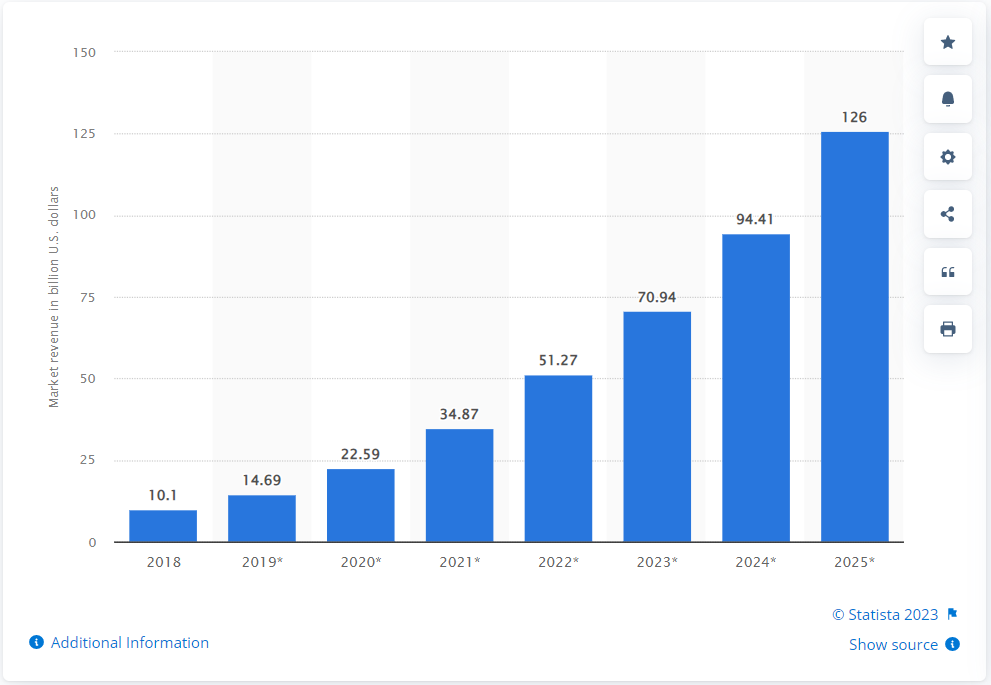 The above graph shows the Revenues from the AI software market worldwide from 2018-2025.
Artificial Intelligence is redefining the future of the tech world and has a direct impact on web development. It is now working co-dependently and reshaping the future of web development.
The footprints of AI can be found in every field
Over the last decade, we have witnessed Artificial Intelligence (AI ) becoming a part of our lives. From Google Maps to Alexa to self-driving cars, AI is prevailing and it is hard to ignore its impact.
By 2023, AI is going to dive more into our lives and will impact industries more than ever. Before moving further in the blog let us learn a bit about the growth of AI.
The Democratization of AI: Nowadays, all businesses see AI as a crucial skill and are putting AI functionality in every app and website developed for them. AI is democratizing every field, technical or non-technical. The fun fact is that AI is good enough to bridge all skill gaps and you don't have to know the code to use it.
Generative AI: The well-known fact about AI is that it is trying to mimic human skills and behavior. Now, with the rise of Generative AI, it is trying to mimic the most uniquely human skill which is creativity. Generative AI algorithm takes existing data video, images, or sounds and tries to create entirely new content. The most common example of Generative AI is GPT-3 developed by OpenAI.
Sustainable AI: All businesses are making effort to develop environment-friendly AI. Even though this is a long journey but companies have the potential to understand how to build products and infrastructure in a more efficient way that can reduce waste and save energy.
Explainable AI: AI is supposed to work with humans and for humanity, but for that, it has to be trustworthy. It requires data to learn and process and use sensitive data related to healthcare or security and many more. In all such cases, it has to be ethical so that such critical information does not go into the wrong hands.
Now, let us move and learn more about how AI is changing the web development world.
What is the importance of AI in Web Development?
Artificial Intelligence is changing the course of Web Development and is helping grow at a faster pace than it was predicted. It is helping developers to make quite innovative and smart websites. There are many important reasons why developers and companies are using AI in Web Development. So, let us shed some light on the importance of AI in Web Development. AI is helping Web development and giving benefits of:
Enhanced Customer Engagement

Fast Development

Enhanced Search Results

Effective Website Building

Improved Communication

Enhanced Marketing Strategy
Now, let us learn about each of them in detail.
Enhanced Customer Engagement: Artificial Intelligence has made it easy for developers to add chatbots to their websites which in turn enhances the user experience and increases engagement. A chatbot stimulates real-time chats 27x7 with customers and can provide guidance.
Fast Development: Artificial Intelligence has made it easy for developers to code fast and efficiently. AI automates processes and enables developers to build better websites and apps. AI has increased the efficiency of developers and is helped them to accomplish their hectic tasks more accurately.
Enhanced Search Results: The users can search for the same or unique data on a website. So, to provide a better search experience to users, developers are using Artificial Intelligence to improve the search feature.
Effective Website Building: Website designing can be a hectic process and can take a lot of time for developers. But Artificial Intelligence has made it easy for developers to design a website in less time. Developers can design and scan web pages using AI, fix issues, and can effectively optimize the website.
Improved Communication: Websites have designs and pages that can be hard for users to find. AI is helping users by making the navigation process simple and easy for users. Chatbots are the perfect example of it, they support and assist the users to navigate through the website, making your website user-friendly.
Enhanced Marketing Strategy: AI is helping businesses by improving their marketing strategy. Websites use AI soft wares and algorithms to get collect data and recommend products as per their previous data.
This feature makes it easy to find the products they are looking for and increases the sales rate, and improves their advertising efforts.
How to use Artificial Intelligence in Web Development?
We offer Artificial Intelligence services to help customer enhance their sales, and improve their brand's name by making user-friendly apps and websites. The following are the few apps that our professionals can help you with to enhance your business. The apps include: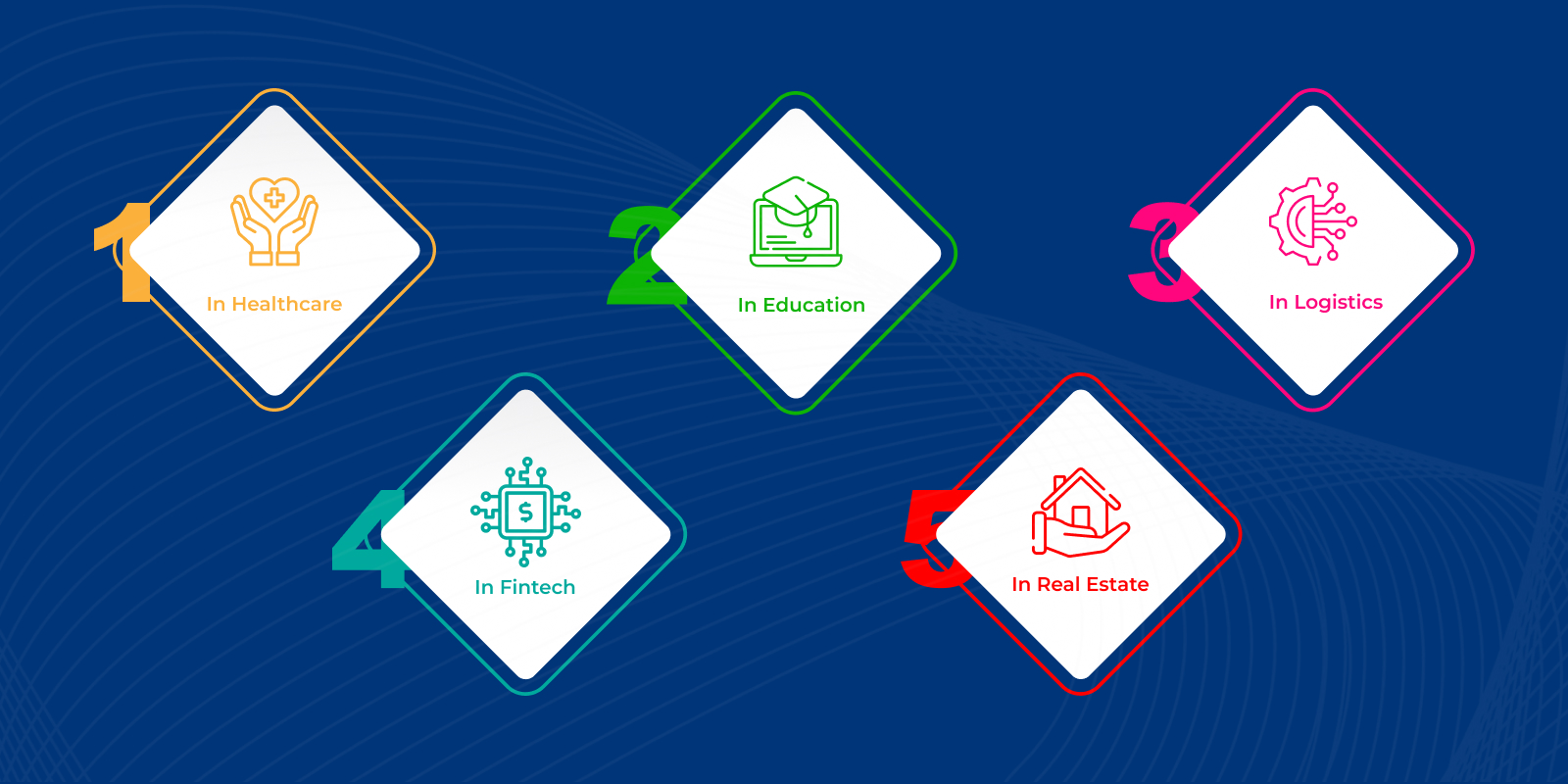 Let us learn about each of them in detail.
Healthcare Apps: AI is almost everywhere, and it has paved its way in the healthcare industry. It is helping people working in the healthcare department to diagnose diseases. It is helping patients suffering from various diseases to find a cure for them. Also, with time as the data increases, the AI algorithms are improving themselves and are becoming more and more better. So, developing healthcare apps can be a blessing in lives of patients and healthcare workers.
Educational Apps: Nowadays, education is becoming more and more advanced and AI is playing a vital role in it. AI has made it easy for students to opt for different ways to help them learn and has the potential to be a game-changer for every student. Students are using various educational apps that are powered by AI. A few examples of Educational Apps are Chatbots, Virtual Reality (VR), Learning Management Systems (LMS), Robotics, and many more. So, if you are looking to expand your business or enter the educational sector, developing powerful educational apps is the way.
Logistic Apps: AI has entered every field and logistics is no exception. AI is helping in the field logistics by automating routine tasks and is helping businesses save time in the most cost-effective. way. AI is helping companies by automating the tasks like collecting and analyzing information and inventory process. AI has enables businesses to increase efficiency and boost revenue. Using AI in logistics can benefit your business in many ways. So developing logistics apps can help businesses grow efficiently and quickly.
Fintech Apps: Smart and fast software help investors, businesses, and users eliminate unnecessary costs, and manage their finances effectively. AI helps Fintech businesses prevent fraud, detect suspicious activity, manage data, improve data processing, track records, and save money. The Fintech market is growing and in coming years all Fintech businesses will be apps powered by AI. So to grow in the fintech business it is crucial to develop powerful, reliable, and swift Fintech Apps that can help businesses to grow at a faster pace by keeping their data secure.
Real Estate Apps: AI is helping real estate agents in business decision-making. Real estate agents can collect the previous data online, analyze and make a prediction based on the data. The more data real estate agents collect and see, the better decision they can make. Collecting the data can be a crucial and time-consuming task, but real estate apps can make the life of real estate agents easy. So, developing the most reliable, trustworthy real estate apps can help your business mitigate the risk of accuracy.
What are the AI tools for Web Development?
While working with Artificial Intelligence, there are a few tools that you should be aware of. They are as follows.
Tensorflow

Wix Website Builder

Firedrop

Adobe Sensei
Let us learn each of them in detail.
Tensorflow: It is a free open-source library that helps models solve complex numerical computations. It mainly focuses on training deep neural networks. It uses python and gets regular updates and fixes.
Wix Website Builder: It is an AI tool that builds websites using input information. It offers design suggestions and adjusts style and operations.
Firedrop: It is an AI tool that uses machine learning to assign operations to chatbots. It gathers previous data and shows users the entire development process. Businesses can use this tool to develop more websites in less time.
Adobe Sensei: An AI tool that automates and develops intelligent designs. It helps designers automatically identify patterns in the images and manipulates the pattern.
Our Artificial Intelligence services:
Now let us look at the Artificial Intelligence services that we provide. The AI services that we provide are as follows and let us learn about them in detail.
Natural Language Processing: We use highly advanced and latest Deep Learning algorithms to provide Natural Language Processing services like Entity Recognition, Sentiment Analysis, and many more.
Computer Vision: We use OpenCV and other latest computer vision libraries to develop apps like Object Detection, Object Tagging, Image Classification, Landmark Tagging, and more.
Machine Learning Models: We use advanced Machine Learning models and clean data to train the models so that we provide an accurate and precise solution.
Deep learning Models: Deep learning is a subset of machine learning that drives many AI apps. We use Deep Learning models that provide accurate data and information and help companies in improving automation and analytical survey without any human intervention.
Chatbot Development: Chatbot helps businesses simulate conversation 24x7 without any human intervention and help enhance customer spending time on the website.
Robotic Process Automation: Robotic Process Automation is measurable and helps in reducing errors, audit savings, and increase compliance.
Alexa App Development: Alexa App Development facilitates voice-driven computing and provides a fast and smooth experience.
Will Artificial Intelligence take over Web Development?
Web development and AI are working co-dependently, and the idea of AI taking over Web development is far-fetched. AI tools used in Web Development are quite smart but not smart enough to replace humans. They have their shortcomings and they can only assist web developers but can not do their whole task. So instead of seeing AI tools as a threat, web developers should see AI Web Development tools as empowering assistant tools that can help them achieve their goals fast and with more accuracy.
What is the future of Artificial Intelligence in Web Development?
Artificial Intelligence is impacting Web Development hugely. It has created a lot of opportunities for companies globally and has made it easy for developers to work effectively.
In the coming era, the AI market will keep growing and the opportunities will be more than before.
So, all businesses must use AI in their websites and create effective AI-powered websites. But to create such powerful websites you might need the help of expert web developers.
If you are looking for the most efficient, powerful, accurate, and precise Artificial Intelligence services, we are here for you.
Our developers ensure that you get the best-in-market AI-powered website that enhances your user experience and helps you grow globally.
For more details, visit our website here.