Budding over a decade in the Android App development industry, we are the leading organization known for crafting mobile applications with vigorous code, a user-friendly interface, and a unique UX. Our developers leverage the best and latest Android technologies to develop cutting-edge solutions.
Our team always stands out with you and makes the right twitch to your business logic. Build more reliable, fully functional, and customized solutions as per your business need.
Industry Specific and Personalized App Development Services
We at ToXSL boast an unmatched team of Android developers, which makes us one of India's leading Android app development companies. At ToXSL, we are pretty proud of the differences between our competitors and us.
Our industry-best pricing is certainly one major advantage, ensuring that even small and mid-sized companies can take advantage of Android app development solutions. However, our robust team is another advantage, ensuring we can provide in-house solutions throughout every step of the app development process, from concept to design to bug testing to final polishing.
We follow the fixed payment method without any hidden charges. Once you strike the deal with us, we ensure that we complete your work on the agreed terms. We believe in delivering what we promised and at the fixed prices.
With over 300 apps developed to date on Android and iOS, our experience and expertise ensure that the client will have the process. Our apps have seen immense success, and we are proud to extend that to our clients.
So what are you waiting for? Contact us and get going with a highly professional, efficient, and truly global Android app, which will massively benefit your business.
Our Android App Development Services Includes:
Our approach to the Android App development process offers you end-to-end results, and here are the top-notch services we offer:
UI/UX for Android

A clear and unique user interface is sure to bring more and more users to your Android App. We have highly skilled designers who create a simple, unique, and easy-to-navigate design for your application.



Customized Android Apps

We offer customized, easy-to-scale, and launch solutions that boost your business performance. Whether speed, design, or more, we stand unique in all the factors and offer a more personalized and superior experience.



Android App Development and Consulting

Our end-to-end development solutions ultimately transform your ideas into a perfect Android app. We also offer consultation services that strive to solve all your business problems, no matter how complex it is.



Back-end Solutions

Our developers offer the most secure and scalable platform, implement the trusted APIs, and ensure to take care of your evolving business needs.



Support and Maintenance

With round-the-clock support and maintenance for the Android apps, we ensure to keep your business up-to-date and on track. Whether it's fixing bugs or any update, we offer instant maintenance services.



Android App Testing

Once we develop an Android application for you, our stringent Android app testing services perform standardization checks and ensure there are minimal or no errors.



Process Flow For Android App Development at ToXSL Technologies
Requirement Gathering

App idea with the client for concept evaluation.

Refining the idea to make it more lucrative.

Creating a final requirements document.

Finalizing the milestones to be achieved.

Android App Design

Choosing the right style of design for the android app.

Creating initial draft for the Android App design.

Finalizing android app design.

Android App Development

Create all the android app assets (android app objects, background, animations).

Coding of the basic android app mechanics.

First draft delivery of the app, which includes the android app play and arts.

Working further on android app based upon the feedback.

Level Design and UI elements creation.

Integration of all the elements.

Final Delivery

QA and Testing

Final Android App Submission

Submission of App into Google Play Store
Transform Business With Best Android App Development Company
With years of expertise in offering custom and fully functional Android applications, we have gained a reputation in the industry. Our services help you deliver reliable products that plead to the users!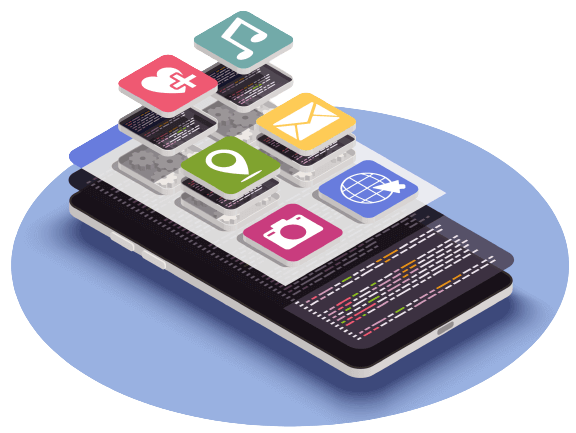 Choosing Us As Your Leading Android App Development Company
We will help you every step of the way and get you the Android app results that will grow your business.
CUSTOMIZED SOLUTIONS
We focus on giving a personalized experience to our customers that is why we will customize every solution as per your business requirements.
SAVE MONEY & TIME
We will offer you the best technology solutions based on your budget and timely deliver all the project to satisfy our clients.
SKILLED DEVELOPERS
We have experienced and skilled developers in-house who are technically proficient to manage any level of complicated projects.
24/7 DEDICATED SUPPORT
We offer the best technical support to our clients. We make sure that we have 24/7 dedicated support in case you want any assistance.
​​​​​INTERACTIVE DESIGNS
Our in-house developers follow a unique approach to design striking and amazing designs that helps convert visitors into customers.
DELIVERING HIGH QUALITY SOLUTIONS
Capitalizing on the quality and innovation we provide full-fledged software development operations catering to the needs of the present and future.
Shaping The Digitalization With Our Android App Development
We have extensive experience in offering Android app development services that brings value to your enterprise or brand. Our industry-specific development services rely on the most up-to-date platforms, technologies, and tools with a deep understanding of workflow. We help you develop smart solutions that work on any device, regardless of the brand!
Get the Quote
Drive Competitive Advantage With Our Profound Work
We entitle your business with advanced tools and technologies to offer cutting-edge solutions. Have a look at our best work.
FAQs on Android App Development
What is Android App Development?
Android App Development is a process by which applications are created that runs on android devices.
What are the languages used by you to develop Android App Development?
Our experts are well-versed in Kotlin, Java, and C++. Moreover, we are not limited to that, we are open to using any other language if needed.
Will you assist me in uploading my Android App to the Play Store?
Yes, we provide end-to-end services to our clients. We take full responsibility from development to publishing on the Play Store.
How do you allocate the resources for my App Development?
We have a Developers, Analysts, and Subject Matter Experts team. We understand your app requirements, and technology required and allocate the best-suited team who has the relevant experience.
What is the Cost to Develop an Android App?
The cost to make an Android app varies depending on the complexity of the app and its design requirements. Typically, an Android app starts from $10K for a basic version and can go up to $700K or more for complete app development with numerous features. This includes the cost of backend setup, graphic design costs, and API integration fees.
We also ensure that your Android app can be successfully published in the Play Store, and ready for use by all of your customers.
Do you provide 24/7 support?
We offer the best technical support to our clients. We make sure that we have 24/7 dedicated support in case you want any assistance.