Mobile Application Design
Our team at ToXSL understands the need for easy, fast, and stylish mobile applications to match the changing trends of the smartphone market. We design the kind of mobile apps that people talk about and use over again. We are strong believers in data-driven decision-making, which means we adhere to an agile, analytics-driven approach.
We are always curious about what's around the corner and how we might leverage it to benefit the mobile apps that we're building. We use tools that involve HTML5, CSS3, Photoshop, Coral draw, Adobe Illustrator, and other latest tools in the market. The user interface for mobile apps is among the toughest task to design as it requires complete compatibility among devices according to their screen sizes, resolutions, graphics, and other views.
We inherit all those conditions designing UI for mobile and tablets. We provide intuitive and user-friendly mobile website design perfected by our UX/UI Designers.
Our Mobile Application Designing Services Include:
App UI Design

We offer businesses a tailored approach to offer them the best mobile application design for your business. With the best wireframes, design, and prototype services, you can leverage an amazing app UI design.

iOS App Design

Whether it is for iPhone, Ipad, or Apple, our app designers help your business scale and grow. We have proven strategies that will help you gain an edge over your competitors.

Android App Design

We offer the most compelling and unique designs for your Android applications. ToXSL is a leading organization that conceptualizes and deploys apps as per your business requirements.

Social Media App Design

We build social media applications for users similar to WhatsApp, Instagram, or Facebook to streamline communication for businesses. Connect efficiently with your targeted audience with us.

Hybrid App Design

With the hybrid app designs, you can seamlessly work over any device without affecting the user experience. Share your idea with us, and let us handle the rest for you.

Application Redesign

We are a top-notch custom mobile app design company that boosts your engagement with stunning and user-friendly designs.
Designing Innovation In Mobility That Leaves An Impact!
We help you drive exceptional customer engagement by offering interactive-interface, user experience, and designs. We keep the process unique and custom while offering you personalization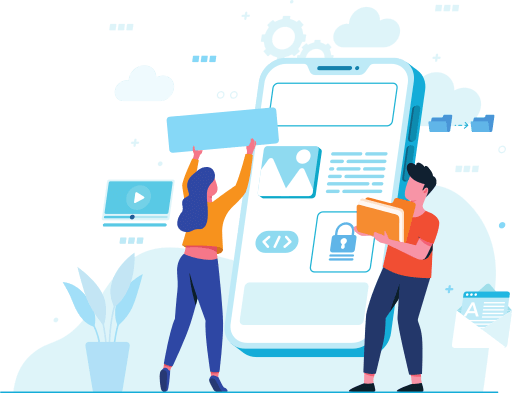 Reasons To Choose Us For Mobile Application Design Services
We will help you every step of the way and get you the results that will help you to grow your business.
CUSTOMIZED SOLUTIONS
We focus on giving a personalized Mobile Application Design Services experience to our customers, that is why we will customize every solution as per your business requirements.
SAVE MONEY & TIME
We will offer you the best technology solutions based on your budget and timely deliver all the project to satisfy our clients.
SKILLED DEVELOPERS
We have experienced and skilled developers in-house who are technically proficient to manage any level of complicated projects.
24/7 DEDICATED SUPPORT
We offer the best technical support to our clients. We make sure that we have 24/7 dedicated support in case you want any assistance.
​​​​​INTERACTIVE DESIGNS
Our in-house developers follow a unique approach to design striking and offers amazing Mobile Application Design Services that helps convert visitors into customers.
DELIVERING HIGH QUALITY SOLUTIONS
Capitalizing on the quality and innovation we provide full-fledged software development operations catering to the needs of the present and future.
Delivering Stunning And Attractive Mobile UI Design Solutions!
With our mobile UI/UX design services, you can create more user attention and address the user requirements. Our mobile app designs are loved by the users and are easier to navigate & go through. With our passionate designers, we manage to offer solutions that tempt users, and they would be pleased to visit you. We are the best mobile application designing company that ensures to keep your business specifications in mind to offer designs at the best and most affordable prices.
Contact Us
Drive Competitive Advantage With Our Profound Work
We entitle your business with advanced tools and technologies to offer cutting-edge solutions. Have a look at our best work.
FAQs on Mobile Application Design
What is mobile app design?
Mobile app design involves the designing of mobile applications display. It is a process of creating software applications that run on the mobile device. Mobile designs help in enhancing accessibility, engagement, and overall user experience.
What is the difference between web design and app design?
Web design refers to the design of websites and user experience aspects of website development rather than software development. Whereas, app designs are built by considering mobile apps and are accessed from mobile apps.
How mobile app design can help my business?
Mobile app design can help businesses in many ways. A few of them are:
A good design attracts the users
Responsive designs help you strengthen your brand image
Help in building a loyal customer base
What mobile app design practices do you follow?
Here are a few best design practices we follow:
Creating meaningful screen transition
Create beautiful app icons
Design exceptional loading screen
Use only the required notification
Focus on better user experiences
Do you design for both iOS and Android platforms?
Yes, we design apps for both iOS and Android platforms. To know more, contact us here.
Stay ahead in the competition with our creative and unique web design services.