Cucumber is an open-source testing framework that supports Behavior-Driven Development (BDD). It is written in the Ruby programming language and supports a number of additional scripting languages, including Java and JavaScript, as well as a number of different software platforms, such as RoR, Selenium, PicoContainer, Spring Framework, and Watir.
At ToXSL Technologies, we have a team of testing specialists with experience in Cucumber automation and can cater to all sizes of businesses. Regardless of the size of your corporation, we have services that will meet your needs.
Cucumber Automation from ToXSL Technologies
Thousands of customers trust Cucumber to provide better services more quickly. As an open-source platform, customers can benefit from it and can improve the efficiency of their businesses. Get a quick look at how our testers can help businesses with the right cucumber automation tools in a moment.
Our testing team is knowledgeable and confident, and they deliver accurate results.

We accomplish the test scripts while providing the customers with an environment that is simple to grasp.

We provide a broad range of expert-led testing services that are suitable and reasonably priced.

We follow a clear strategy that helps the testers to test more quickly, intelligently, and productively.
Our Budget-Friendly Cucumber Automation Services
Our expert team of testers holds immense knowledge in the testing industry. We clearly understand customer requirements and try our best to deliver the expected results. All our services are provided to the customers within the specified delivery timings. We make sure that every business can afford our services, including startups, thus we provide all of our services at reasonable prices.
Benefits of choosing Cucumber Automation Testing services
Support Languages

Cucumber supports different languages such as Java.net and Ruby while keeping the business goals in mind.

Bridge between business and language

It acts as a bridge between business and technical language. It can be accomplished via a test case written in plain English text.

End-to-end test framework

Unlike other tools, Cucumber serves the purpose of an end-to-end test framework.

No code knowledge is needed

The test script can be written without having code knowledge. And it is easy for any non-technical person to get involved easily

Code Reusability

Cucumber has a simple test script architecture, and therefore it provides the code reusability option.
Testing With Behavior-driven Development Approach
Avail of our cucumber automation testing services for better collaboration, simplified process, early test involvement, and faster automation. We help you reach your business goals efficiently!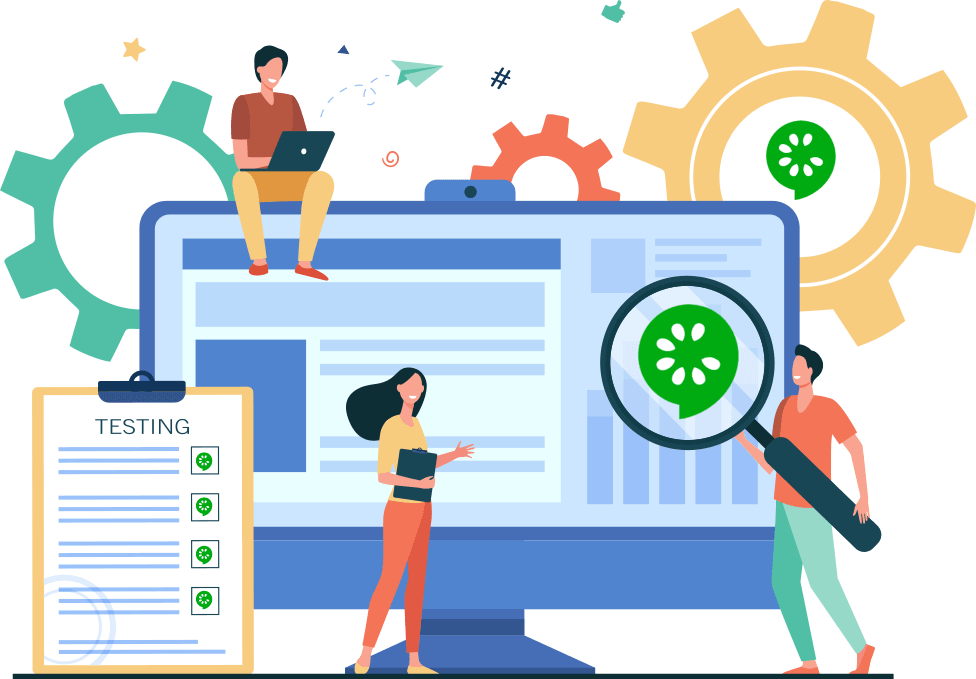 What To Expect From Us
We will help you every step of the way and get you the results that will help you to grow your business.
CUSTOMIZED SOLUTIONS
We focus on giving a personalized experience to our customers, that is why we will customize every solution as per your business requirements.
SAVE MONEY & TIME
We will offer you the best technology solutions based on your budget and timely deliver all the project to satisfy our clients.
SKILLED DEVELOPERS
We have in-house experienced and knowledgeable developers who are capable of managing any complex project.
24/7 DEDICATED SUPPORT
We offer the best technical support to our clients. We make sure that we have 24/7 dedicated support in case you want any assistance.
​​​​​INTERACTIVE DESIGNS
Our in-house developers follow a unique approach to design striking and amazing designs that helps convert visitors into customers.
DELIVERING HIGH-QUALITY SOLUTIONS
Capitalizing on the quality and innovation, we provide full-fledged software development operations catering to the needs of the present and future.
Testing The Unit Behavior With Our Cucumber Testing
Cucumber is the best-automated software testing tool that has a behavior-driven development approach and performs testing in an agile environment. While reducing your effort for the testing, we significantly help to reduce your effort to execute the regression testing. Avail of our cost-efficient testing services and enjoy error-free solutions!
Contact Us
Drive Competitive Advantage With Our Profound Work
We entitle your business with advanced tools and technologies to offer cutting-edge solutions. Have a look at our best work.
FAQs on Cucumber
Cucumber is a Behavior Driven Development tool that runs automated acceptance tests and is written in Ruby.
How safe and secure is Cucumber to use?
Cucumber is a tool that is used for testing. It is considered the safest and most secure tool among developers to test application your applications.
Why should we choose Cucumber Automation Framework?
Cucumber Automation Framework allows business analysts and testers to automate the testing of web app functionality against web browsers and virtual machines.
What is the difference between Cucumber and Selenium?
Cucumber is a Behavior Driven Development tool that is used to develop test cases. Beyond Ruby, it supports languages like Java, Scala, Groovy, and more. Whereas, Selenium is an automated testing tool that supports many languages Java, .Net, and more.
Does cucumber offers Multi-language Support?
Yes, cucumber offers support for multiple languages like Ruby, Java, JavaScript, Scala, and Perl. And, help developers write clear and concise test cases.