iOS App Development
New Generation iOS App Development Services
With a comprehensive approach to iOS app development, we take into account your business analysis, user experience, app functionality to deliver the best iOS mobile application. We have a professional team working that builds an intuitive and robust iOS experience. From all the SMBs to the enterprises, we help you transform digitally with our bespoke iOS app solutions.
We have industry experts dedicated to providing the best possible operability, stability, and functionality in the app. Our team at ToXSL is obsessed with technology but equally obsessed with providing the best customer experience and support possible.
iPhone/iPad App Design and Development Process
Our design and development team is innovative, forward-thinking, and capable of delivering considerable ROI in the end. Our process starts not with a technical schematic or spreadsheet but with a sit-down discussion with the client. We go in-depth in determining the target audience and what clients hope to achieve through iPad app development. Once we have a full grasp on these metrics, we get down to the nuts and bolts of it all.
Harnessing years of experience and expertise, our team at ToXSL converts your ideas into outstanding iPhone applications. Our brilliant technical competency, professional approach, as well as trial-tested methodology, enable us to create highly beneficial solutions for the best. Our track record of developing more than 300 iOS applications speaks for itself.
Our Comprehensive iOS App Development Services Includes:
We are one of the best choices that helps you build secure, scalable, and robust digital solutions. Here is how we cater to all your development needs.
Customized iOS App Development

We adapt to the latest technologies and tools that meet the client's needs. We are packed with the latest set of features and functionalities. Share your app idea with us and get a scalable, secure, and unique iOS app.



Native iOS App Development

Our developers are highly trained, have in-depth knowledge of the technologies like Swift, Objective, and more. Let our developers build your next-generation iOS application for you and get a consistent look across all devices.



iOS UI/UX Design

We offer you what your users expect from the Apple ecosystem. A clean and beautiful design is the need of the hour, and our developers ensure to offer awe-aspiring and appealing designs that bring users to your application.



iOS App Upgrade

We have a comprehensive knowledge of the iOS ecosystem and therefore ensure to offer hassle-free upgrades. We update your app to the latest platform and ensure it is compatible with all the devices.



iOS Software Testing

Our development process is structured that enhance the performance and security of your solution. We ensure to make your application error or bug-free by implementing AI and other modes of testing.



iOS App Development Consulting

Do you have an idea of what exactly you want to implement in your project? Our developers are experienced enough to understand your requirements and suggest further steps accordingly.
Process Flow for iPhone App Development at ToXSL
With extensive expertise and knowledge of all programming languages, tools, frameworks, and more, we build beautiful applications. Here is the process we follow for iOS App Development.
Analyze Requirements

Once the client shares the app idea with us, we analyze their requirements with our team and bring out the most useful insights.




Wireframe and Design

Once you know the requirements, the next phase is creating a wireframe and planning the UI/UX design for your development process.




Development

We are a leading iOS app development company and use agile methodologies to create iOS applications with ease.




Testing

After the development process, comes the testing. We ensure rigorous testing on every iOS app and ensure to deliver the best quality and error-free solutions.




Deployment

It is the final stage of the app release. After the designing and development are done, it is time to bring your iOS application live on the App Store.



Helping Bring Intuitive And Captivating Products To The iOS Audience
With more than a decade of experience and expertise, we help you build the best-in-class iOS applications. From design to maintenance, we can manage the entire iOS lifecycle.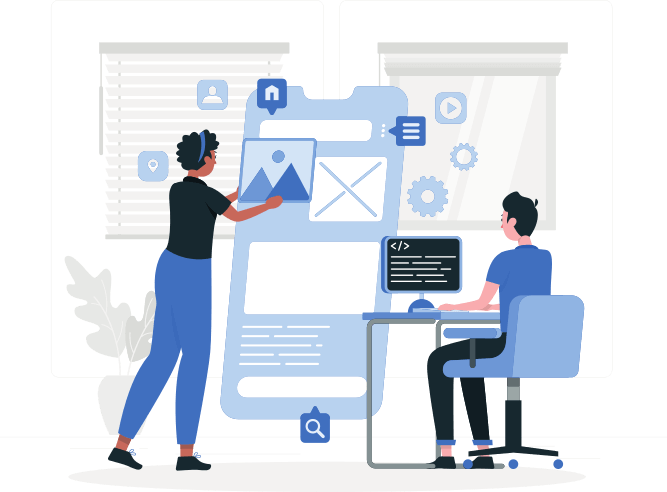 Why Rely On Our iOS App Development Services?
We will help you every step of the way and get you the iOS app development results that will help you to grow your business.
CUSTOMIZED SOLUTIONS
We focus on giving a personalized experience to our customers that is why we will customize every solution as per your business requirements.
SAVE MONEY & TIME
We will offer you the best technology solutions based on your budget and timely deliver all the project to satisfy our clients.
SKILLED DEVELOPERS
We have experienced and skilled developers in-house who are technically proficient to manage any level of complicated projects.
24/7 DEDICATED SUPPORT
We offer the best technical support to our clients. We make sure that we have 24/7 dedicated support in case you want any assistance.
​​​​​INTERACTIVE DESIGNS
Our in-house developers follow a unique approach to design striking and amazing designs that helps convert visitors into customers.
DELIVERING HIGH-QUALITY SOLUTIONS
Capitalizing on the quality and innovation, we provide full-fledged software development operations catering to the needs of the present and future.
Enjoy The Lucrative Benefits Of Agile iOS App Development
It's time for the businesses to leverage our rich expertise and experience to create impactful iOS applications. Working with ToXSL ensures successful project delivery, right from requirement gathering to launch and further support. We adhere to the best agile methodologies and maintain process transparency. We ensure that the product developed reflects your business idea and addresses the changing market needs!
Contact Us
Drive Competitive Advantage With Our Profound Work
We entitle your business with advanced tools and technologies to offer cutting-edge solutions. Have a look at our best work.
FAQs on iOS App Development
What is iOS App Development?
The process of developing a mobile application for Apple hardware like iPhone, iPad, and iPod Touch. The languages used in making iOS app development are Swift and Objective C.
How long does it take to build an iOS App?
Building an iOS App normally takes 3 to 4 months to develop an iOS App successfully, but the timeframe depends on the complexity and design stages of your app.
Does the iOS application you are developing support the latest version of the iPhone?
Yes, our teams are well aware of the latest iOS trends and updates and develop apps that are compatible with the latest version of iOS.
Will you help me upload my iOS app to App Store?
Yes, we provide end-to-end iOS App Development Services and take full responsibility for publishing your app on the App Store. Contact us to know more.
How much does it cost to develop an iOS app?
The pricing is not fixed. The cost of iOS app development depends on various factors like performance, functionality, visual effects, development time, team strength, etc.
Why should I choose ToXSL iOS App Development services?
Partnering with ToXSL facilitates you in many ways. We offer the best solutions to optimize your business processes and improve operational efficiencies. Also, our specialists provide the best iOS App Development services, customization, and support that meet your specific business needs.