It is essential for you to take your application to its fullest potential and to integrate it effortlessly with internal and external systems to reap the benefit of every function. We keep this understanding in our minds and move forward by offering customized API integration services.
With APIs, we can build rich, customer-centric web applications to improve brand engagement, drive new revenue and deliver more meaningful digital experiences. We at ToXSL help clients to plan, execute, launch and market API-feed applications. Our work includes real-time, data-rich web applications, API Integration Services, and web-based software for a wide range of industries. We develop frontend and backend applications that utilize rich data sets and successfully offer custom web development services with API.
Custom API Integration Services
We are known for delivering custom Application Programming Interface (API) solutions that cover the deployment, integration, publishing, documentation, deployment, and continuous maintenance of APIs. Our API architectures are highly robust and secure with features like custom key encryption, complete access to control dashboard, single sign-on, and scalable caching proxies, and lots more.
Thus, our websites and web applications using API data feeds increases customer engagement, brand value and drive new revenue to your business. We integrate appropriate technologies to empower businesses, with engagement and transaction tools. Integrations include payment processors, ticketing systems, content syndication feeds, and APIs. We push the boundaries of this tight integration between design and technology to set our clients apart in the marketplace.
API Development Services we offer
Connecting you to an external service via API is the best solution that offers the key functionality in your web app. Here are the API development services we offer.
Custom API Development

We build a custom and dedicated API that enhances your web services. Integrating third-party APIs helps your software solution to seamlessly interface with apps, devices, and other platforms. We also offer APIs for your internal use(first-party API)



Third-Party API Integration

We offer third-party API integration services via API and provide complete support and implementation. We ensure to take care of your performance and security as well.



API Testing Automation

With our automated test creation, we confirm the accuracy and performance of the APIs. We create a report and implement all the optimizations.



Payment API Integration

It is one of the crucial and popular APIs. We streamline the process of making the payment on site more secure and reliable.



API Consulting

We have an in-depth understanding of the third-party API development and integration that can easily optimize the process and workflow.



API Testing

Our team ensures the seamless performance of API through rigorous testing.



Avail the best API as a Service
Our highly skilled team of designers and developers is proficient in developing advanced and tech conversant API Suite that provides high flexibility to the customers. Our API Integration Service Suite support both SOAP and REST version via JSON and XML and is effective in data moving systems such as FTP.
We use web services and protocols like HTTP/HTTPS, XML, XHTML, JSON, Java, REST, SOAP, EDI, AJAX, and TCP/IP to deliver APIs as a Service that meets your custom business logic ideas.
Our API development services give access to application data, functionality, business logic, and other web services. We create APIs for the desktop, mobile, cloud apps, browsers, databases, and operating systems. Our API integration solutions also include the Hardware Platform Interface (HPI) that helps manage computer systems.
Why API Integration Services from ToXSL Technologies?
We have skilled professionals who completed more than 700 web applications to date.
We can implement the functionality of payment gateways, geolocation services, social networking communities, advertisement platforms, online shopping, video services, and more.
We facilitate the automation of various tasks to maintain everyday workflow actions.
We strive to improve the accuracy and efficiency of the business processes.
We make the process of deployment and content management quicker and better.
We have timely delivery and a customer-focused approach.
We offer budget-friendly quality projects as per the client's expectations.
We love transparency, which is why you are always kept in the loop and we charge not a penny more than the decided cost.
Custom API Integration To Build Smart And Secure Solutions
We offer custom API development services that make connections between services secure and more reliable. We have been working with several API integrations like REST, SOAP to offer you the most secured services!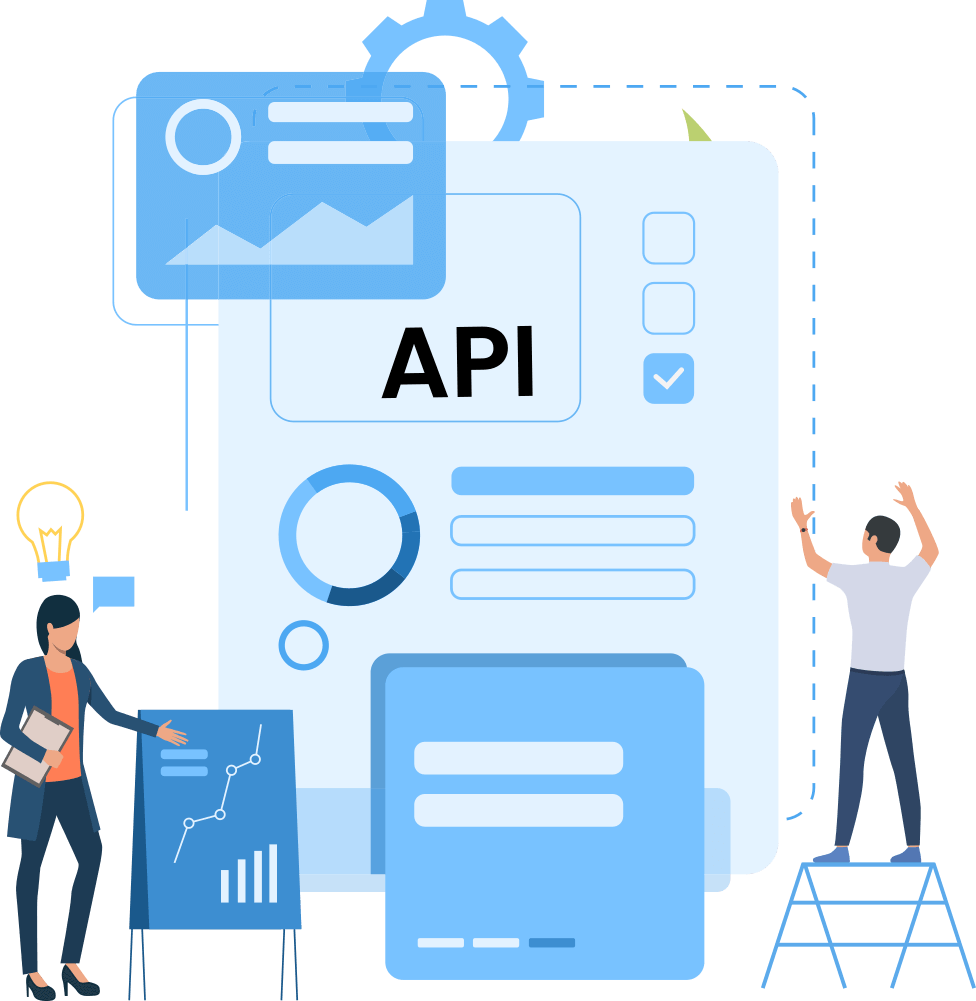 Why choose ToXSL for API Integration Services?
We will help you every step of the way and get you the best API development and implementation results that will help you to grow your business.
CUSTOMIZED SOLUTIONS
We focus on giving a personalized experience to our customers, that is why we will customize every solution as per your business requirements.
SAVE MONEY & TIME
We will offer you the best technology solutions based on your budget and timely deliver all the project to satisfy our clients.
SKILLED DEVELOPERS
We have experienced and skilled developers in-house who are technically proficient to manage any level of complicated projects.
24/7 DEDICATED SUPPORT
We offer the best technical support to our clients. We make sure that we have 24/7 dedicated support in case you want any assistance.
​​​​​INTERACTIVE DESIGNS
Our in-house developers follow a unique approach to design striking and amazing designs that helps convert visitors into customers.
DELIVERING HIGH QUALITY SOLUTIONS
Capitalizing on the quality and innovation we provide full-fledged software development operations catering to the needs of the present and future.
Drive Digital Transformation With Custom API Integration
We have vast experience in offering API integration services and securely implementing third-party API to your product. Our services help our clients to leverage the features from the external platform and achieve their goals. Whether you are looking for third-party API integration, API design, architecture, or custom API development, we have covered it all!
Contact Us
Drive Competitive Advantage With Our Profound Work
We entitle your business with advanced tools and technologies to offer cutting-edge solutions. Have a look at our best work.
FAQs on API Integration Services
Can you customize API according to my needs?
Yes, we develop customized APIs as per customers' needs.
How much does it cost for API Integration Services?
The cost of API Integration Services depends on the customer's requirements like features and more.
Will I get a dedicated team for my API Integration Project?
Yes, we give a dedicated team to work on your API Integration Project.
How can I track my project's development progress?
Our development process is transparent. We keep our customers updated during the development process.
How securely do you implement the API Integrations?
Our team at ToXSL follows a standard security procedure to ensure that your API Integration is safe and secure.
What technologies do you use for API development services?
The technologies we use for API development services are REST, SOAP, and more. You can contact us to know more.
Facilitate your business growth with a broad range of tailored Web development services.