Gone are the days when only one member of the family used to have a phone.
The world is moving at a faster pace, and it is no secret that every person, including kids, has a mobile these days. And, there is not even a single day when people don't use their phones. With the advancement in technology, mobiles have also upgraded with time.
"More than phone calls"
Nowadays, mobiles are not limited to communication only, and people are learning new skills using mobile apps. With that, people are also migrating from computers to mobile devices. As a result, mobile applications are becoming that important in our daily lives.
Not that, mobiles have become part of businesses too, and people are using mobiles for their business.
Currently, we are living in an era where technology is booming, and keeping up with technology has become the most crucial aspect of the success of any business. According to a study, an average person in the US spends over two hours browsing his mobile applications.
"Ignoring mobile marketing is not a wise move"
Thus, ignoring mobile marketing is no longer an option for any business anymore. The mobile revolution has taken over almost every category: utilities, gaming, lifestyle, news, social media, and many more. And after the lockdown, every person regardless of their business size has taken their business online and has apps for them.
And in online businesses, users are allowed to have all the required information, and they can make purchases and whatnot at their fingertips using relevant and reliable mobile applications.
What do mobile app statistics say?
Statistics collect, analyze, and interpret the information from real data and identify trends. These trends help us make the right decision. Here are some key mobile app stats published by Statista Research Department:
Mobile apps are expected to generate a revenue of $935 billion by 2023.
Social media app dominates the most used apps, followed by gaming and messaging apps.
49%of people open an app more than 11 times a day.
By the end of 2025, the on-demand app industry is expected to generate $335 billion in revenue, 25 times more than in 2014.
To check the Revenue of mobile apps worldwide 2017-2025 by Statista, click here.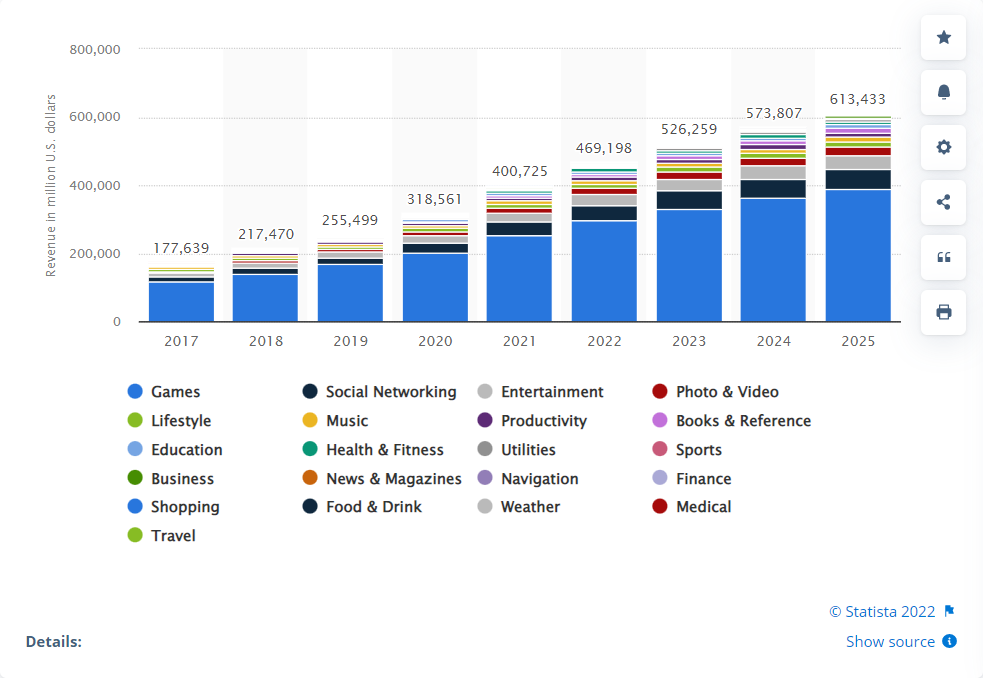 Benefits of mobile apps for any business
The way we live has changed thanks to mobile apps! Everything can be done on a mobile device, from grocery shopping to binge-watching movies.
All industries are using mobile apps to promote their brands and are using great mobile apps to build solid business-customer relationships.
In the past decade, brands have been delivering goods and services to their customers and can boost their Return on Investment.
Most companies have increased their business by using mobile apps and are growing constantly. Let's shed some light and learn the benefits of mobile apps in business in detail.
More Interactive and Functional: Recent studies and research show that mobile users prefer applications to websites due to their interactive and functional behavior.
Apps are designed and optimized in such a way that they allow users to get all the required information at the touch of their fingertips, irrespective of their location. Enabling your customers to interact with your services and products through your app will also make you stand out from your competitors, who do not work for mobile customers.
Increases Visibility: Developing a mobile application will improve the visibility of your business and expose it to many users. A mobile application makes it possible for users to browse through it while sitting in their offices, waiting at the bus stop, riding to and from work, and even watching TV. The mobile application enables your potential customers to get more opportunities to reach you and improve your Return on Investment.
Not only do mobile applications benefit businesses, but they also benefit customers in many ways.
Easy to Use: The mobile applications are easy to access. Users have to download, launch and use them whenever they want. They do not need to learn something difficult, or it does not require any niche or expertise to access the application. Users can start using the application the moment they download the app.
No More Waiting: Mobile applications are much faster than web browsing, all you need to do is to click on the app, and the app opens. Whereas the process of loading a website is lengthy, the user needs to open the browser and enter the URL and then wait for it to load. On the other hand, mobile applications are quick and open in a few seconds. Also, some mobile applications can run offline because most information gets stored on mobile phones automatically.
Enhance Sales Rate: With the unbeatable growth of mobile technology, more and more people surf the net through mobile phones. According to a study, most users spend time on the mobile app of companies rather than the company's website. Mobile apps have become the hub of the mobile developmental push. A company's mobile app gives users the first impression of the company and can get you unexpected great sales too.
Making an error-free mobile app for your business can help it succeed in the future by putting it in the hands of new customers.
Keep Customers Updated: We are living in an era where technology is changing faster than ever.
"Never underestimate the power of mobile notifications"
For the past many years, business emails are being used as a communication tool. But nowadays, because of busy schedules, people haven't got enough time to read emails, and oftentimes promotional emails are ignored.
Not just that, if you have updated a feature in your product, there is a high chance that your customers will never know. But, with the mobile notification feature in the mobile app, you don't have to worry much. These days, the click rates on mobile notifications are high. Also, you can notify your customer about the new and updated feature anytime and anywhere.
Types of Mobile Apps
Nowadays, all industries are using Mobile apps for their product. Different industries use different types of mobile apps. But the market of mobile applications is quite competitive. All companies are competing with each other and are trying to make their apps better than their competitors.
Now, let's shed some light on the various types of mobile apps.
Educational apps:
Educational mobile apps are a huge hit nowadays. These apps have made it easy for users to learn any skill anytime and anywhere. People are gaining new skills and knowledge using learning apps. These apps are a blessing for kids. Apps like Duolingo, Coursera, Udemy, and many more allow you to study any course at your pace.
Gaming apps:
Gaming apps are popular and successful these days. Almost everyone has at least one game installed on their smartphones. Gaming apps include Candy Crush Saga, Angry Birds, and a lot more. People are using gaming apps to train their minds to think fast, boost memory, and focus.
Lifestyle apps:
Lifestyle apps help you make your life a little easy and more disciplined. These apps include categories like weather, travel, navigation, diet, and more.
A few examples of Lifestyle apps are Get the Flight Out, Slice, and many more. These apps keep track of your health, sleep, and other activities. These apps can be life-changing to some people if taken seriously.
Healthcare apps:
Healthcare apps are becoming popular in hospitals as well as in normal people's life. These apps help you track your blood pressure, mental health, and many more. Not only that, these apps are helping doctors and other healthcare professionals to keep track of their patient's health and treat them accordingly.
Entertainment apps:
Entertainment apps are popular these days. Entertainment apps stream various video content daily and permit users to chat and connect with the world.
These apps include YouTube, Netflix, Amazon Prime, Instagram, and many more.
Productivity apps:
Productivity apps are game changers. Apps like Google Calendar, Evernote, Notion, and many more help people organize and manage their daily chores. Also, these apps help you set goals and track your progress.
eCommerce apps:
eCommerce apps include online shopping apps like eBay, Amazon, Myntra, and many more. These apps allow users to buy goods and services online and deliver the product to the user's address. Also, The user is allowed to pay for the goods or services online.
The future of Mobile applications
"A study by Statista says that by 2026, the total number of mobile users will surpass 7 billion."
Mobile applications will be a significant and fundamental component of any business in the coming future. They make the purchasing process easy and maintain a long-lasting relationship with the customer. With all the latest trends in this mobile application development, the mobile app industry will expand exponentially.
Mobile apps also work as the source of advertising and marketing for your business. Therefore, a full-featured mobile application is a must for businesses to handle all the actions and users. However, creating an app is not as simple as a desktop website. To develop any app, you will require the help of experienced developers.
Knowing that ToXSL provides you with a team of experienced mobile developers who will work with you and will cover a wide range of features for your mobile application. Our team ensures that your app looks attractive and develops a responsive design to match your brand and in turn increase your website traffic and enhance your conversion rates.