Social Media Optimization
Boost Your Brand With Our Social Media Optimization Services
Social media optimization helps businesses improve their leads and visibility on all the possible social media platforms. If you are running a business and successfully releasing new products or services and want to increase audience engagement, invest in our SMO services. It creates a buzz for your products and services among millions of users and increases traffic to your website.
ToXSL Technologies offer the best SMO services to businesses and helps the client create and manage their social media marketing services across networks such as Facebook, Instagram, Twitter, and LinkedIn for our clients. Our highly relevant and reliable Social Media Optimization services help businesses create better visibility on social platforms.
We use the right strategy to optimize your website or webpage across social media and help you gain attention and active leads that easily get converted into sales opportunities. Our social media services include:
Setting a profile on social networking websites.
Building community.
Adding and tweaking well-optimized content on the page.
Using creative ideas of viral marketing like posting videos, events, news, articles, and lots more to tag, share and interact with your online activities.
Promoting the website through free and paid advertisements on social networking websites to drive potential traffic.
Our Social Media Optimization Services Includes
We help businesses gain momentum with our social media optimization services. Our services are a comprehensive package that covers all the aspects that lead to business growth, and here they are.
Social Media Presence Analysis

We have an experienced team who reviews your current social media presence and guides you on the areas where you need improvement.

Strategy Creation for SMO

It is the next step where we craft social media optimization strategies and address the content, create a budget, target the right audience, and create reports for both organic/paid social media services.

Strategy Execution for SMO

We have a team of experts and managers who plans an efficient strategy and offers robust solutions. Whether it is campaign content, optimization, analyzing reports, we cover all of it.

Social Media Optimization Support

Once the project is completed, our team assists with all the queries you may face. Whether it is assistance or updated strategies on the latest techniques, we offer you instant resolution.
Benefits of our Social Media Optimization Services
Increase in traffic:

Using a reliable SMO service increases traffic to your site, thus increasing the chances of getting genuine buyers.

Keep an Eye on Competitors:

Investing in SMO services will increase the visibility of your website like never before. The optimization of the website on the social platform helps you gain more viewers and customers.

Offer Better Customer Services:

We strengthen customer satisfaction by quickly responding to the questions and queries of the customers directly.

Interactive Display of Products:

Social media platforms help build personal relationships, and we use the platform to display your services in a way that customers love to view and discuss.
Hire Us To Dominate Your Business
Dedicated Project Manager:

Our highly dedicated team and project manager build better coordination and a personal touch with your clients, thus creating your business identity across social media.

Superior Customer Service:

We instantly respond to every customer's questions/queries and continue to strengthen our trust in them.

Interactive Product Display:

With interactive product or service displays, customers would love to know more about the same. Also, it helps to build a personal relationship with your customers.
Helping Businesses Boost Awareness And Achieve Goals
With our social media optimization services, businesses can create awareness of their brand, attain active leads, and ultimately convert. We offer results with dedicated efforts.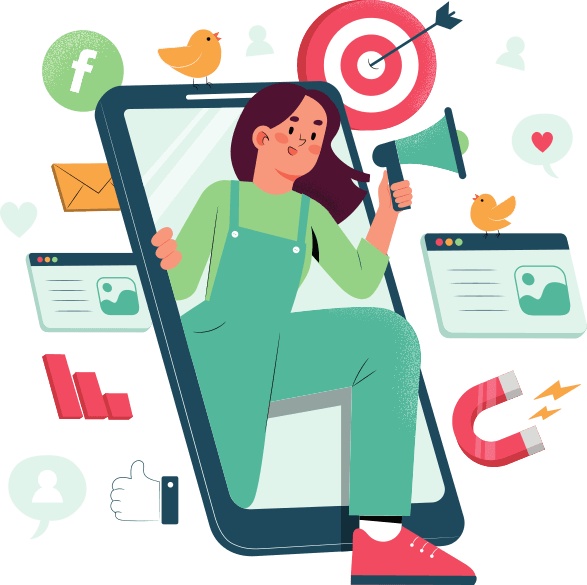 What To Expect From Us
We will help you every step of the way and get you the results that will help you to grow your business.
CUSTOMIZED SOLUTIONS
We focus on giving a personalized experience to our customers, that is why we will customize every solution as per your business requirements.
SAVE MONEY & TIME
We will offer you the best technology solutions based on your budget and timely deliver all the project to satisfy our clients.
SKILLED DEVELOPERS
We have experienced and skilled developers in-house who are technically proficient to manage any level of complicated projects.
24/7 DEDICATED SUPPORT
We offer the best technical support to our clients. We make sure that we have 24/7 dedicated support in case you want any assistance.
​​​​​INTERACTIVE DESIGNS
Our in-house developers follow a unique approach to design striking and amazing designs that helps convert visitors into customers.
DELIVERING HIGH-QUALITY SOLUTIONS
Capitalizing on the quality and innovation, we provide full-fledged software development operations catering to the needs of the present and future.
Enjoy A Better Website With Our Social Media Optimization Services
We are one of the leading and top-notch providers of social media optimization services that ensures your brand's social media profiles have the right content, the exact keyword targeting, and is providing the right set of information to the users. We optimize every factor so that your business can attract countless audiences and boost the brand presence like never before.
Contact Us
Drive Competitive Advantage With Our Profound Work
We entitle your business with advanced tools and technologies to offer cutting-edge solutions. Have a look at our best work.
FAQs on Social Media Optimization
What is Social Media Optimization (SMO)?
Social Media Optimization is a process of managing and growing an organization's message and its presence online using social media networks. It helps businesses update their customers about new products and services.
Does Social Media Optimization improves your website's ranking?
Yes, Social Media Optimization improves website ranking. It boosts your website's search engine ranking which helps you drive the targeted audience to your website.
Can Social Media Optimization help expand my online business?
Social Media Optimization helps you promote products and services effectively. Nowadays, most people use social media, and having a proper SMO can help you reach the target audience that helps your business expand online.
How is Social Media Optimization (SMO) related to Search Engine Optimization (SEO)?
The primary goal of SMO and SEO is to drive traffic to your website. But SMO is a process that helps businesses grow by promoting the products and brands to the target audience. However, SEO helps increase the audience by showing them your website at the top of search engines.
What amount do I have to pay for SMO service?
The pricing is customized as per customer needs and can vary from customer to customer. The cost is based on a monthly basis and involves factors like account, time, and effort invested on a site.