In today's digital world, apps have become vital tools that greatly enhance the user experience and improve customer satisfaction. The idea behind creating an app is to fill gaps in the market. However, creating an app is not easy, and it can be a challenging process. It involves step-by-step processes to find out the problem and the solution.
Before moving forward in the article, let us look at the costs involved in development. Seamless and high-quality app development takes time. It is hard for developers to estimate the time that apps can take to plan, design, and develop. Developed apps should give customers a seamless user experience.
If developers promise to develop the app at a lower cost, such developers do not take any strategic approach and will not give a great user experience. Moreover, such developers are likely to rush the project and skip crucial steps. Additionally, there are more chances of encountering bugs after development.
So, if you have an app idea, hire a talented team that will charge a premium for their services.
The ways to generate new app ideas in 2023:
Developing an innovative mobile application requires more than just technical expertise. The first thing it needs is a fresh and original concept. Fortunately, there are several tried-and-tested methods for generating creative ideas that can serve as inspiration for creating an app.
Here are some effective techniques and strategies for developing new app concepts.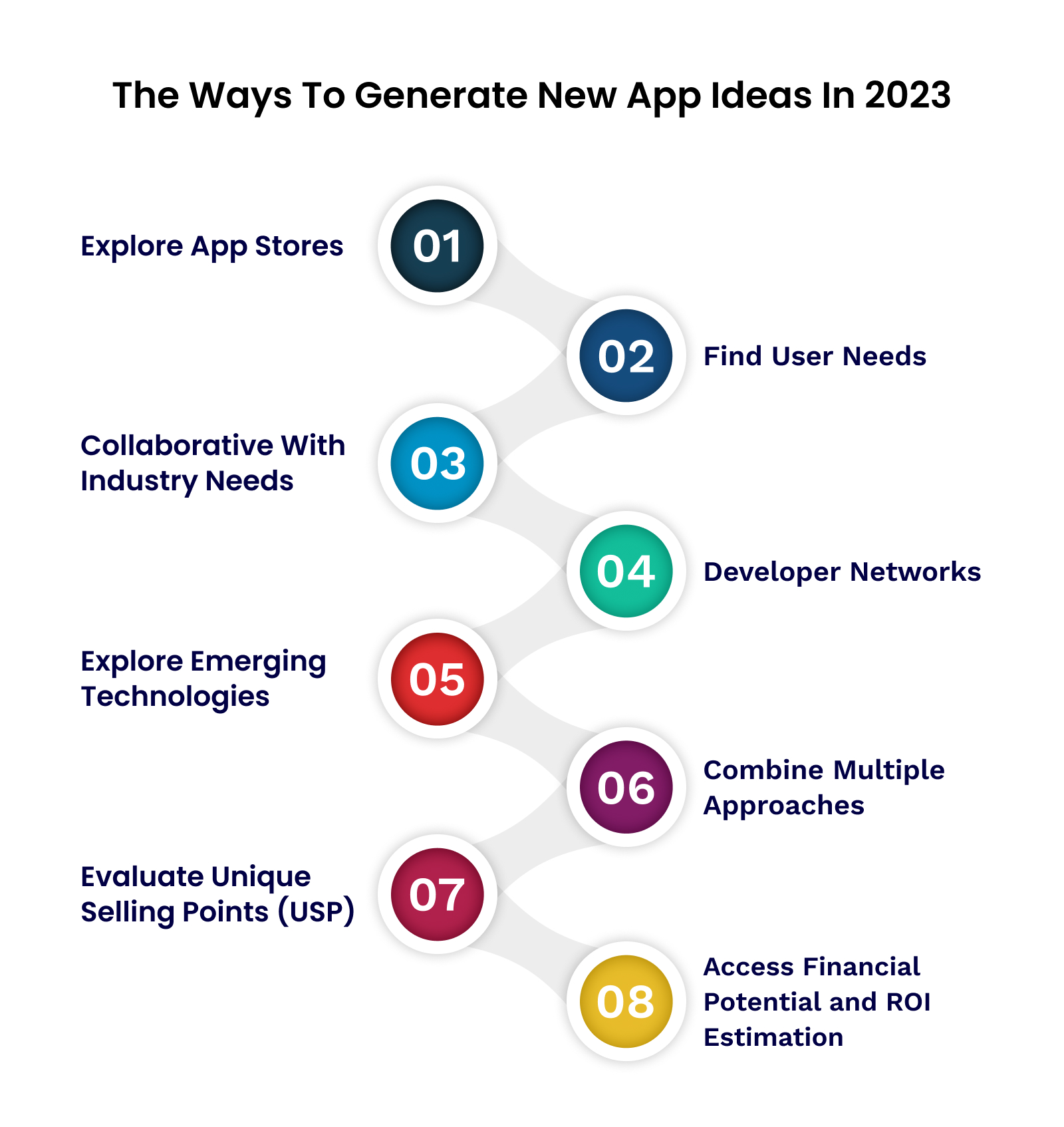 Explore App Stores: Browsing app stores help you understand the types of apps that will thrive or fail in current markets. It helps you understand the feasibility and profitability of your app ideas. Moreover, studying the existing app store ranking and top-rated charts lets you explore and examine the popular categories. It also helps you identify gaps or ways to improve existing products and allows you to unlock the possibilities of innovation.
Find User Needs: One approach that helps you identify gaps in existing solutions is looking at common customer problems. You can develop a product that fills the gaps in the marketplace by focusing on pain points. For instance, Uber has solved transportation issues by connecting riders with nearby drivers through an easy-to-use interface.
Moreover, users often voice their frustrations through reviews and ratings. So, spot common complaints about particular apps and check if the solution is created to address the issues. And if not, use it as an opportunity to create a better user experience and robust app.
Collaborate With Industry Experts: Another valuable method to create an idea is by reaching out to end-users and professionals within target industries. Conduct surveys to gather feedback from potential customers and identify areas for improvement. Partnering with industry leaders or subject matter experts can bring additional perspectives and open doors to exclusive resources or networks. Moreover, you can ask your friend or colleague who is an expansive thinker and is well-versed in the market. This helps you understand the power and scope of your idea.
Developer Networks: Connecting with other software developers, designers, and entrepreneurs via online communities and forums can enhance your imagination. Engage in conversations related to app development trends, share ideas, ask questions, and explore collaborative projects. Joining organizations, attending events, and participating in hackathons are excellent options for exploring connections and understanding new concepts.
Explore Emerging Technologies: Stay updated with the advancement in the technologies in areas like artificial intelligence (AI), blockchain, augmented reality (AR), virtual reality (VR), and the Internet of Things (IoT), you may discover unique opportunities for integrating these technologies into great applications. For instance, Pokémon Go leveraged AR technology, resulting in massive popularity among players worldwide.
Combine Multiple Approaches: Explore and integrate multiple techniques for the best results without limiting yourself to a single strategy. Find the possibility by combining the knowledge gained from networking activities, research, and pain points, and try to incorporate humor into your ideas. Coming up with extraordinary ideas often involves blending various sources of inspiration.
Evaluate Unique Selling Points (USP): Analyze what services similar apps are offering services or solving problems. Research their features, functionality, pricing strategy, user experience (UX), and market presence. Based on your findings, determine unique factors differentiating your app from others. Examples of USPs are great content, exceptional user interface, advanced analytical tools, and integrations. Understanding competition provides valuable direction when refining app features and brand identity.
Assess Financial Potential and ROI Estimation: Before moving forward with the project, calculate the potential revenues generated by your proposed app idea. Consider revenue models applicable to your project, including freemium subscriptions, premium access fees, in-app purchases, advertising sales, affiliate marketing, licensing agreements, or customized enterprise offerings. Estimate expenses related to development, maintenance, updates, marketing, operations, legal requirements, and administration costs. Use spreadsheets or financial modeling software to forecast revenues and associated profit margins over multiple years. Verifying realistic earnings from your app helps in making investment decisions.
Trending App Ideas in 2023:
Today, mobile applications have become vital aspects of our daily lives. From communication and social connectivity to entertainment, shopping, and fitness tracking, mobile apps provide convenient solutions and endless possibilities.
However, keeping up with the constantly evolving app landscape and emerging trends can be challenging for even experienced developers. Let us now discuss a few trending app ideas for 2023.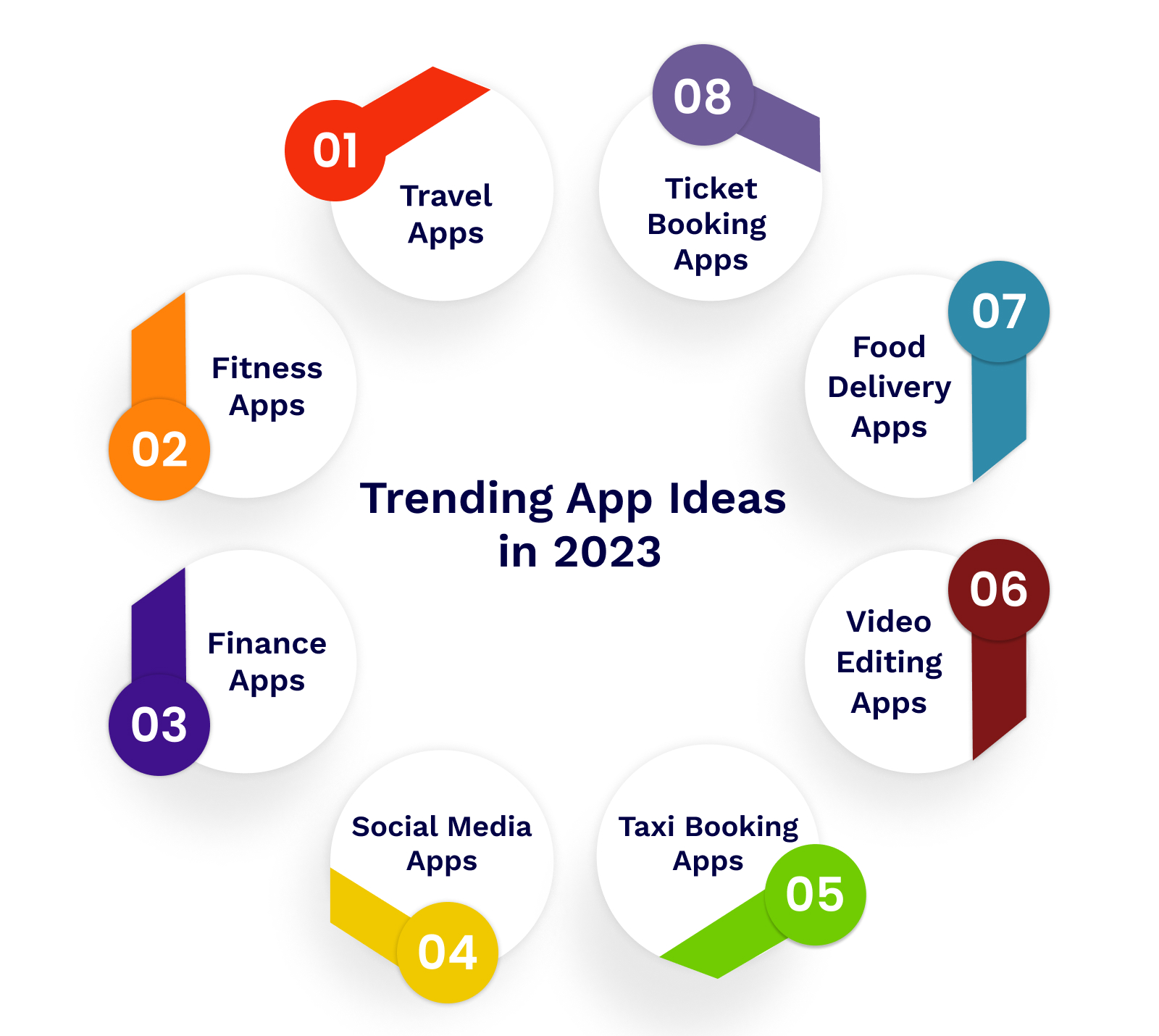 Travel Apps: Travel Apps are mobile applications designed to help and guide travelers throughout various stages of their journey. These may include trip planning, booking accommodations, finding places, transportation arrangements, and other services catering to the travel sector. The purpose of such apps is to simplify the often complex process of organizing and managing trips. They make travel easy by providing essential tools, recommendations, and helpful notifications about places. Many businesses also benefit from travel apps, and customers maintain their travel schedules.
Fitness Apps: Fitness Apps are applications designed to offer people follow workout routines, exercises, progress tracking, nutritional advice, goal setting, and motivational support. These apps promote healthier lifestyles by increasing the physical activity of a person. They are typically integrated with wearables and allow seamless data synchronization between them. Some Fitness Apps are focused on exercise, while others could include additional features for mindfulness practices, sleep tracking, stress management, heart rate monitoring, and personalized workout suggestions based on user goals or medical conditions.
Integrating social networking functionality allows friends or virtual communities to encourage each other's success or participate in group challenges to stay engaged and motivated. Popular examples of fitness apps are MyFitnessPal, Nike Training Club, Headspace, Runkeeper, Fitbit Coach, Calm, and MapMyFitness.
Finance Apps: Finance Apps refer to mobile applications that give users access to financial markets, banking functions, insurance coverage, budget analysis, wealth management tools, credit score tracking, debt calculators, and other related services. These apps help customers facilitate money management tasks, which include easy transferring of funds, investing, bill payments, purchase transactions, merchant discounts, savings tips, retirement planning, and expense categorization. These apps help customers improve individual financial literacy, empower informed decision-making, and streamline monetary interactions. Example of finance-related apps includes PayPal, Betterment, Acorns, Credit Karma, Personal Capital, Chase Bank Mobile, and Honeydue.
Social Media Apps: Social media apps enhance communication between multiple participants via a network platform. They allow sharing of content, real-time messaging, networking, and collaboration among members in online communities. Most social media sites and apps require users to register an account before accessing any features. This ensures that all contributions adhere to community guidelines and maintain appropriate standards of conduct.
In addition to messaging capabilities, many social media apps incorporate a photo or video sharing, event coordination, status updates, news distribution, entertainment content, shopping integration, voice calls, screen sharing, music streaming, online surveys, and interactive games. Examples of social media apps are Facebook, Instagram, TikTok, Twitter, Pinterest, LinkedIn, Snapchat, Reddit, Yelp, YouTube, and Spotify.
Taxi Booking Apps: Taxi booking apps are software programs designed to connect customers with licensed drivers. The drivers operate vehicles using GPS navigation and location services using their smart devices. These applications offer several benefits such as convenience, safety, ease of use, and cost-effectiveness.
By creating an interface between customers and transport companies. These app providers facilitate on-demand ride requests through simple interfaces. These interfaces display nearby available cars along with estimated pickup times, prices, driver details, vehicle descriptions, ratings/reviews, surge pricing info, and route optimization choices. Some platforms also feature options like shared rides (carpooling), motorcycle taxis, premium car classes, luxury shuttle bus services, or wheelchair-accessible vans.
To improve user experience, developers may integrate additional elements such as dynamic mapping capabilities showing actual traffic conditions, real-time notifications regarding driver status changes, passenger tracking, trip history records, saved favorites lists, loyalty programs, payment processing via secure channels linked to credit or debit cards or localized payment methods. The key examples include Uber, OlaCabs, Gojek, Flywheel, Zipcar, etc.
Video Editing Apps: Video editing apps are specialized software applications designed for creating, manipulating, and refining digital videos. The videos are taken using various sources such as smartphone cameras, drone footage, GoPro action shots, or conventional camcorders. These apps allow users to create or modify digital videos to enhance storytelling and visual experiences.
Users can use these applications to edit movies by combining clips, adjusting brightness levels, balancing color tones, inserting transitions, applying filters, and more. Moreover, users can use these apps to produce short films, vlogs, wedding highlight reels, birthday tributes, product demonstrations, marketing campaigns, and more.
Examples of popular video editing apps range from Cameo, Adobe Premiere Rush, iMovie, Videoshop, PlayStudio, VivaVideo, and InShots.
Food Delivery Apps: Food delivery apps offer digital platforms for food businesses to connect with customers. These apps help businesses prepare meals as per orders and enable restaurant owners to streamline order management while reducing errors.
These apps encourage healthier food consumption habits since customers get food at their doorsteps. Some popular food delivery apps link consumers to local eateries or larger chain operations. Examples of food delivery apps include Uber Eats, Deliveroo, Just Eat, Swiggy, Zomato, and others.
Ticket Booking Apps: Ticket booking apps are software applications used by customers to purchase tickets. They can buy tickets to entertainment events, games, concerts, film screenings, exhibitions, museum visits, theme parks, zoos, and more. They allow people to search for available seats, view seating maps, and sort based on pricing categories. A few examples of ticket book apps are StubHub, MakeMyTrip, redRail, Atom Tickets, and more.
Conclusion:
Numerous approaches can generate new app concepts, which involve analyzing consumer requirements, exploring cutting-edge tech, reaching out to partners, and engaging in developer communities. However, thinking outside the box is challenging but vital. Unique and captivating ideas help businesses stand out from the rest.
Selecting the right software development partner who can help you take your business to the next level is crucial. Hiring a great team that focuses on an idea and is robust will ensure that the app is user-friendly and scalable.
We at ToXSL Technologies understand clients' requirements and ensure to offer the most user-friendly and scalable apps. Our developers have served many renowned brands throughout the globe and helped them grow exponentially.
Contact us today, and we will help you turn your idea into reality.