The field of UX design is evolving, and designers are introducing the most innovative designs regularly to the business world. The UI and UX designs are powerful enough to change our perspective on design experiences. The UI and UX designs integrate the best of both design and technology.
The UX design process starts with a clear understanding of the user's needs and grasping the psychology of customers. It helps designers design using the best practices and target their potential audience. Moreover, it is a job in high demand and ranked as one of the most in-demand jobs in the market.
Additionally, it increases user satisfaction. But this is not only about the features or promotions. It plays a vital role in enhancing confidence in your brand and helps you get confidence in your vision. Integrating user experience with the vision helps businesses improve their branding and get the desired branding.

How do UX designs bring value to your business?
The UX designs reflect your key business metrics. These designs are crucial as they help people to use digital products confidently and comfortably. People have unique demands, making it necessary to develop user-friendly digital products. This is done with great UX designs. Creating unique designs that offer customers meaningful experiences is the goal of user experience. UX design is the stage of UX design that is hard to ignore.
Enhances user engagement: An appealing UX design will help you target more potential audiences. Great design improves the customer experience and helps retain them. This provides a strong and competitive advantage in developing a loyal user base. As per research, it only takes 8 seconds to hook a customer. So, ensure to design are attractive website or brand to keep customers.
Increases Revenue: One thing that every business should keep in mind is not to design for themselves; they do it for their customers. So, when you design a website by keeping your target customer in mind, you get better results. This shows that you value your customers, and they understand your efforts too. This can enhance or boost your sales and conversion rate, which in turn enhances your ROI. A good, responsive, and simple design help your customer navigate through your website. All you need to do is to ensure that you are placing the right resources in the right places.
Reduce bounce rate: When your website meets customers' needs, the chances that they will stay increase. Ensure that your website is responsive and bug-free. Customers do not stay longer if they encounter bugs or the website is slow. So, it is vital to keep an eye on your typography, font style, button placement, alignment, and color scheme features. These features shall not confuse customers or obstruct their decision-making process. If your website is responsive enough, the bounce rate will gradually decrease, thereby improving revenue.

UX Design Process: 8 stages of UI/UX
A UX design is not about designing anything that is trending in the market, it is much more than that. It is a constant process that includes research, prototyping, testing, and refining. Furthermore, it involves different steps and stages of design. The first step in the design process is to conduct user research to identify the problem, and the next is to create prototypes with the help of designing software. The design process involves knowing why, what, and how.
Why involves finding the user's reason behind the product usage. What addresses the actions that users take after using the product? And how relates to the seamless functionality.
Here are the eight stages of UX design.
1. Stakeholder Interviews: This is the first step of the design process, and it helps businesses understand user behavior and limitations and know the pain points. Stakeholders are people who are behind a product or a website. Their feedback and approval are a must throughout the entire UX design phase. Conducting stakeholder interviews helps you guide and understand the flow of the whole project, such as business goals, technical limitations, usability problems, and customer expectations of the product. They offer deep insights and help UX designers get the focus right. The best thing is to keep the designers and developers involved throughout the process.
2. Research: If businesses want to win customers, they must design from the customer's perspective. Understanding their views, needs, and other exceptions is crucial. So, it is advised to do deep research. User research is one of the most vital steps in UX designing. User research helps you target potential customers, and the methods used are the same as those used in stakeholder interviews. However, there is less difference between the expected outcome of stakeholder and user research. A stakeholder tells us what is needed and the goals of a product, while user research tells us what features users expect from the product. Businesses must understand the two essential sides of user research.
User Personas or User Profiles: Creating user profiles is one of the most crucial steps involved in user research. There are two dimensions involved in a user profile: demographic and psychographic. Age, gender, education level, income level, and culture come under the demographic dimension. While behavioral aspects such as likes and dislikes come under psychographic dimensions.
User Journeys: The user journey involves various paths that users follow to complete the task within a system, a website, or an application. If the app exists, the user journey involves the current user workflow and informs about the areas where improvement is required. It gives businesses a deep insight into creating the flow of the process.
3. UX Audit: A User Experience Audit (UX Audit) informs businesses about the areas that are less impressive or need improvements. This step is crucial as it helps reveal the problematic areas in the development and streamlines conversions. However, with financial audits, the UX audit uses methods that help businesses expand the existing situation or the process and offers ways that can help in user-centric enhancements. UX audits must tell businesses how to boost conversions by making them more user-friendly. These involve a wide list of elements based on your apps that must be verified. Some of them are:
The system must be users updated about what is happening on the backend.
The app should not use difficult-to-read technical terms.
It should ensure the use of words that are easy to understand.
Errors should be written in everyday language and offer a solution.
Ensure that help information is easily present.
Load time must be reasonable.
Font and text formatting must be readable.
Homepage must be easily understandable, and users must be able to understand it in the least amount of time.
4. Requirements: Gathering required information is a crucial step in UX design. Ensure that you get the correct information or data at the beginning of the project. Getting the wrong data or information can be harmful and affect the project's outcome. Here are the six things that you must consider to make user experience design better and faster.
Stakeholder interviews
Documentation
User interviews
Develop a prototype and sketch
User scenarios and stories
Brainstorming sessions among teams and clients.
Businesses should make sure that all requirements are pre-defined and that user interviews are conducted after gathering insights from stakeholders.
So, it is vital to follow the first three steps before gathering the requirements.
5. Information Architecture: Information architecture and wireframes organize the content and flow of a website so that users can quickly complete their tasks and achieve their goals. The architecture's main goal is to create content from complex information.
Additionally, the wireframe is the structure of a web app or page that shows various elements on the screen and how they can fit into the structure of a website. It involves steps such as:
Content Organization: Organizing content is the first step involved in Information Architecture. This step classifies the content based on a particular domain.
Information Relationships: Information relationships make the information usable. For example, in an online bookstore, people only remember books by their titles. So, it is crucial to attach metadata elements such as author, publisher, year of publishing, awards, etc. Doing that helps users to find the book they are seeking for.
Creating Navigation: The next step is to provide users with a navigation structure so that they can navigate throughout the app effortlessly.
6. Visual Designs: A visual design focuses on usability and functionality. This helps users get a delightful and useful user experience. Here are the few fundamental principles associated with visual design:
They are based on understanding the users' requirements and environments.
The design process uses user-centric evaluations, and users are involved in the visual designs from the beginning to get feedback.
Designs must support all the elements of UX designs.
7. Prototypes: Prototyping is a design process of creating interactive or innovative sketches that will look like the final product. These prototypes must get validation from the stakeholders, developers, and designers. The prototyping process involves the creation, review, and refinement of the prototypes.
Here are the two reasons why prototyping is a crucial part of the UX design process:
Visualization: Prototypes help UX designers to showcase the final products to the stakeholders.
Feedback: Prototypes create input from groups of users who test the prototypes. Potential users can give feedback on the product and help businesses know where they need to improve it.
8. Testing: Testing is the last step involved in any development. It involves the evaluation and benchmarking of the usability of a final product. It is critical to delivering a great user experience.
Testing has many approaches, and businesses can choose the one that is best for them.
It involves the following approaches:
Usability Testing
Site Analytics
A/B Testing

How to successfully implement UX Designs?
The initial step in designing the interface is knowing what the process involves. The process starts with knowing your audience, business goals, and how to target potential customers. Applying UX design after knowing your audience can help you create compelling designs.
However, here are a few steps that help in the successful implementation of UX designs.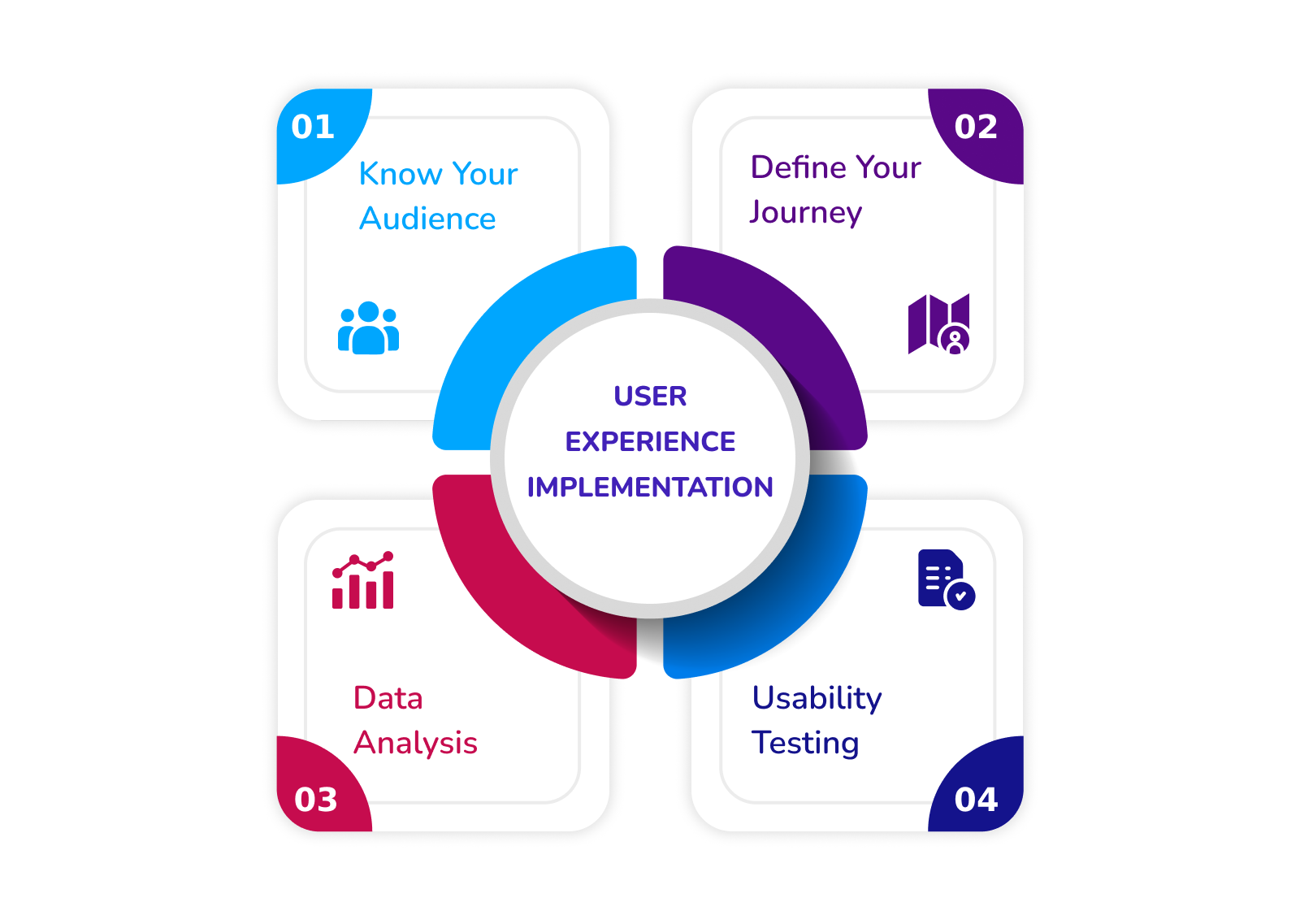 Know your audience: knowing your audience, goals, and needs is the first step toward UX improvement. It involves gathering feedback, conducting user research, and analyzing user data to identify areas of improvement.
Define your journey: After understanding the audience, businesses must define the crucial user flow and take steps to complete specific tasks or achieve goals.
Conduct usability testing: Usability testing is crucial to test your product and service with real users. It helps businesses identify areas of improvement and validate designs and functionality.
Data analysis: Conducting data analysis can help you get valuable resources for UX design improvement. Businesses can know how their product will perform in the market through data analysis. Also, they will know what the user wants and what can be added or removed.
To conclude:
This article gives a complete insight into the UX design process. However, there is no one-size-fits-all solution when it comes to the design process, as these designs are not static. But the goal remains the same, regardless of the design process.
However, businesses must use something that fits well with their vision. Choosing the correct designs can help you communicate with the audience and evolve your UX process as the product evolves.
So, if you are seeking to improve your sales and increase your revenue, you must have appealing designs that communicate seamlessly and effectively with your target audience.
ToXSL Technologies is one of the leading customer-focused organizations that helps you to get the best web design services. We have helped more than 5,000 clients globally and enabled them to grow with our innovative UX Designs. For more in-depth details, contact us.