Artificial Intelligence is the most prevailing technology and has touched every industry vertical. The global AI market is worth $136.6 billion and can expand at a CAGR of 37.3% by 2030. The constant innovation by the tech giants in Artificial Intelligence has given rise to AI-powered Chatbots.
Research says 23% of customer service-based companies use AI chatbots. And 80% of people have interacted with a chatbot at some point.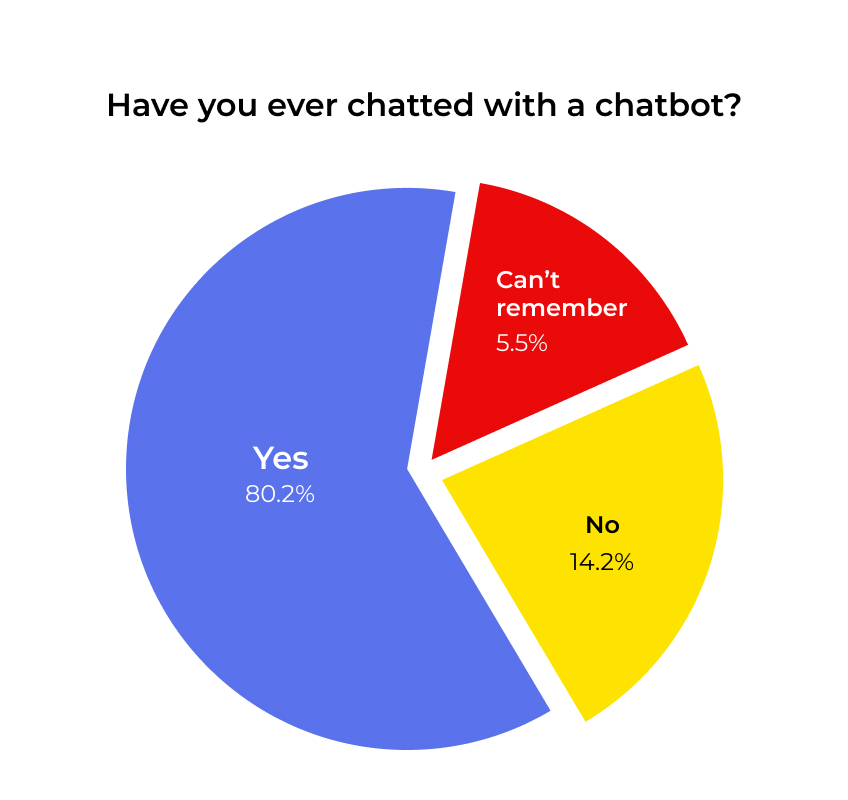 In 2023, the global chatbot marketing revenue reached $137.6 million and can reach 454.8 million by the year 2027. However, almost 80% of people have used chatbots at least once.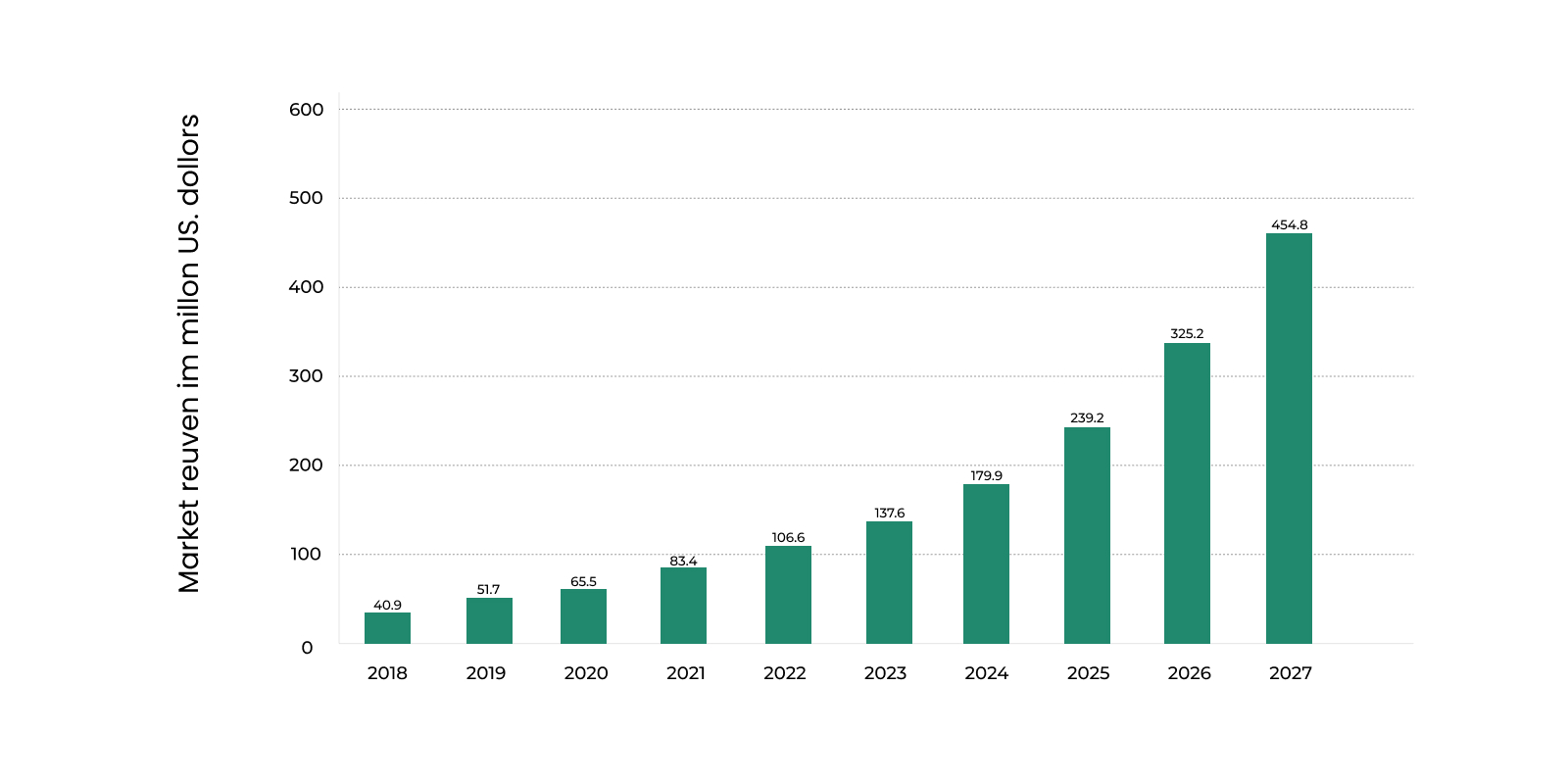 According to Garter, 70% of white-collar workers will interact with chatbots daily, and more organizations are investing in chatbot development and deployment. Furthermore, let us understand the concept of a Chatbot, its top features, and factors.
Overview
Chatbots are conversational bots that use a computer program that uses Artificial Intelligence (AI) and Natural Language Processing (NLP). Chatbots handle human conversions and answer all queries. They are used highly in websites, messages apps, smartphones, and more.
What is Replika?
Replika is an AI chatbot that uses machine learning (neural network) and natural language processing (scripted dialogue content) to mimic human conversation. It is one of the best artificial intelligence chatbots, trained on a large dataset to generate impressive responses.
The main goal behind Replika is to befriend users by impersonating their personalities. It learns by connecting from your expressions and writing style and tries to conversate with you. The more you chat, the better it gets.

Here are some advantages of Replika:
Personalized conversation: Replika is programmed to learn from your conversations. It tailors its responses to your personality and interests.
Emotional support: Replika offers personalized conversations and activities by tracking your mood and helping you manage stress and anxiety.
Engaging conversation: It offers impressive and conversates in a natural tone on any topic.
Easy to use: It offers an easy and user-friendly interface that is easy to understand and simple to start a conversation.

Top features to develop an AI-powered chatbot app
Today every business is incorporating AI-based chatbots onto their website. The AI chatbot is changing the ways of communication. They are delivering unparalleled insights into customer data for an informed sales lead.
Let us now discuss the top features involved in AI-powered chatbot app development.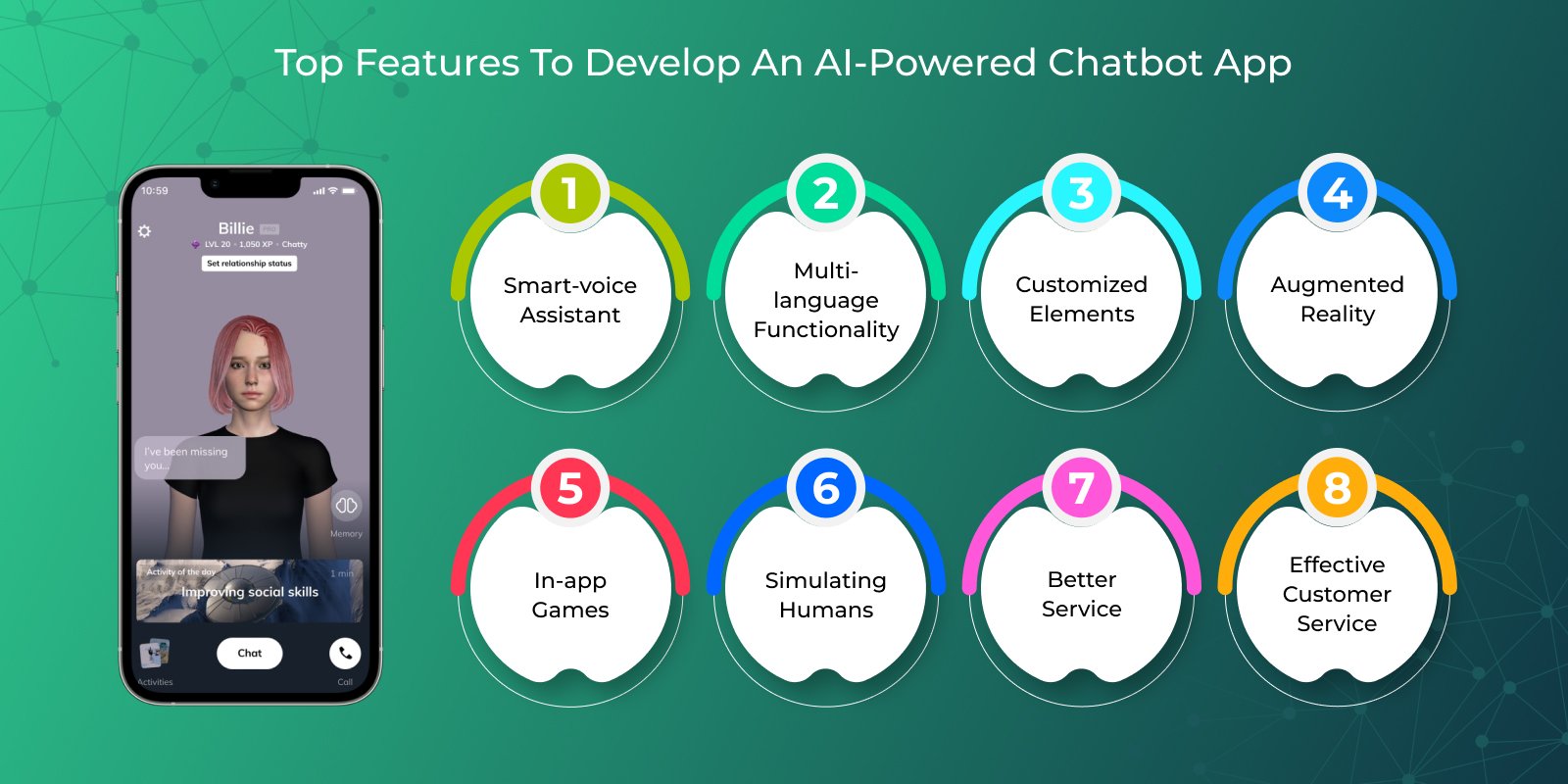 Let us explain each one of these in detail.
Smart-voice assistant: Chatbots have made communication easy for businesses. Now you do not have to type your queries and issues you face. Now, the industry can offer complete customization and intelligent assistants to everyone with the help of chatbots.
Amazon Alexa and Siri are the perfect examples of smart or intelligent assistants. These assistants are helpful for those who use AI-chatbots apps for communication. Chatbots help users by helping them with their complicated tasks.
Multi-language functionality: Multi-language functionality is crucial in chatbots. They are used globally by people of diversity. So, ensure that your app can understand different languages. It does not mean that you have to speak every language. You only need to set up your apps and change to the language in which your audience is comfortable.
Customized elements: Artificial Intelligence delivers the most seamless and efficient ways to understand the likes and dislikes of a user. It offers good features that help your app stand out.
All chatbots work differently and provide different functionalities. For example, the chatbot Replika responds to messages automatically once it understands what the user wants.
Augmented reality: Augmented reality is trending with Artificial Intelligence these days. It offers users a great experience by adding a personal touch to the apps. It allows customers to choose a more natural look or try to give a real-life experience. When it comes to an invention or using new technology, it all narrows down to the unique experiences that these innovations offer.
Augmented reality and artificial intelligence give new ways to operate when combined. And these technologies combined create a more realistic experience and give users desired results.
In-app games: In today's era, games are more prominent among users. There are a lot of games that use augmented reality and artificial intelligence to make the apps more interesting. The most common example of a simple game is Google Chrome. When you lose the internet connection, you play a game by pressing the space bar and arrow keys. Even though the Google Chrome browser has nothing to do with games, it has figured out a way to keep users busy. It is one of the main goals of in-app games.
So remember that in-app games give a way that keeps users interested and helps them improve their experience.
Simulating Humans: Since AI is copying human behavior, Chatbots are not behind in the race. AI can help you give your users added benefits, or they can customize it according to the users' requirements. It is easy to customize the apps. All you need to do is to talk to developers and ask them to add the desired functionalities. AI is making things easier for users to understand, and adding functionalities to your app offers users access to a high level of customization. Also, AI is helping users and businesses with better solutions.
Better Service: Nowadays, every app has a premium version associated with it. Users prefer more of the best services and opt for the services that provide features that are highly personalized for the customer. These features make your apps stand out and help you make more money.
Effective Customer Service: Having good customer service helps you enhance the name of your brand or app. So it is crucial to develop apps that can help the customers, answer their queries on time and clear their doubts without fail.
These are the most crucial features which can help you develop a powerful AI-based chatbot app like Replika. Now let us dive into the essential part of the article, which is a comprehensive guide to making an app like Replika.

How to create a chatbot like Replika?
It is difficult to develop a powerful Chatbot. It requires effort to develop an app like Replika. So, if you do not know how to make an AI-based chatbot, we have written a few steps that will help you with the development process.
Research
Analysis
Business Model
Efficient Platform
UI/UX design
Chatbot app development
Minimal Viable Product (MVP)
Maintenance and Support
Let us explain all of these in detail.
Research: The best way to start with any chatbot development is through research. The more you research the concept of chatbot applications, the more you will understand, and it will be easy to create one.
Quality research helps developers in a great way to develop any application, be it a mobile development app or a chatbot app.
So, before you hire developers, ensure that you know your requirements and have learned about every aspect of your chatbot app.
Analysis: It is crucial to conduct a competitive analysis. Knowing what your competitors are up to and what they are doing to stay on top of the game helps you convert your plan.
You can enhance your current app development by incorporating the functionalities that your competitors have already offered. Competitive analysis helps you in creating perfect strategies and keeps you a step ahead of your competition.
Business Model: While choosing a chatbot for your business, you must know what kind of business model you want to use. The business model can be native or cross-platform. You can decide the model based on your customer's needs. Moreover, you need to understand the process which you want to follow to make an AI-based chatbot like Replika, and then start with the process.
Additionally, you can take the help of AI professionals who are well-versed in chatbot development. They can help you develop the chatbot without any issues and choose the perfect model as per your requirements.
Efficient Platform: Once you decide what kind of app you want, the next step is to choose the platform that will work perfectly for you. Also, the cost of the app depends on the platform you choose.
Here is a list of platforms that can help you make apps like Replika:
The bot platforms
Botsify
Flow XO
Chatfuel
Beep Boop
UI/UX design: How your app looks to give the first impression. Your users will stay or leave depending on how responsive and interactive your UI/UX designs are. An ideal design creates instant connections, and users do not get distracted. Having a balance between the functionalities and appearance of an app helps your business in a good way. So, it is crucial to use unique features, and get more traffic on your app.
Chatbot app development: Now after deciding all the factors, it is time to start with the development process. After gathering all the information about the chatbot, it becomes easy for businesses to develop an app like Replika. To accomplish the task, you can hire developers for a leading AI App Development Company. The experts will help you develop an app that fits the needs of your business while ensuring high quality.
Minimal viable product (MVP): When developing an app, it is crucial and compulsory to test the app thoroughly. And get rid of the errors and bugs before launching the final version.
While you are beginning with the first version of your app or product, you need to develop the basic version with fewer features. It helps you learn how your app is going to perform when the audience will interact with your applications.
Thus, releasing the MVP after BETA testing will help you understand the user's behavior.
Maintenance and support: Once developed, it is crucial to maintain the apps. It helps business to use their apps for longer years. Numerous changes, versions, and features keep coming into the market daily. So, keeping the apps up-to-date is crucial. It can be a costly process, so decide your budget accordingly.
Let us move further in the article and learn about the factors that will help you determine the cost of Chatbot App Development.

Read more: How AI is reshaping the future of web development

Factors that determine the cost of Chatbot App Development
Here are a few factors that decide the budget of chatbots. Let us refer to them:
The intricacy of the application
Outsourcing partner
Geo-location
Let us explain these factors in detail.
The intricacy of the application: Adding special features while developing an app helps you provide a premium experience to the users. But this can cost a little higher. So it is crucial to keep the budget constraint in mind while developing the app.
Outsourcing partner: Outsourcing well-versed and highly skilled developers are costly. The cost of developers depends on their efficiency and years of experience.
Geo-location: The location of developers creates a tremendous impact on costs. This is something you need to understand while hiring developers.

The technology stack needed to build a chatbot
The important frameworks required to develop a chatbot:
Frond End (Website and Mobile Apps)
React JS, iOS, Android, HTML 5, CSS3, Flutter, and Angular JS.
Backend (Website and Mobile Apps)
MongoDB, .NET Core, PostgreSQL, PHP, and MySQL.

To conclude:
AI-based chatbots are user-friendly and can help you empower the business. We hope that the article has given the idea about chatbots.
If you are looking to create an AI-based chatbot, partner with us. We help you expand your landscape in the industry with our AI-powered Chatbot Services.