Customer relationship management has an impact on the sales and the growth of businesses. The future of CRM is, even more, brighter as businesses set foot in the era of intelligent and integrated solutions.
Whether a small business or an enterprise, sales and marketing teams continue to adopt CRM and deliver a better experience and retain customers. It helps businesses to navigate through the demand of digital and deliver actionable insights in real-time.
But, the trends and the world of CRM are changing continuously. It has to cope with the latest trends and emerging technologies. Here in this blog, let us discuss how the CRM the latest trends evolve your business and lead to massive growth.
Evolution of CRM and beyond
With the rise in Internet usage, there was a rise in the demand for CRM technology. Internet became the need of the hour, and to keep up with the growing customer demands, quickly respond to them, and boost sales, businesses started integrating CRM solutions.
The customer's demands continue to change, and businesses need to understand customer behavior and their perspective better. With the integration of CRM software, marketing and sales teams had better insights into the customers and their behavior. With a single system, companies can offer a holistic experience to their customers and prospects.
How does Integrating CRM boost the customer experience?
In a survey from the Customer Management IQ, around 76% of the management executives claimed that customer experience is the top priority. It offers them a centralized platform to the company where they can build up their relationships and grow. Here are the statistics that show how important is the customer experience for businesses.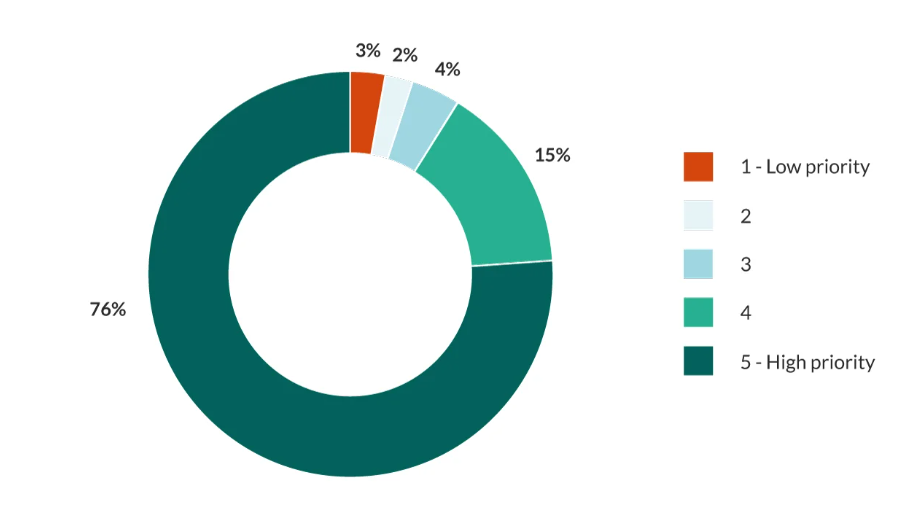 With all the data provided, businesses can empower themselves and their employees to get all the data they need to succeed in their business. Moreover, it offers users a higher level of personalization for an awesome journey. When customers enjoy the services, and the path to execution and buying is smooth, their life becomes easier, and they are likely to collaborate with your business.
CRM solutions have a bright future and will continue to solve customer queries. Integrated CRM streamlines the customer journey, let us explore further and find the latest trends in CRM.

The Latest Trends in the CRM: Crucial considerations
Here are some of the latest trends that have evolved CRM completely, and it is considered far beyond just a tool.
1. Offers a more personalized experience
According to a report from Salesforce, 80% of the customers say that products are services are equally important as the customer experience. Therefore, with an effective strategy that offers personalization to the users, they can retain more and more customers.CRM Offers a centralized space where businesses can find and use the customer data and scale their business.
CRM solutions and personalization have a lot to do with business growth, and with accurate data and insights, businesses can send relevant and customized messages to their customers. Say, for example, you checked the data and find out a customer shows an interest in your product, you can send them personalized offers or discount coupons. It boosts the relevance of the message and impacts your business.
2. Artificial Intelligence becoming a trend in CRM
CRM uses Artificial Intelligence that enables businesses to make smarter and faster decisions. Artificial Intelligence has affected almost every industry positively, and we are using a lot more of it in our day-to-day lives. The Gartner reports say that the CRM reports will continue to boost global business revenue. It offers customer resolutions in real-time, including chat.
AI-based cloud CRM analyzes the data and predicts the future. For example, where the leads will be coming, from and what products will customers like more.
3. Robust Automation workflow
With the rise in digitalization, more CRMs to stay in the competition now offer advanced automation features to streamline work. With the rise in automation, CRM is becoming more automotive, and it hardly takes time on the strategic initiatives including the research work and the campaigns. You can segregate the contacts and deliver personalized follow-ups also.
In a nutshell, with business automation, businesses can offer high-quality services and optimize operational efficiency or cost.
4. Integration across all the channels
When your data is in the repository, the teams mostly stay confused and unable to make an informed decision. Collecting the customer data from too many sources can mess it up and does not make sense. Agents, and businesses, have to check for different applications or platforms to understand and get the results.
Integrated CRM solutions are the key here that offers the best results. It offers a centralized, and single source where you can collect the data and offer the best customer service. Using CRM allows the employees to boost work productivity and deliver an engaging customer experience.
5. Listening to the customer needs and support
Offering a unique customer experience means you can help the customers whenever you need to and offer the solutions. CRM is here to offer solutions as per the needs. An efficient CRM ensures that all your customer queries are responded to well on time and as soon as a customer sends the request, it is logged onto the central system and can be accessed and responded to online.
Also, the speed at which you respond to your customer's matters. To speed up communication, CRM plays its role.

When Customers are happy, they keep coming back
CRM is one of the latest and robust trends that offers customer satisfaction and beyond. It is now vital for businesses to keep their customers happy and able to attract new ones in such a competitive world. It can be achieved by developing the best CRM solutions customized as per your business needs!

Looking ahead to the future!
As we all know the customer trend continues to change, and they expect a personalized experience, it can all be achieved with a robust thus flexible CRM software that not only helps companies meet the demands but exceed them.
Are you looking to integrate a cloud CRM solution? Differentiate your company today with high-quality services!