Artificial Intelligence is radically redefining the customer experience. Whether it is automated messages or visual search, AI is helping organizations to fulfill their needs and offer quick resolutions to issues.
Therefore, companies began deploying AI-powered assistant bots to manage the interaction between the customer and the business. No matter you are into retail, travel, or hospitality, businesses are leveraging the benefits of the bot to retain and engage customers.
The customer expectations continue to evolve, and therefore it becomes vital for businesses to integrate essential tools like conversational AI chatbots that help them redefine success. The virtual assistance helps customers engage in conversations and responds to text and voice commands.
Backing up the conversations with AI-powered chatbots is changing brand communication with customers. Here in this blog, we have a detailed explanation of how businesses can accelerate their customer support and businesses with chatbots.
What is a Conversational AI chatbot?
A conversational chatbot is a concept of Artificial Intelligence where businesses can support their customers in real-time. It is a combination of technologies that include Machine Learning, NLP, deep learning, and more to deliver exceptional customer service. NLP enhances customer engagement, and machine learning continuously improves AI algorithms.
When businesses use chatbots, conversational AI enables them to deliver personalized communication experiences.
Conversational AI is setting the global trend
Businesses are dependent on conversational AI for marketing, sales, and supporting customers. It eliminates businesses to perform repetitive tasks, ending up saving their time. As the bots continue to become more popular and functional, here is how they set the trend globally:
Conversational AI is estimated to grow from $4.2 billion in 2019 to $15.7 billion by 2024 at a CAGR of 30.2%.

According to Google Trends, interest in conversational AI has grown exponentially in the past three years.

According to Gartner, by 2022, more than 70% of white-collar jobs interact regularly with conversational platforms.

The global conversational AI market, including chatbots, will grow at a CAGR of 22% during 2020-2025 and will reach US$14 billion by 2025.

The graph here represents the Global conversational AI market from 2020-2027.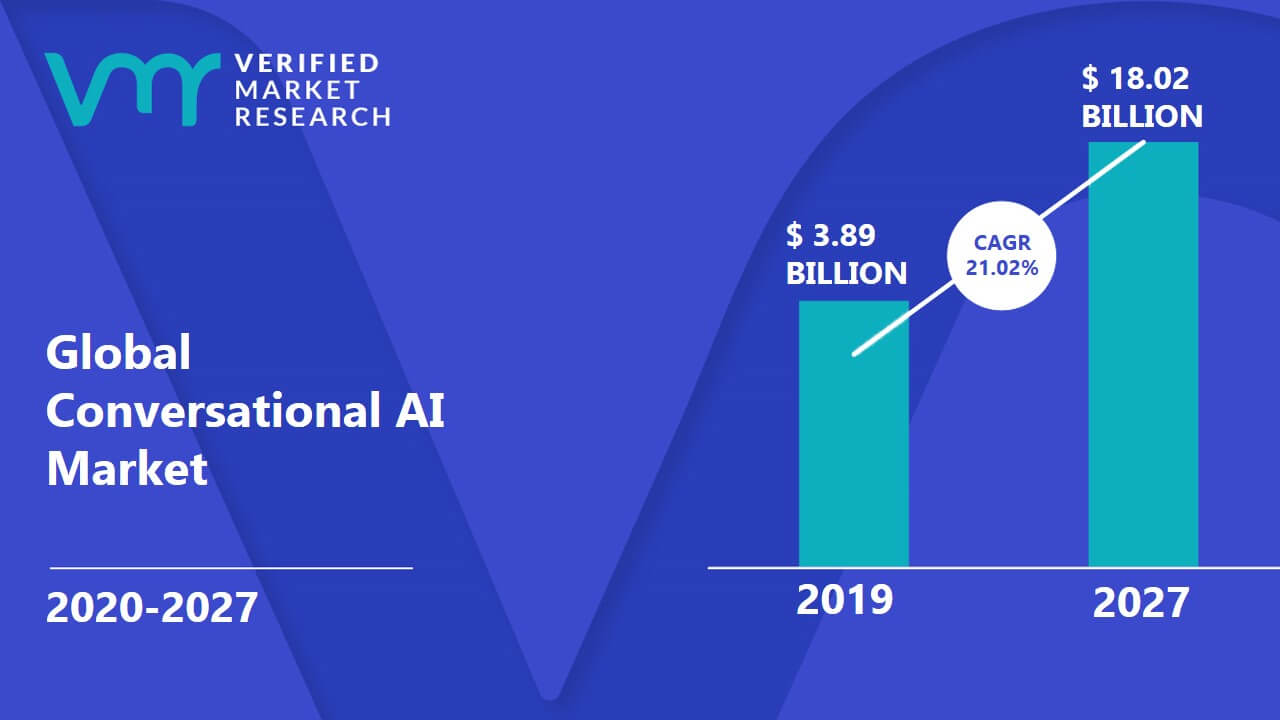 How businesses leverage the benefits of Conversational AI?
Businesses are becoming more interested and investing in AI conversational chatbots. It not only offers automation but streamlines the journey of the customers. Let us find out here how businesses are leveraging the benefits of such solutions:
1. Provides cost-efficient digital experience
Hiring a team for customer service can be costly, whereas putting a digital assistant to work can save costs and resources. Chatbots are the most efficient tool for communication and delivers on-time responses to customers. The human resources are free to handle other complex operations that add more value to their operations with increased productivity.
Chatbots are available to assist them 24/7 and respond immediately, further ensuring consistency. Automated customer interaction helps businesses retain more customers and provide them with cost-efficient digital experiences.
2. Displays the brand message
Conversational solutions allow the business to deliver robust messages to the audience. The company continues to adapt all the latest tools and technologies that align with the market needs. It ultimately enhances the brand message as a whole and helps customers to build up trust. It helps your business to stand apart from the competitors.
3. Scaled to meet customer demands
The customer support team needs to handle the forecast demand with the required staff to meet the needs. It may be difficult for human representatives to always answer customer queries. Here come the chatbots that assist the customers no matter whether there is a peak in demand or not. It always satisfies the customers in a cost-efficient manner.
The chatbot can handle multiple communications at a single time and user can scale it as per the customer's needs and demand.
4. Customer Satisfaction
Everyone has a busy schedule and can hardly find time to wait in the long queues over the call for their query resolution. It disappoints the customers, and there are rare chances they come back to you.
As the customers want fast and efficient services, the bots instantly offer a resolution to their query no matter what the situation is. It satisfies the customers in a fast pace world. Whether you are a new customer or an existing one, the bots are always ready for quick assistance.
5. More sales and Productivity
The bots collect all the information from the customers and provide them with the resolution. Therefore, the reputation of the company improves. Generally, you pass on the query to multiple users and are still unable to resolve it. The customer feels unsatisfied that ultimately affects your sales. However, the chatbot allows direct interaction with the user and brings more sales.
As AI has the capability of transferring information faster, the businesses therefore can improve the overall productivity as the staff and employees get more time to focus on their important tasks.
Also Read: Benefits Of Chatbots For Faster Business Growth
Bring Conversation to life with Conversational AI
Intending to provide exceptional customer services to the users, the demand for conversational AI chatbots grows exponentially. These chatbots help businesses scale the user experience and offer instant resolutions to their queries.
Are you ready to get started and develop your first customer service bot? You are in the right place. ToXSL is a top-notch company that helps transform your business with chatbot development services. Contact us and know-how can we help!
Are you looking forward to transforming your business with a Customer service bot? Get the guide!