Postmates is a popular on-demand delivery service that allows customers to connect and order a wide range of goods, including food, groceries, and other items.
Postmates operates on a business model that involves partnering with local restaurants and merchants that do not offer delivery services, allowing them to expand their customer base. The platform works as a middleman between these businesses and customers, taking orders through their app or website and passing them along to couriers who pick up and deliver the items.
With this unique strategy, Postmates was able to attract many investors and build a huge customer base. Let us dive deeper into the business model for a deeper understanding of Postmates.

Postmates Business Model Explained
The company's business model involves several main steps to ensure efficient and reliable delivery services.


Order Placement: The first step in the Postmates business model is the order placement process. Customers can place orders through the Postmates mobile app or website. They can browse via numerous local restaurants and stores, select the desired items, and add them to their virtual cart. Customers can also customize their orders by specifying any special instructions or preferences.
Courier Assignment: Postmates uses its algorithm to assign a courier to fulfill the delivery once an order is placed. The algorithm takes into account factors such as proximity, availability, and historical performance of couriers to determine the most suitable courier for the job. Couriers are independent contractors who work on a flexible schedule and use their own mode of transportation (car, bike, or scooter) to make deliveries.
Order Pickup: After a courier is assigned, they receive a notification about the order details and location for pickup. The courier then heads to the designated restaurant or store to collect the items. Postmates provides couriers with a prepaid card that they can use to pay for orders at partner merchants who do not have an integrated payment system.
Delivery Process: Once the courier has picked up the order, they proceed to deliver it to the customer's specified location. The courier uses the Postmates app for navigation and real-time updates on the delivery route. During this process, customers can track their orders in real-time through the app, which provides an estimated time of arrival (ETA) and live tracking of the courier's location.
Customer Interaction: Throughout the delivery process, customers have the option to communicate with their assigned courier via in-app messaging or phone calls. This allows for any necessary clarifications or updates regarding the order.
Payment and Rating: Customers are charged for their orders through the payment method they have provided in the app after the delivery is successful. Postmates retains a percentage of the order value as a service fee, while the remaining amount is paid to the courier as their earnings. Customers also have the opportunity to rate their overall experience and provide feedback on the quality of service received.
Merchant Partnership: Postmates establishes partnerships with local restaurants, grocery stores, and other merchants to expand its range of available products. These partnerships allow Postmates to offer a wide selection of items to customers and ensure timely availability for delivery.
Marketing and Promotions: Postmates employs various marketing strategies to attract new customers and retain existing ones. This includes offering promotional discounts, referral programs, and partnering with popular brands or events to increase brand visibility.
Operational Support: Postmates provides operational support to customers and couriers through its customer service team. They handle inquiries, resolve issues, and ensure smooth operations of the platform.

Postmates Revenue Model Explained :
Postmates operates on a revenue model that primarily relies on fees charged to both customers and merchants.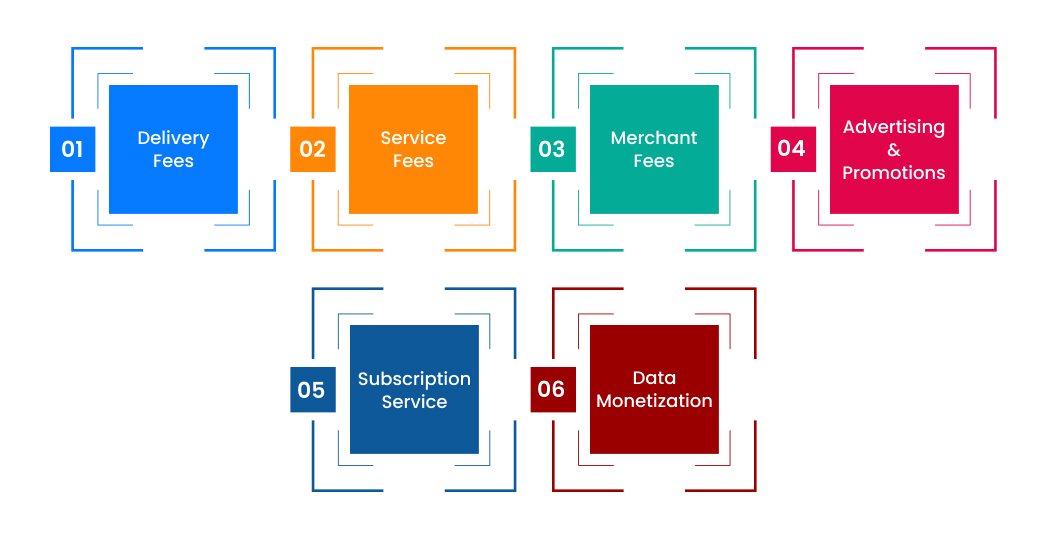 Delivery Fees: Postmates charges customers a delivery fee for each order placed through the platform. The fee varies depending on factors such as distance, time of day, and demand. The delivery fee is typically higher during peak hours or in areas with high demand.
Service Fees: In addition to the delivery fee, Postmates also charges customers a service fee. This fee covers operational costs associated with running the platform and providing customer support. The service fee is a percentage of the total order value and is added to the customer's bill.
Merchant Fees: Postmates also generates revenue by charging fees to partner merchants who use the platform to offer their products for delivery. These fees may include a commission on each order or a flat fee for using the Postmates platform. The exact structure of merchant fees may vary depending on the specific agreement between Postmates and the merchant.
Advertising and Promotions: Postmates offers advertising and promotional opportunities to businesses looking to increase their visibility on the platform. Merchants can pay for featured placements or promotions within the app, allowing them to reach a larger customer base. These advertising revenues contribute to Postmates' overall revenue stream.
Subscription Services: In 2019, Postmates introduced a subscription service called "Postmates Unlimited." For a monthly or annual fee, subscribers receive free delivery on orders over a certain value. This subscription model provides a recurring revenue stream for Postmates and encourages customer loyalty.
Data Monetization: Postmates collects valuable data on customer preferences, delivery patterns, and merchant performance. This data can be gathered to provide insights to businesses or used for targeted advertising. By monetizing this data, Postmates can generate additional revenue streams.
It is important to note that the specific details of Postmates' revenue model may vary over time as the company evolves its business strategy and adapts to market conditions.

Benefits of Having An App Like Postmates Explained:
Apps like Postmates can provide numerous benefits to businesses, especially those in the food and retail industries. These apps act as a bridge between businesses and customers, offering on-demand delivery services for a wide range of products. Here are some ways in which apps like Postmates can benefit your business:



Enhanced Reach and Customer Base: By partnering with an app like Postmates, businesses can tap into a larger customer base that they may not have been able to reach otherwise. This increased reach can help businesses expand their customer base and attract new customers.
Improved Customer Convenience: Apps like Postmates provide customers with the convenience of ordering products from the comfort of their homes or offices. This convenience factor is particularly appealing to busy individuals who may not have the time to visit physical stores. By offering delivery services through these apps, businesses can cater to the needs of such customers and provide them with a seamless shopping experience.
Enhanced Customer Loyalty: Offering delivery services through apps like Postmates can help businesses build stronger relationships with their customers and foster loyalty. When customers have a positive experience with the delivery process, they are more likely to come back.
Improved Sales: Customers who may not have visited a physical store due to various reasons (such as distance or lack of time) can now access the business's offerings through the app. This expanded accessibility can lead to higher sales and revenue for the business.
Cost Savings: While partnering with a delivery app may involve some costs, it can also lead to cost savings for businesses. By outsourcing the delivery process to a third-party app, businesses can avoid the expenses associated with maintaining their own delivery fleet and infrastructure.
Data Insights: Apps like Postmates provide businesses with valuable data insights that can help them make informed decisions and improve their operations. These apps track customer preferences, order patterns, and other relevant data points, which can be analyzed to identify trends and optimize business strategies. By leveraging this data, businesses can tailor their offerings to better meet customer demands and preferences.

Summarize
To conclude, landscape, offering delivery services through apps like Postmates can give businesses a competitive edge. Customers increasingly expect the convenience of on-demand delivery, and businesses that fail to meet these expectations may lose out to competitors who do. By embracing these apps, businesses can differentiate themselves from competitors and attract customers who prioritize convenience and flexibility. So, if you are looking to develop a business model like Postmates, feel free to contact us. Our experts will make sure that you get the most robust and secure app that will help you boost your revenue.