The Mobile App Development market is rapidly growing, and 2023 promises to be no different. With the advancement in new technologies, there has been an exponential increase in mobile app usage in the last few years. Moreover, the mobile app landscape keeps shaping with the change in user behavior.
According to the mobile usage statistics, in 2023, the number of US adults using mobile phones are 253.3 million. This growth will continue to rise with time. And there are 6.8 billion smartphone users worldwide. By 2025, the number of mobile users worldwide can reach 7.49 billion.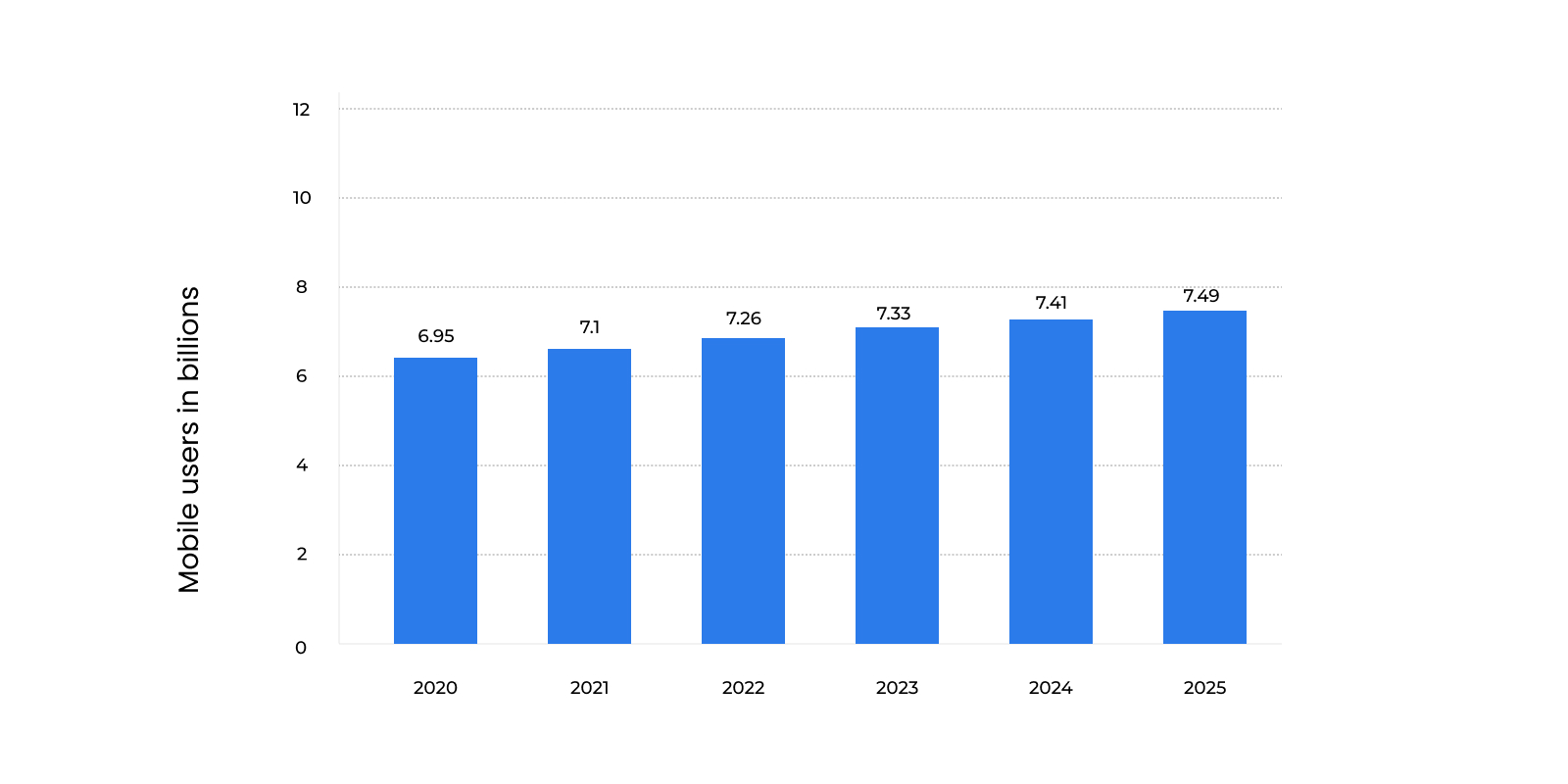 In an ever-changing industry and a highly-saturated market, it is challenging for businesses to keep up with all the innovations happening in the industry. But if you want to develop an app, or improve the existing one in 2023, knowledge of market trends is a must to stay ahead of the competition.
Moreover, mobile apps can help you boost your brand's visibility, and every business owner must opt for mobile apps.
The ruling mobile app development trends to watch out in 2023
The mobile app industry keeps growing, and to meet the never-ending demands of the clients; it is crucial to maintain a balance with the trending mobile app technologies. Here are a few mobile app development trends to watch out for in 2023.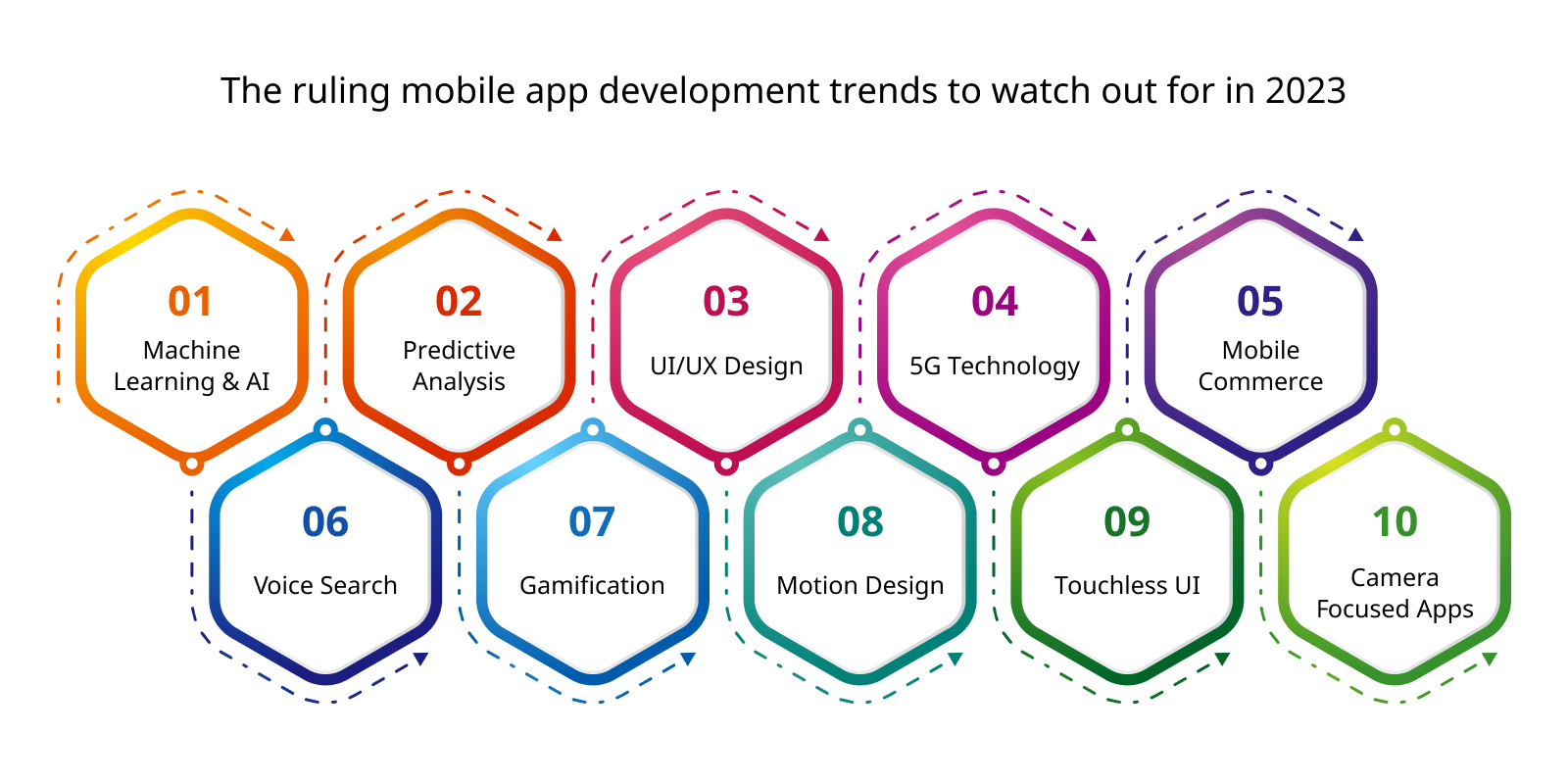 Let us explain all of these in detail.
1. Machine Learning and AI
Artificial intelligence (AI) is helping the mobile market improve and grow exponentially. The predictions say that by 2025, the Artificial Intelligence market will reach $190 Billion at a CAGR of 37% in the given forecast period. We are in an era where most companies opt for artificial intelligence to empower their apps.
Nowadays, manufacturing, medical, and other sectors have shown massive improvement in their sales by incorporating artificial intelligence into their apps. It has been possible due to its high precision and accuracy.
AI is helping in mobile development for all platforms, such as iOS and Android app development. It allows businesses to develop by using previous data, identifying issues, troubleshooting apps, and more in real time.
Additionally, it helps businesses learn user activities and behavior from the previous data. After learning the user behavior, companies can change their processes and plans as per customer requirements which helps them increase their sales and revenue.
Here are a few AI trends that are popular in the market, they are as follows:
Predicting user behavior
AI Integration with IoT
AI-powered face lock
AIOps for automation
Smart camera with subject identification
Adaptive battery to increase battery lifespan
High app reliability for cyber security
Language and voice transitions
The major driving factors of the Artificial Intelligence market are as follows:
Huge information present in the market
Growth in the adoption of Cloud-based Applications and Services
Enhancement in demand for Intelligent Virtual Assistants

2. Predictive Analytics:
Predictive Analytics is a branch of advanced analytics that makes gives future predictions based on historical data. It combines statistical modeling, data mining techniques, and machine learning. Businesses are opting for predictive analytics with the help of Data Science, Deep Learning, and Machine Learning to learn the patterns in the data and are converting their plans and models accordingly.
Gaint companies like Facebook, Google, and Apple have already incorporated predictive analytics in their designs.
The Global Big Data Analytics in the Healthcare market can reach $79.23 Billion at a CAGR of 28.9% in 2028. Also, over 44 zettabytes of data are present in the digital world, of which 70% of data is user-generated.
Types of predictive modeling businesses can choose to develop mobile applications:
Classification models
Clustering models
Time series models
Predictive analytics is used in the following industries:
Banking
Healthcare
Human resources
Marketing and sales
Supply chain

3. UI/UX Design:
Businesses are turning to the minimalist approach to mobile app development. In the last few years, a simple design approach is in high demand among businesses. With the dramatic progress of mobile app development, industries are turning to designs that align with their goals and message. Simplistic UI/UX designs attract more prospects and increase conversion rates, sales, and revenue by improving customer satisfaction.
The minimalist design approach can have:
Rounded corners,
Log in without a password,
Animation in your app,
Dark mode,
The bottom navigation bar,
Chatbots with high user experience and more.
Many apps like Google Play, Amazon, and Microsoft Teams use simple and effective UI/UX.

4. 5G Technology:
In 2023, 5G is one of the hot topics in the business market. Everyone around the globe is talking about 5G. It is one of the most promising inventions of all time. The data is transferred with great speed using a 5G network efficiently.
However, 5G technology, is in the market for a long time now, but in 2023, it will be used by all businesses around the globe.
What makes 5G better than 4G?
Few reasons that make 5G better than 4G:
Comparatively faster than 4G
Has more capacity
Significantly lower latency
Supports more devices
Uses better spectrum
The Economic Impact Report provided by Qualcomm says that 5G-enabled job growth can increase to 22.8 million by 2035.
5. Mobile Commerce:
Mobile commerce, sometimes referred to as m-commerce, is buying and selling of services through a mobile device (mostly a smartphone), and all transactions happen over a mobile device. As per the stats provided by Insider Intelligence, by the year 2024, the retail mCommerce sector will represent 42.9% of eCommerce sales. The mCommerce market has gotten a boost after the worldwide lockdown and relies more on mobile applications. Moreover, we can not deny that the online shopping market has started taking over the offline business market. Online shopping is more convenient for users, and with that mCommerce seems to win the business competition in the market.
Additionally, making online payments are easy with mCommerce, and businesses have seen a massive rise in sales.
Types of Mobile Commerce:
Mobile Shopping
Mobile Banking
Mobile Payments
Benefits of Mobile Commerce:
Better User Experience
Seamless Checkout processes
Newer channel to reach out to customers
Build a customer base globally
Provide access to user data
Trends in Mobile Commerce:
Increase in Multichannel mobile shoppers
Mobile Chatbots
Voice Shopping

6. Voice Search:
The voice recognition market size can rise to $27.16 billion by 2026. It eliminates the layer of effort and enables customers to get the answers to all their queries and find out more information about a topic. It uses an automatic speech recognition system (ASR) and converts voice signals into text. Its working involves:
Filtering the sounds
Digitize the voice search query
Conduct a voice analysis
Connect to external data sources
Translate the information
Recognize patterns and compare the query
The demand for voice search apps has increased over the last few years, and businesses from different industries are integrating voice search into their apps. Big giants such as Amazon, Apple, Baidu, Fabriq, and more are an example of companies who have to incorporate voice search in their apps.

7. Gamification:
Gamification is the introduction of game-like elements in the non-game environment to increase the customer's engagement. According to research and markets, by 2027, the in-game advertising market is predicted to reach US $221.511 billion at a CAGR of 7.08%.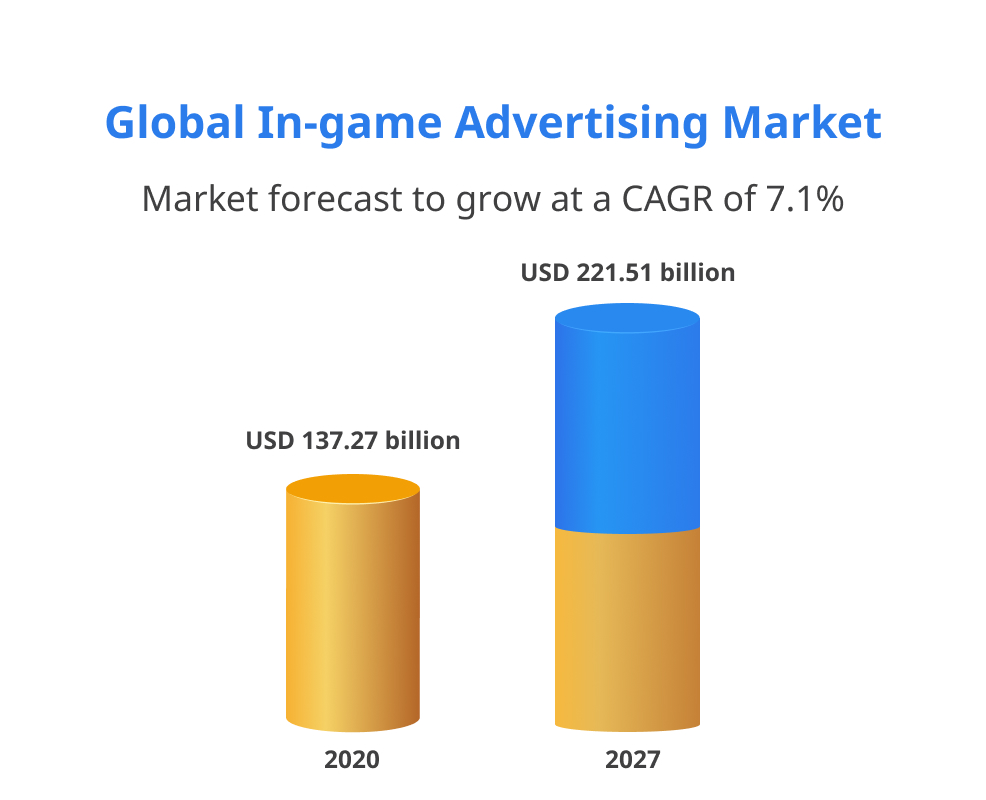 Additionally, the apps like Duolingo have integrated gamification features to it. Integrating Gamification into your apps can help organizations in many ways:
Establish a learning culture
Fixes knowledge gaps
Energize training programs
Streamline training processes
Create effective employee onboarding processes
Keep employees up to date
Establish and spread positive employer branding
Connect with employees and promote team building
Train staff on new technology
A few examples of Gamification are:
Duolingo
Cyber Discovery
Hunting game by Salesforce
Nike+ Run Club

8. Motion Design:
Motion graphics means Graphics in Movement. As graphic design continues to evolve, motion designs are becoming more popular. Motion designs are also known as motion graphics. These add life to your UI Designs and make them more interactive. It is an advanced tool for companies who are in filmmaking and animation to stand out from the crowd.
The benefits of motion graphics:
It makes boring content more engaging and memorable
Motion graphics are easily shareable
Create and increase brand awareness
Enhance social engagement
Real-time feedback
Higher retention rates
Cost-efficient with more returns
Convey information in an efficient way
Amazing logo designs

9. Touchless UI:
Touchless UI is an intelligent concept that attracts users. It captures the user's gestures or faces for authentication. If the authentication is valid, it unlocks the system and allows you to use it
According to Garter, by 2023, more than 50% of businesses will use at least one touchless UI.
Ways by which touchless UI can enhance your UX:
Increased convenience and efficiency
Greater flexibility
Reduced Distraction
Enhanced security and flexibility
Easier Accessibility

10. Video Conferencing Apps:
With the advancement in technology and after the worldwide lockdown, businesses have changed their ways of communication. Video conferencing apps have eliminated communication barriers and have empowered businesses to interact with teams globally. Thus camera-focused applications like Zoom and Google Meet are launched. These apps are proven to be beneficial to businesses of all sizes.
The benefits of Video Conferencing apps to businesses:
Enhanced productivity: Video conferencing apps are helping businesses share files, data, documents, and more in an efficient way and have helped them increase their productivity.
Cost-effective: These apps are cost-effective. You can communicate with anyone at any time from anywhere you want, hence saving you a lot of time.
Convenience: You can conduct meetings with all the members available in your company without leaving your office or home, maintaining the quality of work.
Increased collaboration: It enhances the collaboration between the team members who are not in the same location to work together on projects more effectively.
Virtual events and webinars: The apps allow you to attend virtual events and webinars. It offers opportunities where you can interact with more people.

The other mobile app development technologies are:
Extended Reality
P2P Mobile Apps
On-Demand Apps
AR and VR
Super Applications
Cloud-Integrated Apps
Internet of Things
Cross-Platform Development
To Conclude
Mobile trends are constantly changing, and business challenges are increasing. So, it is curial for businesses to balance their apps with the trends. It is necessary to work on the trends and gather knowledge of the latest technologies present in the market before developing an app.
But every technology has pros and cons, so it is essential to take the advice of the experts before integrating any technology into your apps.
So, if you are looking for the most innovative and leading mobile app development company, we are here to help you.
ToXSL Technologies is a leading mobile app development company in the business market. We have a team of well-versed mobile developers who have served 5000+ clients globally. They make sure that you get the most innovative apps that attract potential traffic to your brand and help you enhance sales and revenue.
Contact us now and take advantage of our expertise!