By 2028, the global augmented reality market size can reach USD 97.76 billion at a CGAR (Compound Growth Annual Rate) of 48.6% during the forecast period.
Samsung Electronics America Inc.'s partnership with GBL Systems Corporation to deploy 5G testbeds for augmented Reality in the U.S. Army military gave a push to AR Technology. It offers a range of applications in various industries like entertainment, education, healthcare, logistics, and more.
Augmented Reality is touching every industry, and soon it will become the new interface between humans and machines. It improves how you visualize information, receive, interact with products, and follow instructions. Many giant businesses have realized the potential of AR and are using it to grow their business.
Let us dive deep into the blog and learn its key aspects and impact on various industries:
The Key Benefits of Augmented Reality in Business
Most organizations are investing millions of dollars in AR to develop their business, and customers are always excited about new ways of shopping. Also, over 70% of online shoppers have reported that they prefer buying products from companies that incorporate AR Technology.
Furthermore, 40% of customers are willing to pay more if the products can be customized using AR. There are a lot of benefits that AR can offer for your business. Some of the key benefits are as follows.
Offers Interactive Experiences

Seamless User Engagement

Reduces Cognitive Overload

Market Positioning

Develop Training Modules

Real-time Analytics
Let us explain each of them in detail.
Offers Interactive Experiences: AR offers unique and interactive experiences and does not require special software or hardware. Anyone can access AR using smartphones or web browsers. AR technology creates virtual digital components over physical components but gives the feel of reality.
For example, a user can open the AR App and point her smartphone at an interesting object. That particular object pops up on the screen and gives all the information about it. And it helps businesses grow and interact with customers in the most interactive and creative ways.
Seamless User Engagement: Firstly, AR was limited to gaming and entertainment. But with the advancement in technology, AR is now used in many other sectors other than that and is not limited to gaming. It is considered a gateway to many other benefits among businesses that helps in increasing brand value, loyalty, and sales. AR is helping create more interactive ads, scannable product labels, store signage, and other customer-engaging elements.
Develop Training Modules: Organizations can develop training modules for employees in the most cost-effective way. Using AR tools, employees can easily visualize the scenarios during the training process.
It helps in developing the modules and lets you use data analytics. Data analytics is an interactive AR-based evaluation system that is beneficial for evaluating training modules, operational efficiency, employee productivity, or any other activity. Integrating AR technologies in your modules can give the business a new way to keep the employees productive and lead to enhanced ROI.
Reduces Cognitive Overload: Cognitive overload occurs when a person's memory handles more situations than it should. There are scenarios when a person manages unfamiliar information, due to which people make poor and wrong decisions. In such cases, AR can be used as an assistant as it presents information in neatly summarized ways. It only saves time but is also cost-effective.
For example, car manufacturers can use AR apps that allow drivers to use their phones to get to know their car's information and carry out maintenance techniques without being overloaded by information that saves them from paper manuals.
Also, professional car mechanics use AR to locate defects and understand the repair process.
Market Positioning: The most appealing product always wins. So every brand tries to distinguish itself from the others in the best way possible. Brands can take advantage of AR Technology and give customers the best experience with their products, which enhances the probability of sale.
For example, sportswear brands can develop AR tools that can help buyers find the perfect fit for their show size and can check how it looks on them, only with the help of a smartphone with a camera. And not only that, but the paint brand can also use AR Technology to give customers a seamless experience with their paints. Allowing customers to paint the wall digitally can help the customers to choose whatever color fits the walls properly. It enhances customer experience and sales. Likewise, furniture market and homeware brands, car brands, apparel, and cosmetic brands can use AR Technology to their benefit.
Real-time Analytics: Data analytics provides an organization the analytics about the business, including its employees, that can benefit an organization in many ways. It provides actionable data, which can help organizations monitor their actions and make strategic decisions. According to a report presented by Gartner® Data & Analytics Summit 2022, real-time data helped 80% of businesses grow their revenue.
Businesses grow to a great extent by integrating real-time data with AR Technology. AR systems can help brands make necessary adjustments and can boost efficiency. It can create a visual representation of data and enable you to operate the business and make necessary changes as per analytics.
The Impact of Augmented Reality on Different Industries
AR is making businesses and workplaces smarter. It helps brands become more productive and safer.
The survey published by IDC says that 50% of employee training takes place using AR, followed by internal collaboration tools for video conferencing, which has improved by 48%. The real-time collaboration is increased by 41%, followed by enhanced worker efficiency by 38%.
Here are a few industries where AR Technology is proven a game changer.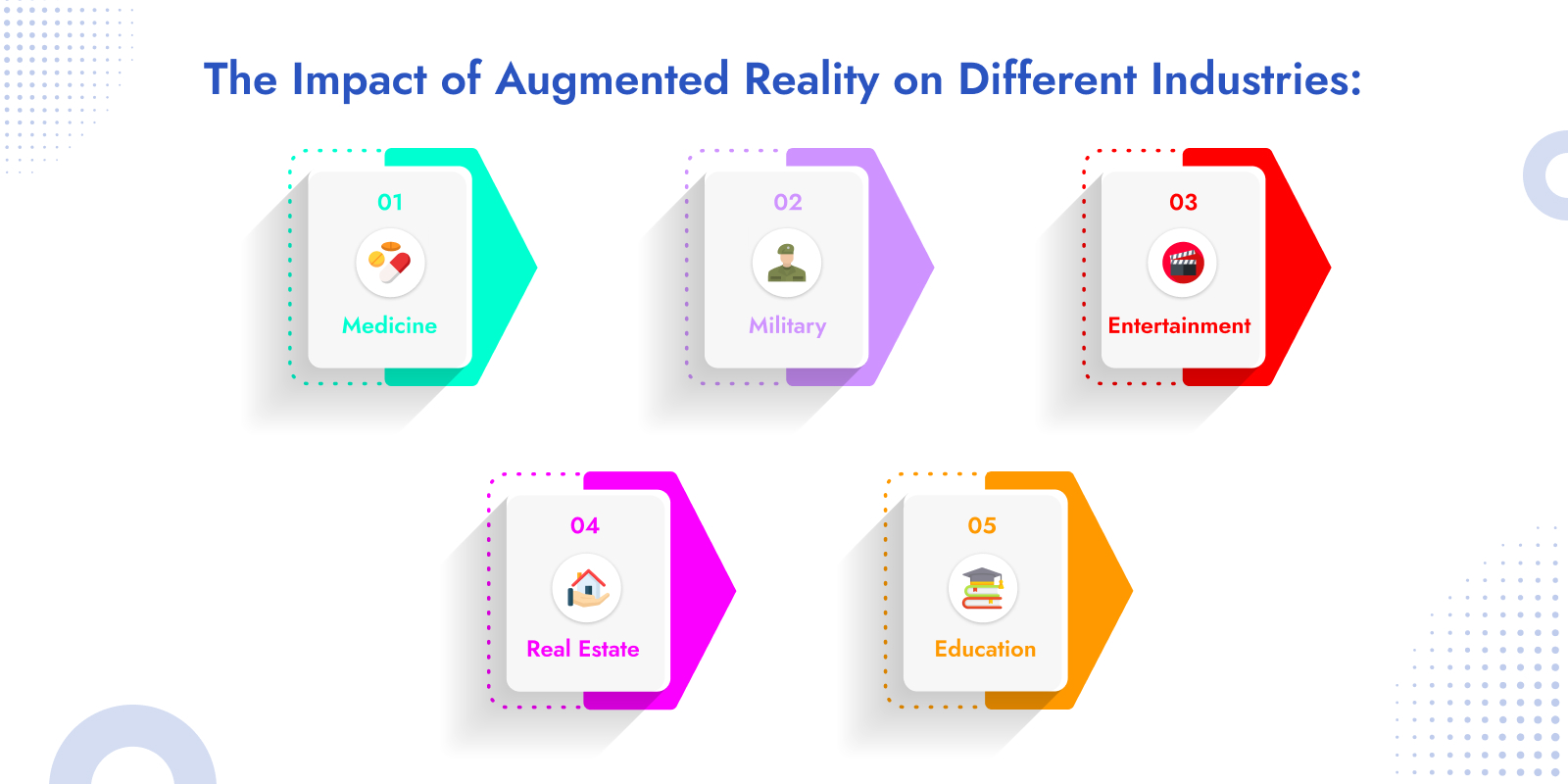 Let us now explain each of them in detail.
1. Medicine:
Augmented Reality has a lot of impact on medicine. It is changing the ways how healthcare professionals work. Diagnosis, surgeries, and training are getting a touch of AR. Here are a few ways by which the healthcare industry is changing:
Augmented Reality in the clinic: It has figured out different ways to enter care clinics and dental offices. Doctors can use it in planning surgeries and other complex operations. It uses software technology to enhance the real-world environment. It helps healthcare professionals by making procedures better and taking care of people. An example is AccuVein. It is a handheld device that uses laser-based technology to see through the skin and help nurses to find a vein to draw blood.
Augment Reality in Operating Room: In June 2020, the neurosurgeons announced the first AR surgery at Johns Hopkins University in Baltimore. Doctors successfully placed six screws during a spinal surgery using AR Technology. They got help in the removal of a spinal tumor from a patient.
AR Technology included a see-through headset with a display that helped doctors during operations. It allowed them to project images from X-rays and CT Scans.

Augmented Reality in Training and Practices: Augmented Reality is regular use by doctors and nurses in training. At NYU Langone, the students and faculties are using AR tools to access learning materials. It helps them understand human anatomy. For example, doctors can spin a detailed 3D model of the heart. They can scan a QR code that helps them get more information about surgeries and relevant lectures.
2. Military:
Augmented Reality is reshaping the military sector. AR Technology is helping soldiers prepare for battle, dispose of explosive elements and enhance their skills in using weapons. It provides better navigation services and help in handling real-world scenario without putting lives at risk. AR can superimpose computer-generated information like text, images, and videos that can help military personnel.
With that, engineers have put night vision in the helmets of pilots. It helps them see in the dark, eliminating the need for night-vision goggles.
3. Entertainment:
The entertainment industry is opting for AR Technology in numerous ways. Many products used in the entertainment industry have AR Technology integrated with them. Here are a few ways by which the entertainment industry is using AR:
AR in Music: Music is not about listening to your favorite tracks. As much as people are interested in their favorite tracks, they are equally interested in understanding the hidden information about the music. People want to find out the singer's bios, lyrics, music video, and behind the scene.
AR can do it all and provide you with the exact required information. Also, it can enhance live performances by illustrating the story told by the track.

AR on TV: AR has become a powerful tool for the TV to enhance the viewer's experience. TV already gives you the experience of a virtual world. And AR has added more benefits to it. It allows viewers to see the real-time subtitles, which are the subtitles hanging on the TV while the viewer is watching the show.
4. Real Estate:
Augmented Reality is changing the ways how real estate works. It is helping businesses take their business beyond the limits and has successfully removed the limitations like unappealing text descriptions, time-consuming decisions, and more.
AR Technology allows businesses to interact with their target audience in many interactive ways, which helps in generating more revenue. It allows users to see the 3D images of properties and give them a real-time experience. Also, they can use furniture and move it the way they want. It helps customers decide if they like it or not. IKEA Place is one of the best examples of AR Technology.
5. Education:
The educational industry is changing at a faster rate. It is integrating Augmented Reality into the education systems. AR has helped teachers and students handle many challenges and has made it easy for students to understand challenging tasks.
AR is helping students by giving them a 360-degree view of concepts, enhancing students' productivity. It keeps them curious, focused, and allows them to understand the concepts, and saves them time.
How to Integrate Augmented Reality Into Your Business?
There are three steps that help you integrate Augmented Reality into businesses, they are:


Winding-Up
Augmented Reality has the potential to change the face of your business and help you grow in the most efficient way. If you want to grow your business globally, then you should try AR Technology. The creative products not only help in increasing brand reputation but help you get more sales and enhanced ROI.
So, if you have an idea and want to put it into existence, feel free to reach out to us. We, ToXSL Technologies, are the most trusted Custom Software Development Company. Our team is an encapsulation of amazing and well-versed developers who believe in giving customers the best services that help you grow your business. To know more, visit here.