Mobile applications are crucial marketing tools in the tech-dominated world and can either bring success or absolute failure to your business. There are millions of mobile apps developed every year, but not all of these applications make a mark in the market.
App development is the dedication, hard work, and strategies that developers implement during the development process. Even then, due to competition, you might be left behind. The mobile app failure can be because of several issues, and it becomes a necessity for the developers to keep everything in mind that helps businesses proceed sensibly during the development process!
There must be ample planning and knowledge to be included that simplifies the process of mobile app development. Putting things into a viewpoint, let us outline the most common reasons mobile app development fails and how the developers can make improvements and necessary changes to achieve the desired goals.
What do stats have to say about app development growth?
As the number of app downloads and usage increases, app development is substantially boosted and has become an integral part.
The mobile app development industry continues climbing and reached $693 billion in 2021, $808.7 billion in 2022, and an expected $935 billion in 2023.

COVID, work from the home scenario, and ease to the customers is one of the reasons why the figure is boosting.

As per a report from Statista, by 2025, there will be a projected 7.49 billion mobile users worldwide.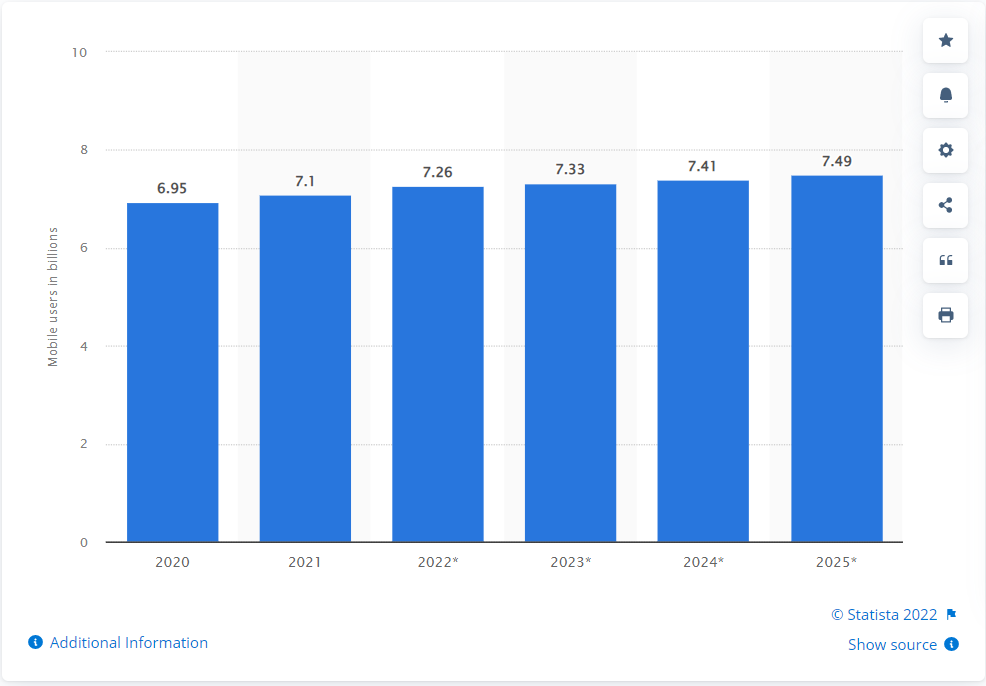 Marketing strategies, executing an efficient plan, competition, efficient features, and more are a few valid reasons for the failure of your mobile application. But let's elaborate more and cover the top causes that could lead to an app failure and of course your business!

Top Reasons for Mobile App Failure that makes a mark
1. Missing Research on Target Audience
Focusing on the end-user should be the ultimate perspective of the business. Therefore businesses must focus on conducting surveys and usability testing that would help them know their audiences better and they can offer them services accordingly.
If you have not researched your target audiences, you are doing it all wrong because, in the end, it is the audience only who decides the fate of your application. Cutting off from them is not the right business model, and businesses must ensure they are working on developing things that people want.
You must ensure to check the user behavior in the mobile environment, what brings more engagement, conversion and how you can work on the remaining part. With this information, businesses can develop solutions that are truly helpful in solving their concerns, rather than simply creating mobile apps that do not get any downloads on the Google Play Store.

2. Lack of Market Research and Needs
Lack of understanding of the market research in real-time is another pitfall that ultimately leads to the failure of your application. You must ask yourself:
Is the mobile app able to solve the fundamental problems of the audience?

Does your app follows unique ideas and integrate something new?
Your mobile app development idea must be unique and based on marketplace research following genuine facts and figures. Unless and until your mobile apps offer a unique proposition or a selling point, you are unable to add value to your brand.

3. Not focusing on the User experience
The user interface is another crucial aspect that is the biggest reason for mobile app failure. The user interface not only attracts the right users but also keeps them engaged and intact. One of the reasons Apple gained immense popularity is the simplicity of usage gained by almost all generations. There is no need for any buttons or navigation unless the user can identify its purpose.
It is exclusively the role of developers and designers to focus on offering an enhanced experience to the users because even the smallest things count. Users resist using apps that take a longer time to load. Check that the app has a minimal loading time, and offers great performance, higher stability, and amazing features.

4. Failure of Updates
The app you are developing is ultimately for your customers and failing to understand their needs and provide efficient solutions leads to a lost customer base. Therefore ensure you take their updates and feedback now and then.
The result is in the customer feedback, not the app launch. So once your app is launched, businesses work hard to sell it to their customers and in the long run, forget about their feedback. Taking care of these issues is a necessity and timely app updates can help solve problems and allow you to offer services as per the customer's needs. One of the examples includes Apple taking back the iOS 8 update and returning with 8.0.2. It sought to all the customer problems and preserves its reputation with effective solutions.

5. Unable to choose the Right Platform for Launch
Choosing the right app development platform should be the very first step. Between iOS, Android, Windows, or others choose the right one that fits your services or product offering needs. Every platform has its benefits and offerings, but you must consider your goals.
Once you choose the right platform, you must ensure it works properly as per the needs. You must hire mobile app developers with expertise and experience who have a proven track record and help you offer solutions with the right choice of platform to launch your app.

6. Ignoring Rigorous Testing
Mobile applications require a rigorous amount of testing. Although the designing and the development part play a crucial role, it will be of no use if you don't carry out the testing. It is essential that help you identify that the application is error and bug-free. Even after the app testing, there may be a lot of updates and improvements based on the user feedback.
You can execute numerous types of testing to check that your application has no bugs.
Ensure to test each functionality as and when the development takes place.

With new functionality developed, you must ensure to check whether the earlier functionality does not break down.

You must test the usability of your mobile apps

You must check whether your app is compatible with different platforms and devices that need testing

Testing is done to know whether the app integration works properly
Entrepreneurs and developers waste their crucial time developing an app that does not fail the planning and development. But ensure your app is thoroughly tested before you launch it on the Play Store.

7. Technical Inefficacy
It relates to the software issues that you might have ignored but needs to be implemented efficiently. Here are some of the major reasons for technical ineffectiveness:
Ambiguity in Mobile App Platform
No matter whether your app is built on Android or iOS, if you are not clear about your audience's demographics, nothing will work. It is not simply that you can choose the platform that you think is suitable for you. Applications not getting enough success is a result of their performance, quality, in-depth research from the developer end, and more.
Many applications in the first place are considered of no use when you are unable to get the balance of the features. For the right proportion, you must care about the right planning and understanding.
Say, for example, Vine a popular video-sharing platform was popular and was enjoyed by there were about 40 million subscribers but still failed because was unable to offer new and unique features to the users. TikTok filled the gap and took over which is enjoyed by millions of customers because it continues to update the set of features.

8. Inefficient Marketing Strategy
There are excellent products in the market, but not everyone knows about them. Does that even matter then? With mobile app development taking a shift in paradigm and growing continuously it is vital to create a robust marketing strategy.
App failure can be prevented when you have a solid marketing strategy in place. You must know whom to want to reach to what your targetted audience is.
Effective marketing means you can maintain awareness across multiple channels every time. Campaigns, social media, and other robust strategies are crucial for maintaining awareness across multiple channels and help you get more downloads.

9. Poor Customer Support
A slower response time and miscommunication lead to the derailing of the mobile application. When a user contacts customer support on your platform and is unable to get enough help, it leads to mobile app failure. Around 30% of the users ditch the use of applications when they are not able to get enough support from the platform, which ultimately leads to mobile app failure.
One awful conversation between the client and the support worker is enough to derail the reputation of the organization and your app gets bad ratings.

10. Similar Application Development
There are a plethora of mobile applications on the App Store but not all of them get enough downloads and popularity. Many applications are similar to each other, and out of which only some are downloaded and used by diverse audiences while the other remains on the Play Store like that. To ensure your app gets immense popularity and achievement, do check out the competitors before going through the app development process. Also, ensure you understand the customer's pain points, talk to them and offer unique features while defining the strengths and weaknesses. The strategy will drive effective results and driving results to your app and boost the overall download rate.

Ensuring your App gets success
Apart from ensuring that the app gets immense popularity, be particular about the strategies you follow for deploying when you decide on the app market. User-friendly experience, marketing strategy in terms of loading time, and targeting the right audience are crucial.
Businesses must study the market and find out effective solutions to the universal problems

Do not ever forget to take the user feedback- it is crucial

Don't ignore the features. The right blend of features must be provided to the users.

You must make strategies as per the goals of your business

Know your competition

Winding-up!
Mobile apps are the most crucial business strategies and you must ensure to develop an app that can stand out in the marketplace. Successful applications like Netflix, and Amazon did not make a name for themselves overnight. They started small and gradually attracted millions of users with their robust strategies and features.
Businesses must take care that their app does not fail because it becomes difficult to revive them. Well if you are looking for a mobile app development company that ensures the success of your business, you can reach out to ToXSL. We are a leading organization offering you diverse solutions at the most affordable prices!