As the trend of online shopping is increased from buying clothes to ordering food online and keeping yourself fit, everything is just one click away. The ease of using mobile applications and getting daily chores accomplished using applications has made each one of us entirely dependent on mobile applications.
One such booming industry is Grocery, which has gained magnificent momentum and is one of the fastest growing e-commerce segments. Many businesses offer grocery delivery services, but not every application on the App Store has all the essential features and is earning well. Before you start the app development process, here are the answers to all your queries. So, continue reading the blog!

Market Overview of Grocery Application
The grocery delivery application can be categorized into three parts:
Apps that deliver restaurant food and groceries

Apps that deliver only food from restaurants

Apps that deliver groceries
It is expected that by 2022, the online grocery market will reach a whopping $133.8 billion. Here are the statistics that prove why investing in a grocery delivery application is a wiser and smart choice.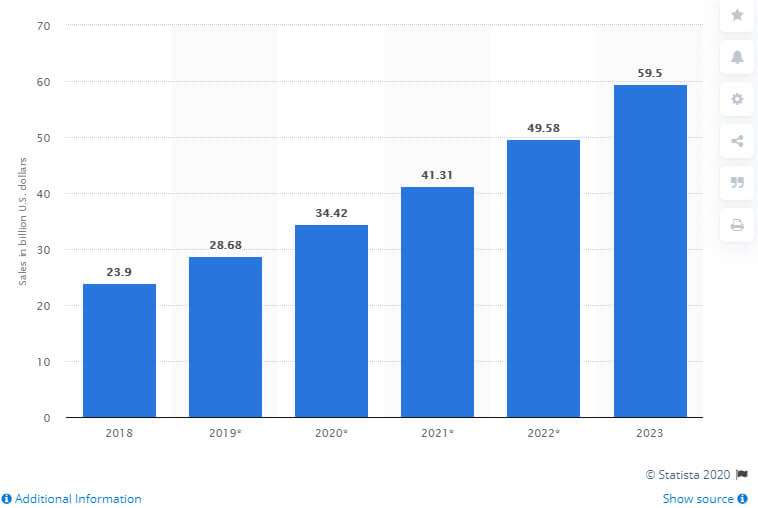 Also, as per a report from Statista, online food and alcohol sales are expected to reach $55 billion by 2021, and revenue is expected to show an annual growth rate of 7.5% with a projected market value of US $182,327M by 2024.

As per a business insider, 10% of US consumers every day do their grocery shopping online.

As per a report from OneSpace's data, on average people love to spend around $40 on groceries while doing their grocery shopping.

How to Sustain your Online Grocery Business?
As comfort has changed the game, there are several points that grocers need to understand and keep in mind to grow their business positively. Here is how:
1. Ideal to keep inventory updated
For a seamless process, it's vital to keep sufficient stock so that your customers have a wide range of options to select from. In case the stock is not updated timely there are fewer chances of customer retention and there are chances they may shift to other applications as the competition is high.
Therefore, keep your inventory and stock updated!
2. Product Delivery on Time
Customers feel much happier and satisfied if the products are delivered before the due date. It is an essential factor that helps to retain your customer for a longer time.
Strategize your business in a way that requires minimum time to deliver the order, so that you can build a robust trust in customers.
3. Ensure Quality Products
Always prefer quality over quantity and never compromise with the quality of the product. There might be so many trusted customers of yours for a longer time, and you might end up losing them if the quality is compromised.
Therefore, keep a constant check on the quality and ensure that you maintain it all the time.
4. Take care of the Safety
Taking proper precautions especially after the pandemic ensures you are concerned about your customers. There are dozens of grocery providers in the market, and your customers would not even think twice to shift if they are not satisfied.
Ensure your delivery is contactless and while ensuring the usage of the mask, gloves, sanitizers for the delivery agent. Care for your customers so that they can care for your business.
Let's convert your dream project into reality. Request for Quote.

Types of Grocery Delivery Mobile Apps
Aggregator Grocery Delivery Apps
For the aggregator grocery app development, the foremost thing you need to do is collaborating with local vendors and grocery stores. If you own a grocery store or a chain of stores, this model is quite suitable for you. It displays a list of grocery stores for the users where users can purchase the items. The app owner serves as a mediator between the shopper and the owner.
Dedicated Grocery Delivery Apps
It includes similar features as an aggregator model, but you need to manage the complete order facilitate. From order placement to deliver goods to customers, all the responsibility is of the online platform, and it's vital to ensure they have a dedicated team of delivery executives.

Features of a Grocery Delivery Mobile App - A Complete Guide

Grocery Delivery App – Customers Panel
1. Register/Login
Customers should be able to fill in the basic details such as name, email, contact, address quickly. Filling out these details should allow easy login for the customers. They should have an option for registration via social media platforms as well.
2. Browse Products
From the categorized wide range of products, customers should be able to browse the product easily whatever they are looking for.
3. Advanced Search/Filter
Customers should be able to apply the filter option so that they can categorize the product, allowing them to search quickly and easily.
4. Payment Mode:
Integrated Digital payment methods such as Debit/Credit card, Google Pay, UPI allows quick and easy payment making the customers feel secure.
5. On-time Delivery
The application needs to deliver the products to the customer on the scheduled date and time.
6. Tracking Order
The customer needs to be updated about the product status and should be able to track real-time order status.
7. Customer Support
There should be bots integrations that could quickly solve all the user queries without any human interference.
8. Modify Settings
Users should be able to modify the information such as contact number, email id, or address if there is any change.
9. Review and Rating
The customers should be able to review and rate their feedback for the entire experience. It also helps to improve their overall experience.

Grocery Delivery App - Owner Panel
1. Locate Store
The owner should be able to locate their store on maps so that whenever customers look for nearby stores they could place their order.
2. Store Pickup
It allows the customers to pick their orders from stores while improving their offline business as well.
3. Managed Profile
The owner should be able to manage their profile. They should be able to upload high-quality images, modify the name, address anytime from anywhere.
4. Live Tracking
There should be Google Maps integrated that allows the owner to track the real-time status of the courier services.

Grocery Delivery App - Admin Panel
1. Dashboard
A proper dashboard with all integrated solutions is a one-stop solution that manages/tracks all the tasks and activities making the business reliable.
2. Management
Admin should be able to manage all the orders and customer counts while residing in a single place. Even admin should be able to manage multiple stores.
3. Interaction with the store owner
Admin should be able to seamlessly connect with store owners while maintaining a smooth workflow.
4. Product Listing
Admin should be able to manage the product list, add prices, modify and get updates about the inventory as per the instructions from the store owner.
5. Manage Customers
This feature allows the grocery owners to co-ordinate with their consumers that are linked with the application. Admin should be able to send regular notifications to customers and notify them from time to time.
6. Payment Management
The admin panel should be able to manage the payment model.
7. Feedbacks
Admin should be able to collect all reviews & ratings, to act on it for improving the customer's experience.

Here the few Advanced Features
1. GPS Tracking
GPS offers a personalized experience to the user while checking the user's geographical location and offering solutions to that place hassle-free.
2. Push Notifications
It keeps the user updated with all the latest discounts, offers, and other updates about the application without having to open the application again and again.
3. In-app Calling and Chatting
There should be an in-app feature of calling/chatting for both the consumer and the store owner for instant support.
4. Real-time Analytics
With real-time analytics, the app owners/stores can check out the various statistics-about the customer likes, dislikes, and more that helps their business to flourish. It also shows up the most loved offers and discounts to streamline the growth of the grocery store.
5. Re-ordering
If a customer wants to do the same order numerous times, then by re-ordering functionality they can do the same order without the hassle of adding items again & again.
Few of the Market Leaders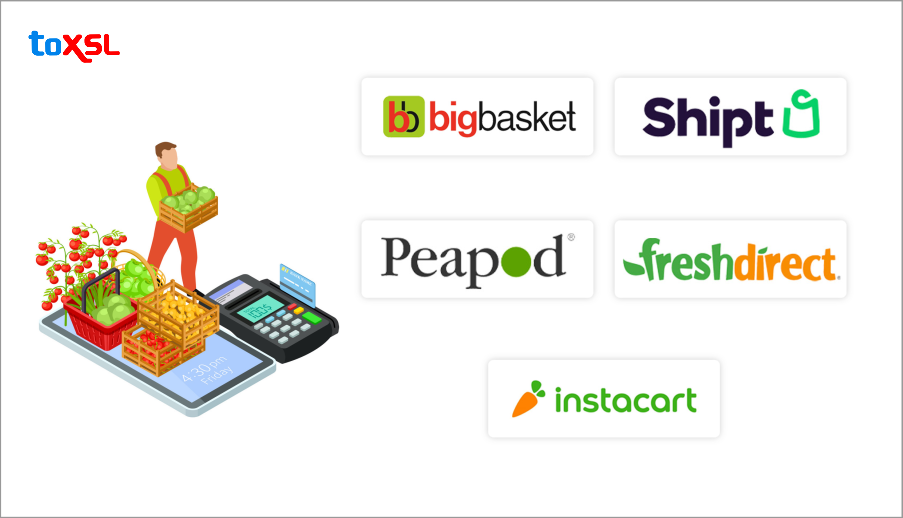 1. Walmart
Walmart is one of the leading and biggest grocery delivery providers extending its services in more than 1600 cities in the world. There are unlimited items that can be found on the application. Apart from delivery it also offers a pick-up option. After selecting the items, choose the delivery slot or pickup.
It offers a delivery slot for 24 hours making it easy for the customers to get the product delivered anytime they are comfortable. There is a delivery fee but the subscription functionality offers unlimited delivery with a lesser amount per year.
2. Instacart
From groceries to home essentials and more there is a wide range of products that are offered by Instacart. The app also offers inclusive coupons for loyal customers. It has a local team of shoppers that acquire grocery items from different stores. It allows the feature of scheduling your delivery in advance or on-demand.
3. Amazon
Amazon is a strong competitor of Walmart. Both are the leading competitors and offer robust competition to one another. Amazon warehouse has much more than just Groceries. From clothes to batteries and any other item you can get the delivery in 2 hours. Delivery within 2-hours is free, and you can get an emergent one-hour service at a reasonable cost.

Grocery delivery mobile app development cost?
The cost of the grocery delivery application matters a lot. It is never fixed but depends on several factors that include:
1. App Complexity
2. Type of Application (Native or Cross-platform)
3. Development Team Size
4. Location of App Development
5. Hourly Rate
6. Third-Party App Integrations

Select your Partner Wisely
The online grocery delivery app business is accelerating. One needs to understand the customer needs, demands, features and offer them an exceptional user experience.
Have an idea on grocery app development or need professional consultation, don't hesitate to contact us. Our team has in-depth knowledge of the domain as well as the required tech stack offering the perfect services!