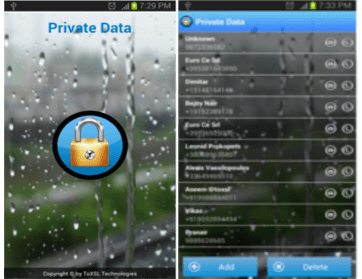 Private Data
You can hide your call and SMS using this app. Just add contact numbers to private list and select the level of protection. If you select both call and SMS, all received SMS would be moved to private message box. All incoming and outgoing call are deleted from call history. You can see those details in your private space. This app is very secure and nobody can break the security.
Key Features:
Allow you to hide your calls and SMS
Can also hide your contacts into private list
Give you a space where all the hidden contacts and SMS are present
Can delete all the incoming and outgoing calls from call history
Technologies Used: Android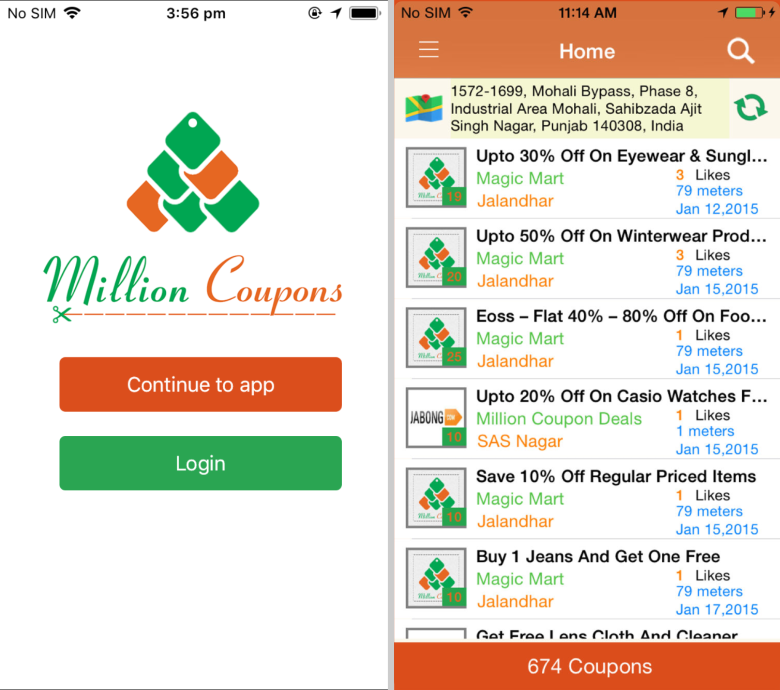 Million Coupons
The aim of Million coupons Android app is to save your money! Our most popular service developed by ToXSL Technologies is helping you find correct coupons for you. If you are looking for discounts and promotional deals, then Million coupons is the right place for you. Million coupons is one of the largest stores for local deals and discount coupons. Find the amazing deals of your most favorite local shopping city for free over here. Million coupons wants your shopping to be cheap and fun. Simply grab your voucher and start enjoying our discounts!
Key Features:
Easily find the coupons nearby location
Filter the list of coupons of your choice easily
Display the location on map
Find coupons on other locations also
Direct call to contractor for more details
Check review and ratings for coupons and add your own reviews
Share coupon among friends with the help of social media
Links:
Technology Used: PHP, JQuery, Bootstrap,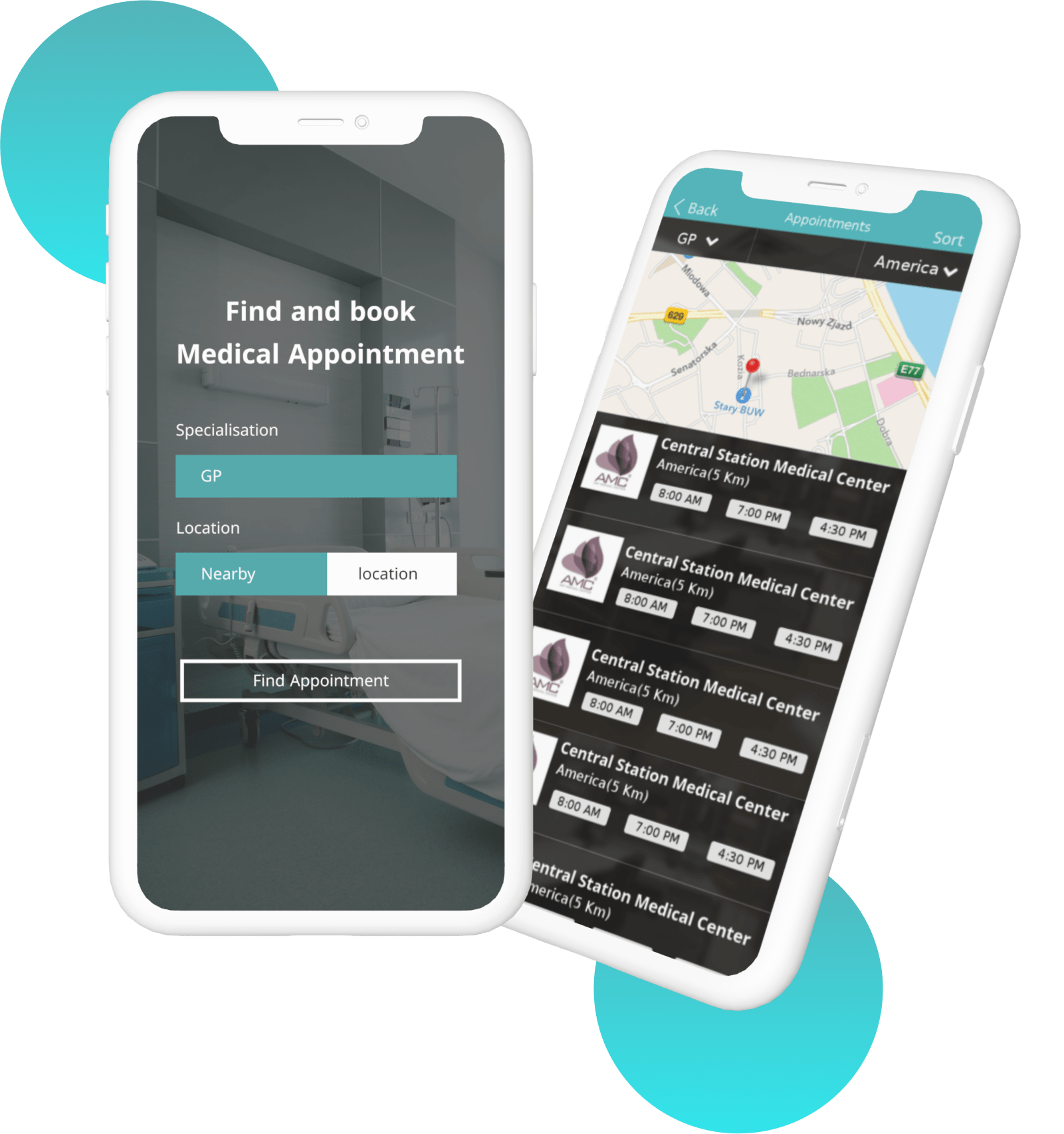 Online Appointment
This app is upgraded to a new stable and full featured appointment manager. This very productive app and booking engine to help you manage your client appointments, customer contacts and billing. The appointment calender gives you a graphical summary of your free/busy time slot so that you can schedule your engagements accordingly.
Key Features:
Add appointment
Select Date and Time
Contact Filter
Appointment manager
Complete information and satisfaction
Anytime, Any appointment
Technology used: Android, iPhone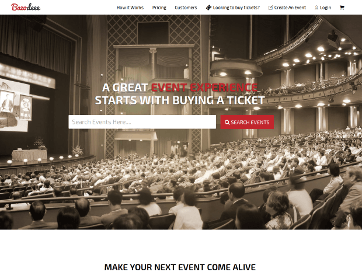 Bazodeee
Bazodee is an online E-ticketing website which is one of the most amazing website which allows users to book and buy tickets for music events, sports events and other festivals. Bazodee allows users to get their tickets pre-book and enjoy the events with their friends and family.
Key Features
Online E-ticketing facility available
Can pre-book the tickets for all the events
Easy to use
Payment can be done by any payment mode
Technologies Used: Yii Framework
Open Oceans
In this application, Riders/Clients can browse through the different categories of Places, get a quote of the vehicle like boat they want and do the instant booking.
Key Features:
My Bookings/Booking History
Push Notifications
Weather Forecasting
Destination Address
Requesting Captain
Technology Used: PHP, Web,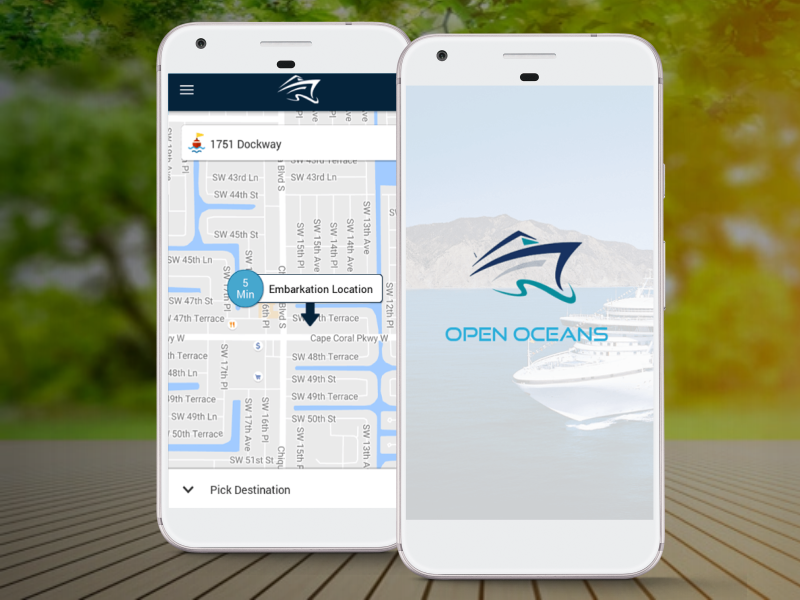 Power Think
The PowerThink Creative Problem Solving(TM) App helps you generate ideas for solving problems of any kind. You enter a problem statement and then four to ten attributes of the problem. For each attribute you select, the App offers a word that can be used to trigger ideas for solving the problem. If the first word offered does not help, you get to Try Again, and you continue this until you have enough ideas to proceed. There are over 250 words in the database that are offered as triggers. You can then share the ideas you have generated by sending an email.
Key Features:
State your problems
Attributes available for every problems
Creative ideas for solving problems
Try again, Continue, Proceed
Over 250 words
Share the ideas
Sending an email
Technology used: Android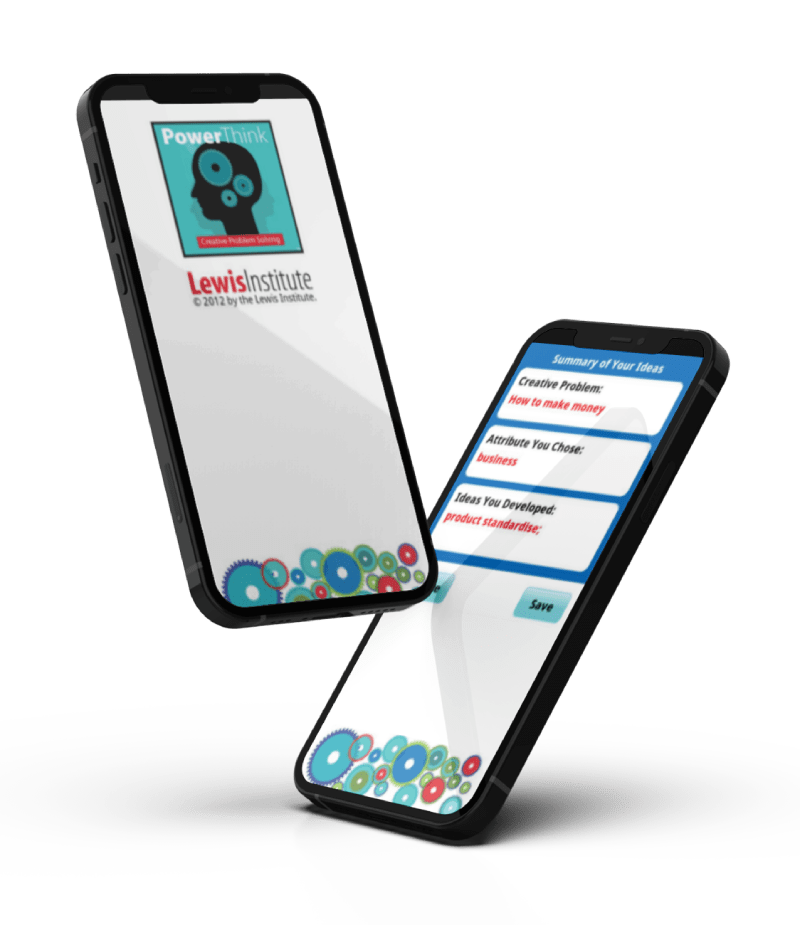 Total Call Recorder
The Best automatic VOICE CALL recording app. Listen to the recording or share it with your friends. The default storage destination of all calls is 'External SD Card', so the size of your recordings is not just limited to your phone memory. It is an amazing voice call recording mobile application, with a user friendly design, that enhances user experience, of application usage. This application has a simple, well organized, recording list and helps distinguish between received and dialed calls.
Key Features:
Simple design and easy to use
Free of Cost
Sharing of recorded items
Recordings saved to SD cards
Easy to manage recording list
Built in Audio Player
Technologies Used: Yii Framework, Bootstrap, jQuery
Links:
http://totalcallrecorder.com/
https://play.google.com/store/apps/details?id=com.toxsl.totalcallrecorder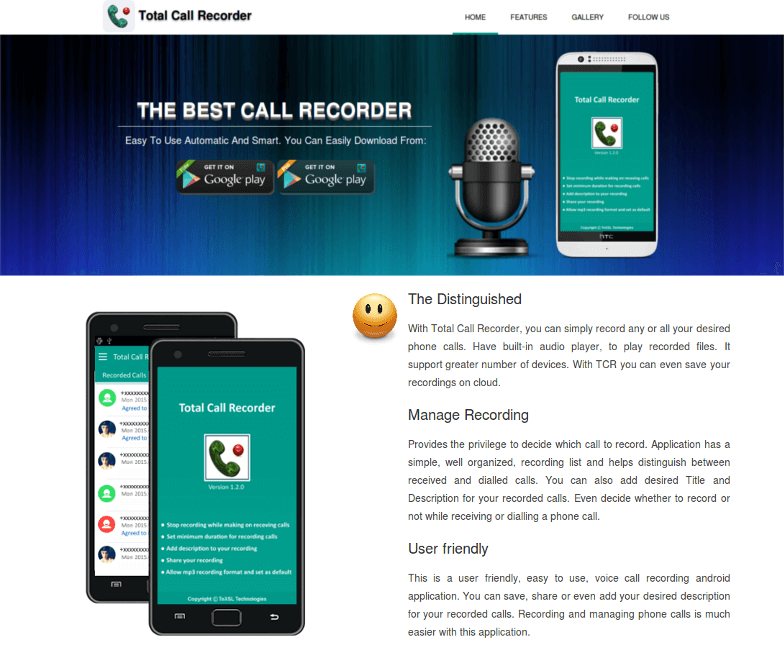 Tweak My Style
Tweak My Style is packed with loads of features, frames, styles, backgrounds and scenarios that will allow you to personalize your photos for almost any occasion you can imagine. Tweak My Style is that simply clicking on the effect is enough to insert your image very accurately and it detects people and faces very well, and even if it doesn't, you can change them by double-clicking again.
Key Features
Apply eye-catching effects to favorite photos
Users can personalize their photos
Packed with loads of features, frames and styles
Fast and stylish
Easy to use and free of cost
Technologies Used: Yii2 Framework, Bootstrap, CSS, jQuery, PHP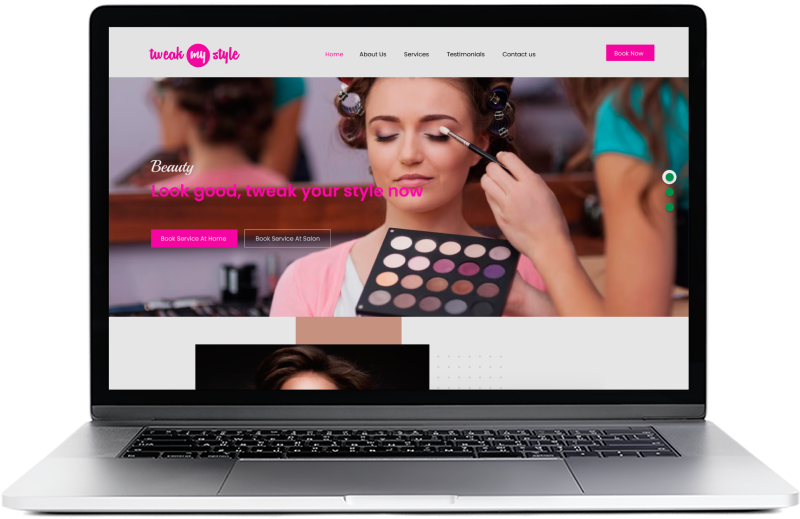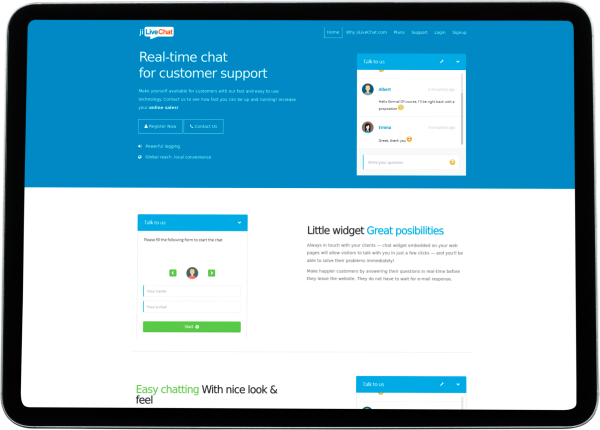 jiLive Chat
jiLiveChat is a click-to-call widget that lets you communicate with your visitors to build trust, resolve support issues, and add a human touch to your brand. It helps your customer to communicate with you and give the real-time support. Customers need not to wait for an e-mail response which saves his/her time. jiLiveChat helps close in on sales by being there for the customers. It enables us to engage our customers in personal one-on-one communication and helps to gain better understanding about them.
Key Features
Communicate with visitors and customers
Enhance sales
Engage customers in one-on-one communication
Gain better understanding about your customers
Technologies Used: Web Development, PHP, jQuery, Bootstrap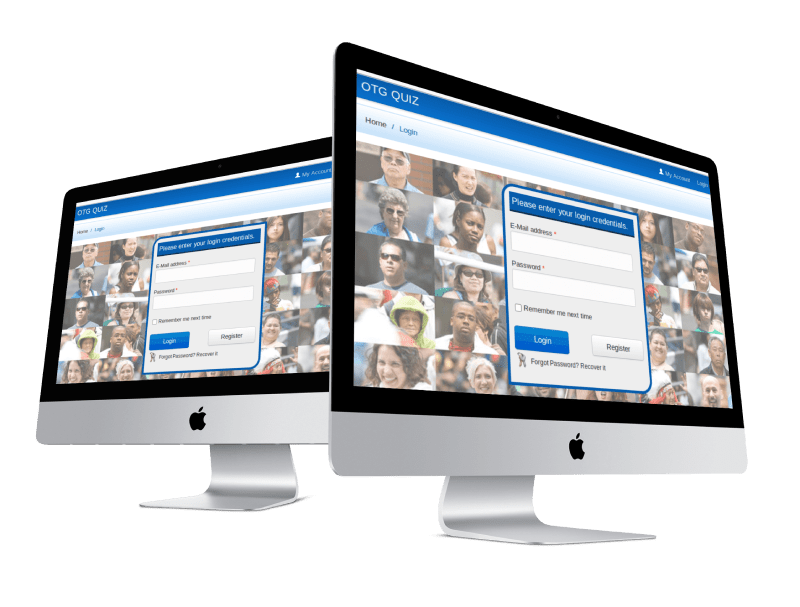 OTG QUIZ
In this app the user can receive each category on different subjects like history, geography, English and many more with a personal high score. The faster you answer a question, the more points you'll get.
Key Features:
Aptitude, technical
General knowledge
To eat and drink
History and Religion
Arts and Literature
Medicine and chemistry
Music
Politics and Science
Sports
City-country-River
Stars, Society & Entertainment
Technology and Science
Technology used: Android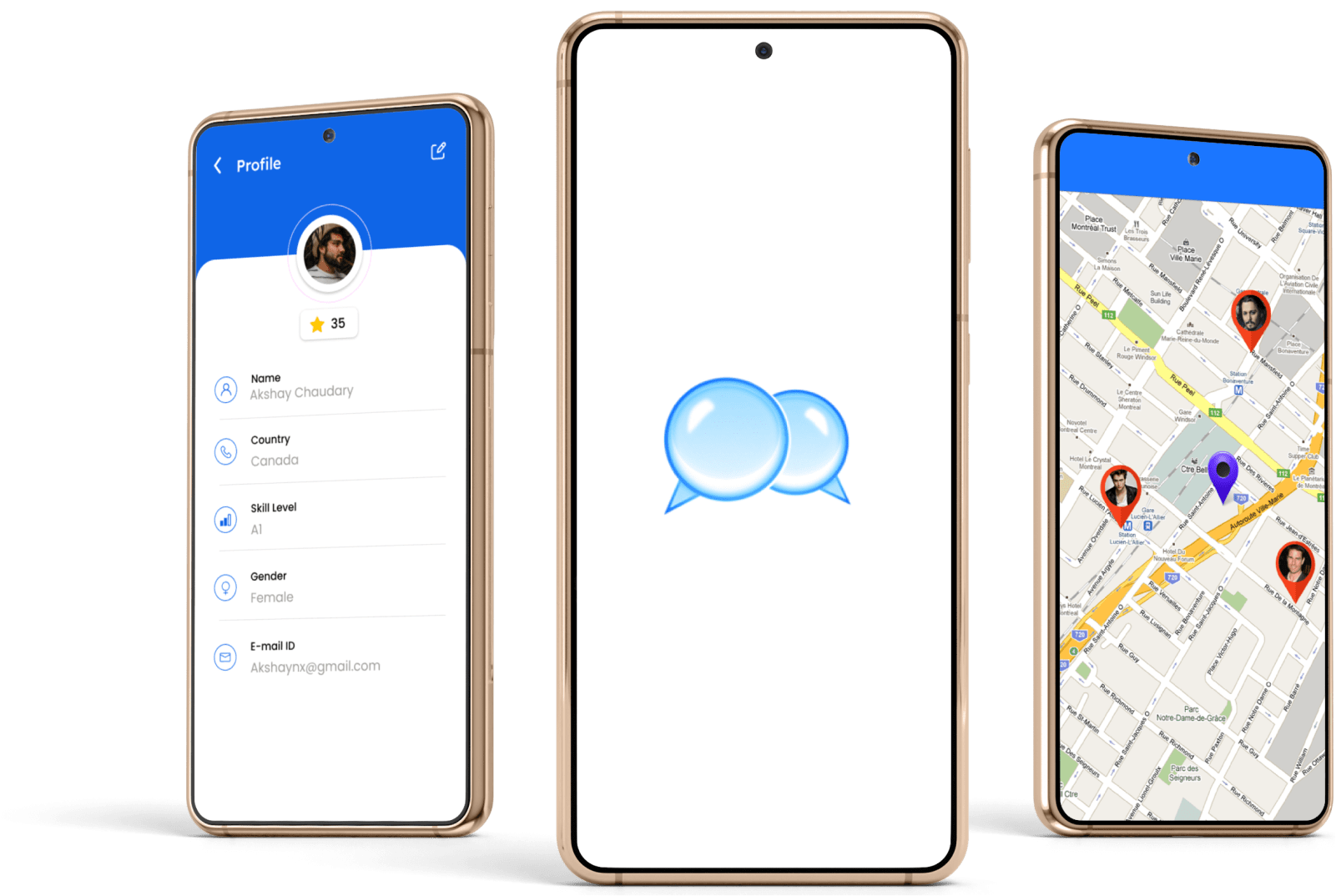 Bubbles
Use the phone number of your loved ones and chat with them worldwide for free without spending a single penny. This can be possible when you download and install Bubbles app developed by ToXSL Technologies. Bubble is chat application for Android and iOS in which anyone can chat individual or in group, can create question, can answer of question and can vote for question. This is very useful for Now-a-days to save our time to get solution of our question and to connect people.
Key Features
User can chat
Users can post Questions/answers in the group
Vote for applications
Needs only phone number and one can send messages internationally without spending money
Developed in both Android and iOS
Has an amazing interface that offers option for group chats
Technologies Used: Android, iOS, Admin Panel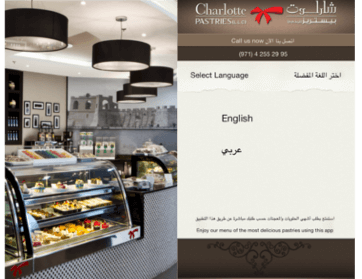 Charlotte Pastries
Charlotte Pastries application is developed specially for all the cake lovers in UAE who crave for fresh and quality cakes on the run. We have added provision for personalized message for creating exclusive customized cakes. You can view the cake details with the help of our application and place individual or bulk orders for all kind of functions.
Key Features:
Menu
Location
Basket
Call
Flavored cakes and cookies
Shopping carts
Technology Used: Android, iOS
jiEstate
jiEstate is an Indian property and real estate portal which provides information on commercial and residential real estate in India. It is a platform where buyers and sellers can exchange information and can do business. It helps both buyers and sellers to locate properties of interest and source information on the real estate space in a transparent and unambiguous manner.
Key Features
Property and real estate portal
Provides information on commercial and residential real estate in India
Buys and sellers can locate properties of interest
Sell or rent property in India
Detailed property listings
Technologies Used: Yii1 PHP Framework, Google Maps, Bootstrap, CSS, jQuery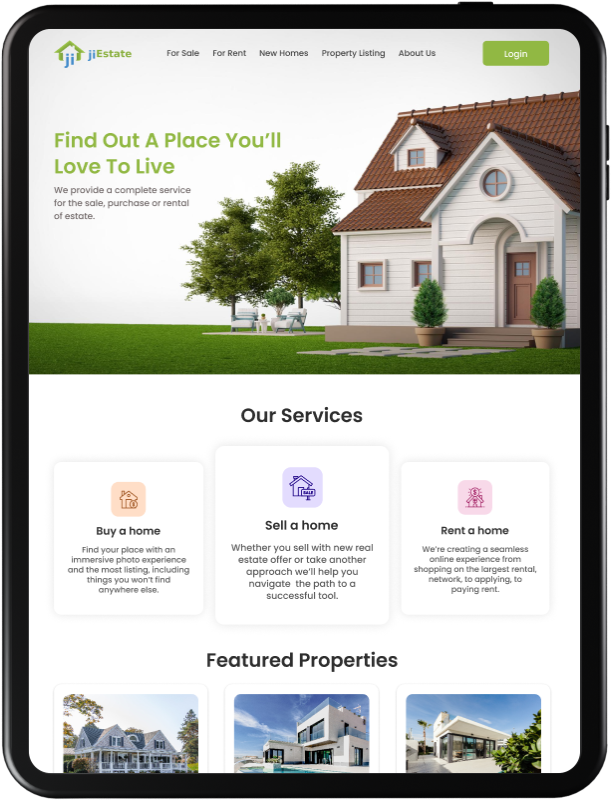 Nuhu App
The app (NuH Taxi) aims to easily connect taxi cab drivers in New York City with each other and the base they rent cars from. NuHu Taxi will allow cab drivers to easily request a car per sift from a base they like and contact the present driver to determine the car drop off location. Additional features of the app are to allow drivers to determine airport (JFK, LaGuardia Airport) taxi lot capacity based on automatic GPS recognition, saving them time and money. The app will also allow easy price calculation of long distance trips outside of New York City as well as a meter system for the driver incase of meter crash.
Technology Used: PHP, jQuery, Bootstrap, Yii Framework, HTML5, CSS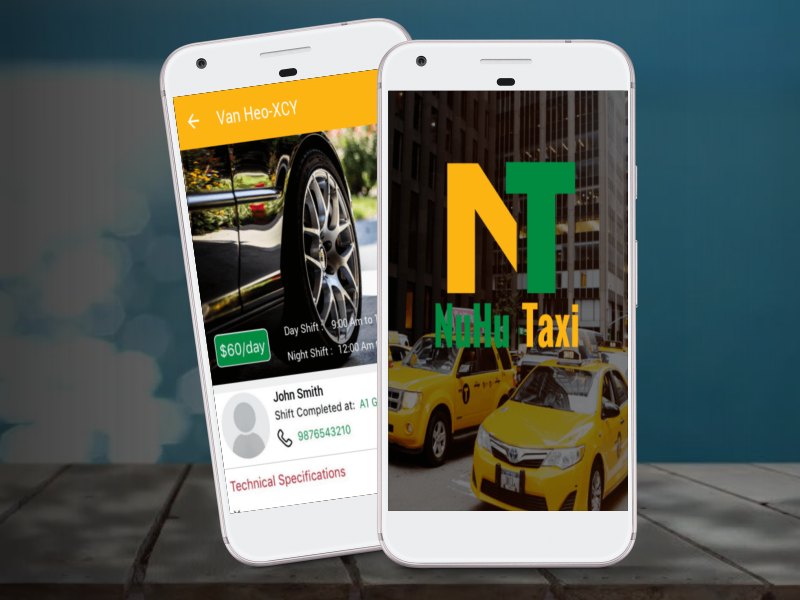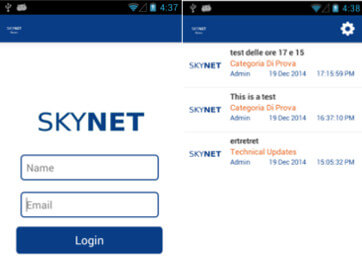 Skynet News
Stay up to date on news Skynet Italy, see the latest news in real time, take advantage of the offers. Categories selectable including: commercial offers, new arrivals weekly and technical information.
Key Features
Push news selectable
Ability to share or comment on the news
Language in Italian
Technologies Used: Android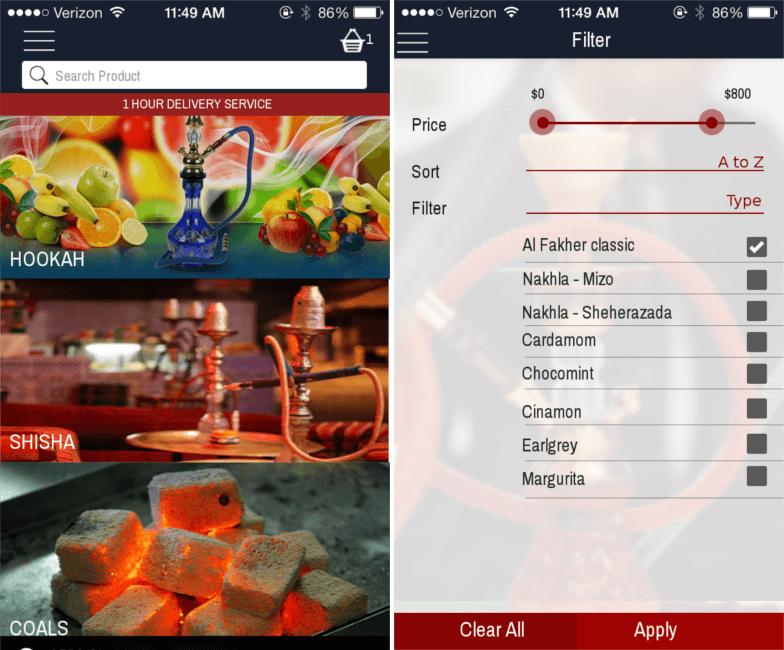 Hookah
The Hookah at your door app helps to deliver hookahs, flavors, vapes, and cigars at your door on-demand. This app provides a better way to shop, bringing hookahs and vapes to your door with the touch of a button. Simply enter your delivery address, add your items and checkout with your card or Paypal account. It is cheaper to order with Hookah at Your Door than any other online website. This app is perfect for Late nights, parties, pre-parties, after-parties or simply when you just run out of coals or flavors. Just skip the hassle of locating a store near you, and skip the trip there, have your order delivered within an hour or less with on-demand delivery.
Key Features
Deliver hookahs, flavors, vapes, and cigars at your door on demand
Cheaper prices than other online stores
Can deliver within an hour
Perfect for late night parties and lack of coal or hookah flavors
Technologies Used: iOS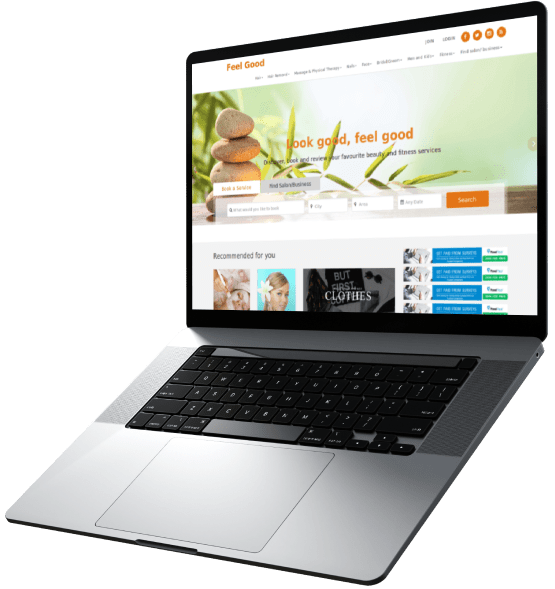 Feel Good
This website is a marketplace solution to discover, book, review your favorite beauty and fitness services.
Key Features:
Find Saloon/Business
Book a service
Find/search option
Browse offers for spas, gyms, restaurants, fitness classes, and activities
Share offers with friends through social media
Technology Used: PHP, Bootstrap, jQuery, CSS, Yii, HTML5,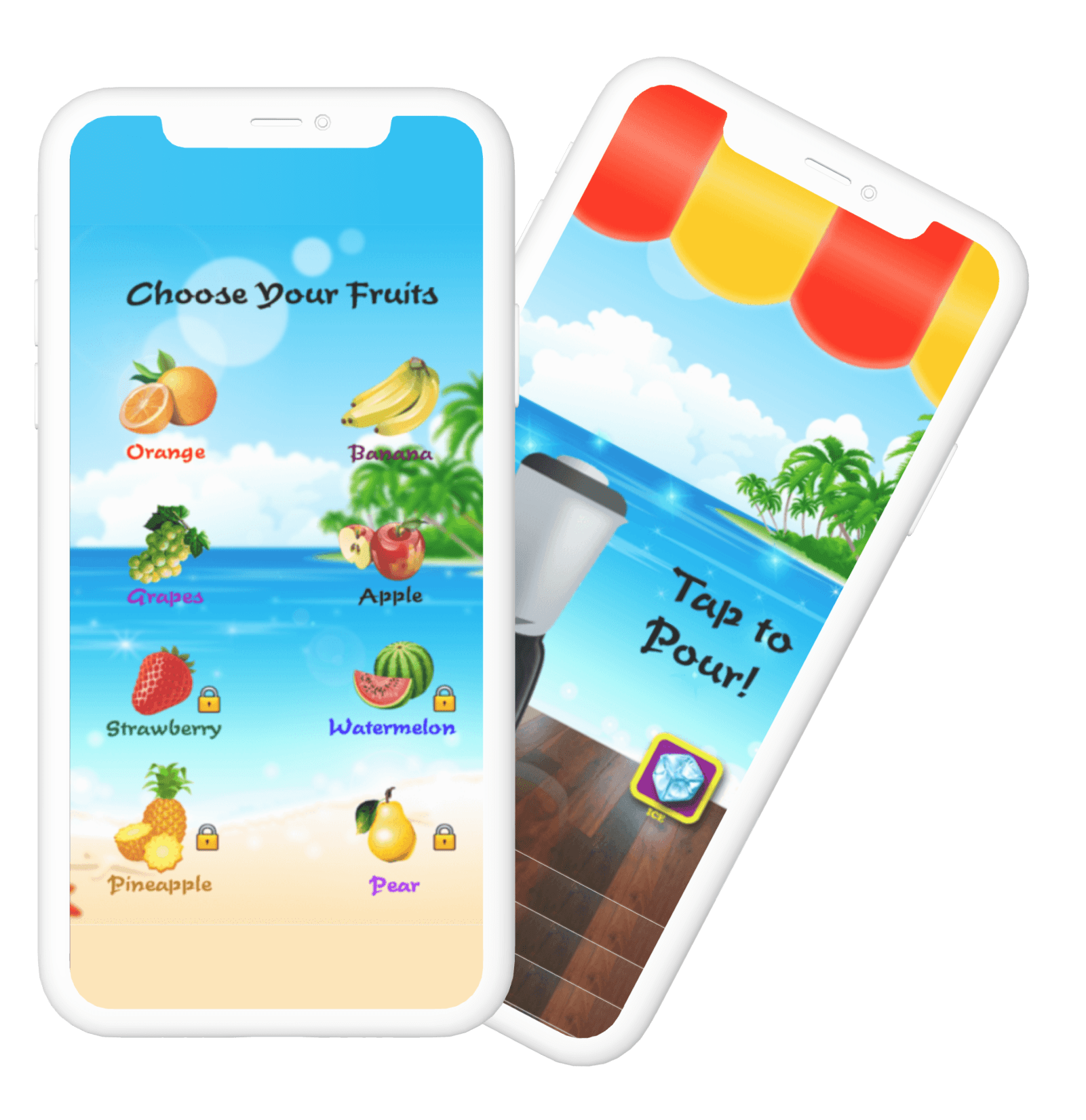 E-Juice
E-Juice is a children game which offers a fun way for kids and adults to make and learn about fresh juice and its nutritional facts and compare them with the uncool fizzy drinks. This is an educational game which is developed with an aim to educate children the benefits of fruit juice as compared with soft drinks like Pepsi, Coca-Cola, and Fanta. It is a fun filled game developed in iOS using Objective C by our developers at TOXSL Technologies
Key Features
Android game offering a fun way for kids
Teaching kids about fruit juice and its nutritional facts
Showcasing the comparison of benefits of fruit juice and fizzy drinks
Educate children to prevent drinking fizzy drinks as it is not good for health
Technologies Used: iOS (Objective-C), Android