Whatever business you choose to digitalize, moving on to the cloud becomes another most crucial decision. Whether it is about infrastructure support, offering higher performance, flexibility, or innovation, the cloud provides solutions that accelerate their growth.
Cloud remains one of the most trending topics, and research says that more than 94% of the organizations are at least using one cloud-based platform that helps secure their data. During the global pandemic, there was a rise in digital transformation, and businesses started to adopt the usage of the cloud.
Research by Gartner predicts that cloud spending will rise higher than IT spending. Once the business decides to make a move to the cloud, you must ensure to choose the right cloud service provider. The article covers all the appropriate details that lead you to select the right service provider.

What is the cloud service provider, and when to choose?
A cloud service provider refers to a third party that offers services including network, infrastructure, business applications, and more on the cloud. Whether it is about managing your private cloud, public cloud computing services offer efficiency. One of the popular examples is Amazon Web Services (AWS), with around 32% of the market share.
Now, before you select your service provider, you must consider several factors. You need to understand your specific business requirements and clarify them. Based on the technical, security, and other service management requirements, you can efficiently select your group of service provider.

What are the different types of cloud?
Choosing your cloud service provider can become easier when you have a clear idea about what it offers and its impact on the business. So here we go!
1. Public Clouds
The public cloud refers to the cloud infrastructure that the end-user owns. Rather, a third party manages it, and some popular examples include Amazon Web Services, Azure, and others.
2. Private Cloud
Private cloud is used by a single organization or a group and has a complete isolated process. Here the organization is responsible for managing the private cloud.
3. Hybrid Cloud
A hybrid cloud is a single IT environment that is created from multiple environments and connected via LAN or a VPN. It is a mix of private and public cloud models and offers greater flexibility.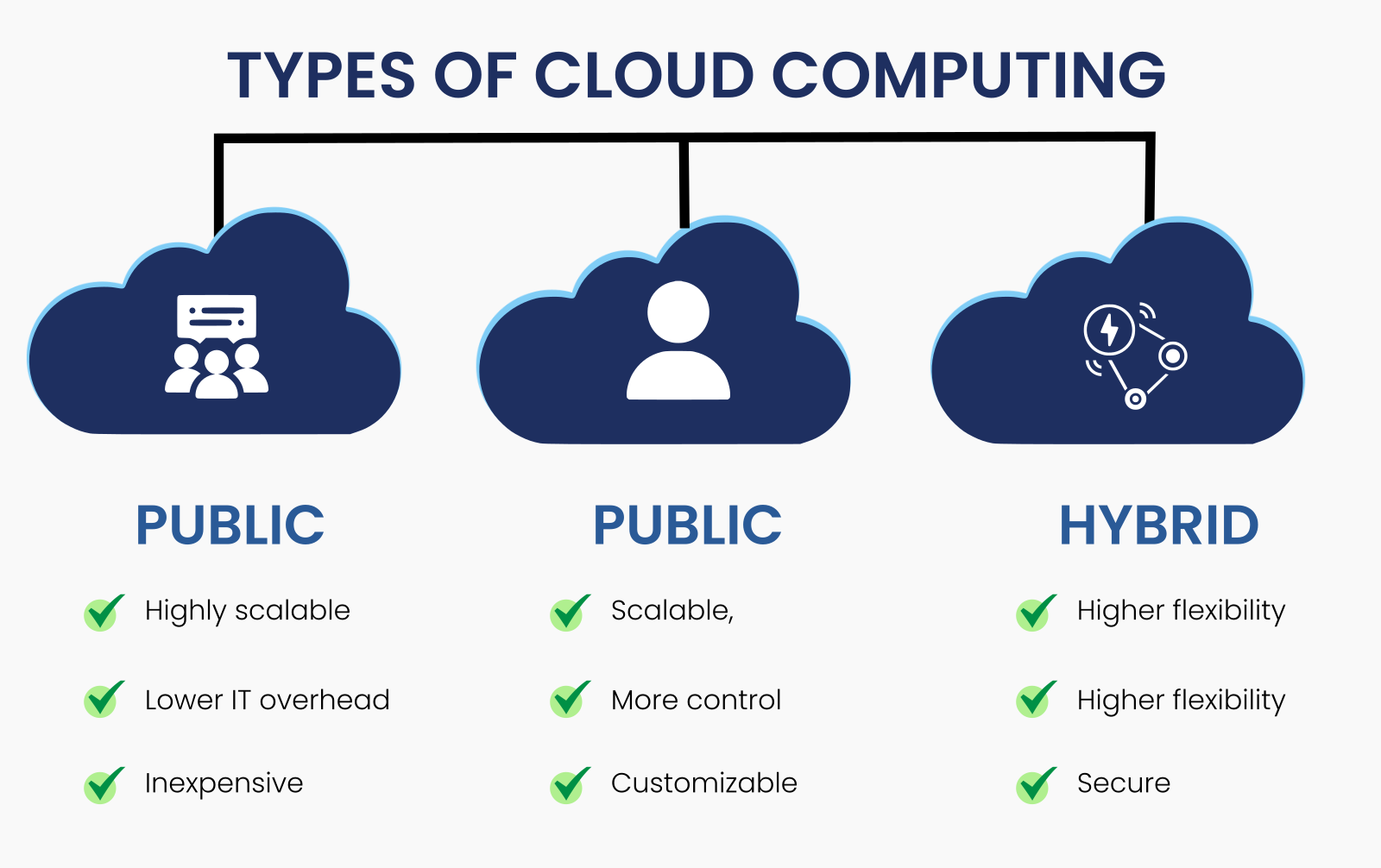 What are the main categories of Cloud Computing?
There are generally three categories of cloud services offered by the cloud service provider. IaaS, PaaS, and SaaS facilitate the data flow from user to clients via the Internet.
1. Infrastructure-as-a-Service
Here the cloud service provider manages your infrastructure- it includes managing the actual server, network, data storage, maintenance, and more. The users can access it via the API or a dashboard while renting its infrastructure. AWS and Azure are examples of such an infrastructure.
2. Platform-as-a-Service
Platform as a service provider means that the hardware and other software platform is managed by a cloud service provider. The user manages the applications and data it relies on. Google App Engine is one of the popular platforms.
3. Software-as-a-Service
SaaS also refers to a Software-as-a-service provider that delivers applications and products that the user manages. SaaS applications are web applications that users can access via a web browser.

Challenges associated with using Cloud Service Provider
1. Performance Challenges
Performance is one of the main factors when you are opting for cloud solutions. If cloud performance is not up to the mark the users might rush away and your business, of course, suffer from the losses. Performance issues include outages, downtime, and other technical issues.
2. Privacy and Security
Data security and privacy are major concerns when you choose cloud computing services. Cloud rises the fear of cyber-attacks, threats while increasing the vulnerabilities beyond the perimeter. Cloud service providers must ensure data encryption security and control. The issue includes security that is reduced if you hire the right service provider that takes up the responsibility.
3. Hidden Cost
With the cloud, you may have to bear extra expenses not included in the ROI. The data needs in between or other things can lead to hidden charges. Therefore, the company must factor in the additional need for staffing and monitor cloud use.
4. Lack of Knowledge and Expertise
Cloud can not be managed by anyone. It requires in-depth knowledge and expertise to work upon. Many organizations claim to provide the best services, but choosing the right one for your business leads to success.

Areas for consideration to choose the right service Provider
The choice for the best cloud service provider depends on several factors, and you must consider them. Below are the important points you must not forget to consider.
1. Check For Certifications And Norms
The service provider should adhere to all the norms and must have a reputed certification. They must comply with the best industry practices and standards to demonstrate quality services. There are plenty of certifications available, and you must check how your organization plans and maintain adherence to these standards.
2. Technologies And Support
The right cloud service provider offers support that is as per your business standards and technical environment. They must consider the architecture of your company environment and assess the amount of re-coding the whole process would need, whether you are looking for migration or other support.
3. Performance And Reliability
The roles and responsibilities of the service provider are verified. Whether it is downtime management, disaster recovery plans, your service provider must be able to solve all the complex challenges while evaluating the reliability and performance. One of the methods to check their performance is by validating the cloud service provider against their SLA for the last months.
4. Service Roadmap And Technologies
Businesses must have a clear idea about the roadmap of the cloud service provider and must ensure that it is the right fit for their organization. Do ask a lot of queries before you hire them. A few of them are - Is the service provider ready to offer you innovative services and solve complex issues? Are you upgraded with the latest technologies and upgraded over time?
With all these answers, you will have a clear idea about the service provider, and they would easily be able to fulfill your intense needs and promises.
5. Price
The process of cloud migration is a costly affair, and choosing the right plan is one of the most crucial decisions. You must specify the budget you are ready to spend on cloud infrastructure and then compare the different service providers before your final decision.
6. Check for Company Profile
Businesses to avail of the services at a lower cost should never compromise with the quality. Therefore, working with a reputed and result-oriented cloud service provider helps you make a difference. Check for the reviews, managers, cost, and consider every factor before you make up the final decision.

Benefits of choosing the right Cloud Service Provider
1. Flexibility Of Work
With the cloud, employees can be more flexible with the work practices and can access the data from anywhere they want to.
2. Scalability
Using cloud frees up your time, offers scalability and flexibility as per your business needs. There is no need to buy expensive upgrades as cloud services can handle them for you.
3. Business Continuity
Data protection and business continuity are important. There are threats and vulnerabilities, and you lose all your data. But cloud safeguards your data and protects it in a safe and secure location.
4. Cost Saving
It comes in the form of the pay-as-you-go. That means you are not paying for the services unless and until you need them.

Winding-up!
Lack of proper planning and not choosing the right service provider can ruin your cloud migration, leading to common failures. Many cloud service providers offer customized cloud services as per your business needs.
Relying on ToXSL is one of the best decisions, as we are a leading and top-notch provider of cloud services that ultimately take your business in the right direction. We have an efficient and experienced team who understands your concern and help build secure solutions. Choose as your cloud service provider, and we ensure to never let you down!